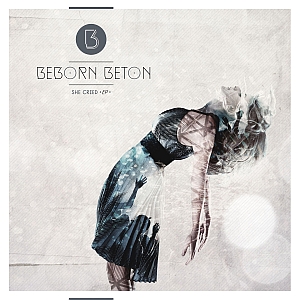 Artist: Beborn Beton
Title: She Cried
Genre: Synth Pop
Release Date: 9th September 2016
Label: Dependent Records
EP Review

'She Cried' by BEBORN BETON or how to amuse ourselves with continuation!
A while ago I watched on TV a character stating that "there is a creativity well upon which all artist drink from." For the sake of the argument, if this were true, either that well has become stagnant, or it has run out of creative water. In any case, it is always a bet, particularly on old bands, to hear whether they invest or not in reinventing their style or genre. In times when the rule is to take the latest flavour of the month and appropriate it, I am flipping a coin for BEBORN BETON, a German Synth Pop band not coy at paying tribute to their influences... or appropriations. As listeners, always on the prowl for music to please the senses and emotions, time and attention to detail often grant us the capacity to discover patterns. And in repetitions we get surprised and amused by the cross-pollination from one genre to another. BEBORN BETON, seasoned synth-poppers for more than 25 years are a clear example of it: "combin[ing] 80s electronic retro charm with today's production skills." What does this mean?
Being acquainted with the 90s boy bands' genre that made many fans' hearts throb and melt, who would've thought that the trivial pursuits of pop-dance songs could transcend into the synth-techno-electronic tunes? The old idea of "girl looks at boy, boy looks at girl, they get together and are happy" is pure complacency, courtesy of NKOTB or TBSB. And the essence of 'She Cried', the seven track EP by BEBORN BETON. A "follow-up remix mini album" on their 6th studio record A Worthy Compensation which, according to the band, has been "hailed as a synth pop masterpiece in industrial and electronic music scenes." Yet, as much as 'She Cried' follows suit the well-crafted pattern of its predecessor, it falls quite short in terms of imagination on both, lyrics and music. The cross pollination is clear.
The appropriation of Disco's use of synths that started in the late 70s under post-punk, reached its peak through the 80s. Unfortunately, the experimentation soon turned into over-exploitation courtesy of bands like DEAD OR ALIVE or SPANDAU BALLET among many others. In the early 90s, the same as many other exhausted genres, Synth Pop would crawl back to the underground and reinvent itself. Some genres have gained a second chance, some laid low and became cult ones. Synth Pop just exploded. And 'She Cried' is one of many examples were the pop patterns in lyrics and music have become a hype for the clubs of today. Indeed, we've gone out of imagination since 1991 give or take, but that doesn't mean we shouldn't have fun. And BEBORN BETON has made sure of it through a radio version and three different remixes of the same eponymous track. Establishing themselves as a danceable and a bit nostalgic band that for sure will leave you with an ear worm or two. Out of the other three tracks: '22/7 Mystery' and 'Who Watches The Watchmen' are remixes from A WORTHY COMPENSATION. And 'The Black Hit of Space' is a HUMAN LEAGUE's cover. Fun fact though, if you listen '24/7 Mystery - Val Solo remix' several times, you will be quite amused tracing its blatant "influences" back to DEAD OR ALIVE's 'You Spin Me Round (Like a Record).'
So… all in all, 'She Cried' is the perfect definition of an ambitious EP fulfilling its purpose: keeping the flame alive. Offering only 1 good hit-song to focus the attention, and enhance it with frill. A good example of how the creativity well has stagnated; a record to spin at clubs, and "spin right round, round, round…"
Tracklist

01. She Cried - Radio Version
02. The Black Hit of Space
03. She Cried - extended Club Remix
04. 24/7 Mystery - Val Solo Remix - Val Solo
05. She Cried - Zynic Remix – Zynic
06. Who Watches the Watchmen - Daniel Myer Remix - Daniel Myer
07. She Cried - BabyMax Remix - Baby Max
Line-up

Stefan "Till" Tillmann - Composing, Synthesizers & Drums
Michael B. Wagner - Composing & Synthesizers
Stefan Netschio - Lyrics & Vocals
Website

https://bebornbeton.de / https://www.facebook.com/bebornbeton/ https://bebornbeton.bandcamp.com
Cover Picture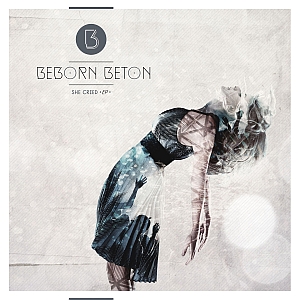 Rating

Music: 6
Sound: 10
Total: 8 / 10