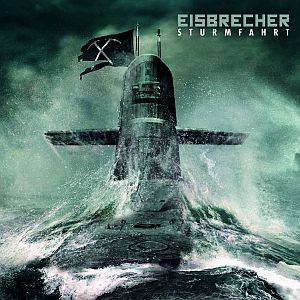 Artist: Eisbrecher
Title: Sturmfahrt
Genre: Industrial Metal
Release Date: 18th August 2017
Label: Sony Music
Album Review

EISBRECHER keeps navigating, and sends again quite sharp signals from the middle of the ice nowhere. A short note for those, who has never heard of the band before or lost it out of the view for a while: EISBRECHER is a project of the two former MEGAHERZ members Alex Wesselsky and Noel Pix took off back in 2003. From the beginning the band became a significant act and has got its hallmarks: one of the most recognizable vocals in German scene, their ship-team concept which finds reflection in their visuals as well as creates their unique sound. Having roots in Neue Deutsche Härte the musicians entered the new era of the German music again as one of the flagmen. Moreover they managed to kind of escape the underground. Their previous two albums have gone gold in Germany, thousands of people attending their live shows, and the band shared the stage with the Scorpions and Alice Cooper. At the same time they don't forget their home and are always welcome at festivals like AMPHI. With their very first album EISBRECHER conquered the top of the scene, and became one of the brightest acts. But the King of the Hill has two choices: either he keeps fighting or he falls down.
The big news about the band is that they signed to Sony Music, which typically for many alternative bands started up with an excuse:
"Many fans expect a band with a major deal to betray rock music. We love to keep surprising people by showing them that EISBRECHER are flying the flag of heavy music,"
replied Alex. The grown-up people do understand how the life goes, and listeners should be the first to benefit from the development of the band and from the chance for the band to create more expensive and high quality product. The truth is that the major pays a band not to become a pop band or betray any ideals. The major normally preserves the band, tries to pull out everything of the previous success as long as it works. The danger is to sink in the proven and safe trends and even start to sound like other bands. Each next album took Alex and Noel further and further away from the authentic and unique core, whatever it might have been. As they claim themselves, the musicians did decode the success formula of their previous albums, and they keep exploiting it for years, which turned their music into a never ending navy-themed party. They know how to create an epic styled record with gothic metal riffs, head bangers and, of course, a bit of cheesy moralizing ballad. Adding a chorus to a refrain will make any track sound epic. Sing a song about how the higher class doesn't care about hunger/wars/illness/destruction will have a major target group - to fully cover the theme add some more social arrogance criticizing. Spice it up with stay-strong-tracks a la 'I Will Survive' and dress it with a motivating ballad, telling that "the life doesn't wait for you, and if you want to win, you have to run." The formula is there, but where's the chemistry?
The last thing wanted here is bitching around. 'Sturmfahrt' is a good album, showing the high quality and dedication of the band. With this record EISBRECHER proved their status of an outstanding band. They stay true to their ideas, and you can still hear the echoes of their very first work in 'Was ist hier los?' and 'Sturmfahrt'. But what's more important, they keep moving while stay dedicated to their style. The current album has everything the listener might demand from a band like EISBRECHER: there are hard and powerful tracks like 'Der Wahnsinn' and 'Krieger', typically intimate and cocky at the same time 'Herz auf', and even a Schlager 'Wo geht der Teufel hin' and a surprising cover on the good old 'Eisbär' (originally by GRAUZONE), as well as an absolute highlight - the cover on Klaus Doldinger's OST 'Das Boot' - which turned out even more epic as a beautiful inspiring hymn 'In einem Boot'. "We're sitting all together in one boat, no S.O.S., no radio signal, no sonar, and the black sea roars and rages around us." We are all on the same boat: musicians and listeners, businessmen and fans, the politicians and the office workers, the soldiers and the civil, and we better to hold on together to come alive out of this constant storm. We might not see right now the light or the escape, many situations seem desperate, but even in the storm we might see a rainbow, breaking through the merciless waves. EISBRECHER suggests a good, inspiring soundtrack for everyday battle for each of us. It's in their lyrics, it's in their music. Like no one else they know that there is always a place for a danceable tune even (or especially) in any industrial metal track, whether it's a social critical track or a love song. They remind us that there is always time for Rock'n'Roll. And till now for fifteen years of existence, there was no ice, which EISBRECHER couldn't break.
Tracklist

01. Was ist hier los?
02. Besser
03. Sturmfahrt
04. In einem Boot
05. Automat
06. Eisbär
07. Der Wahnsinn
08. Herz auf
09. Krieger
10. Das Gesetz
11. Wo geht der Teufel hin
12. Wir sind Rock'n'Roll
13. D-Zug
14. Das Leben wartet nicht
Line-up

Alex Wesselsky – Vocals
Noel Pix – Guitar, Producer
Jürgen Plangger – Guitar
Rupert Keplinger – Bass
Achim Färber – Drums
Website

http://www.eis-brecher.com / https://www.facebook.com/eisbrecher
Cover Picture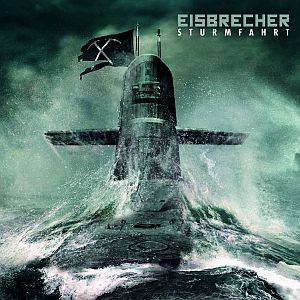 Rating

Music: 6
Sound: 8
Total: 7 / 10