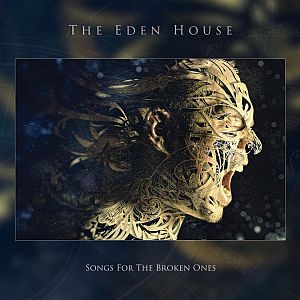 Artist: The Eden House
Title: Songs For The Broken Ones
Genre: Gothic Rock / Ethereal
Release Date: 6th June 2017
Label: Jungle Records
Album Review

A collaborative project that has continued to grow and be refined, THE EDEN HOUSE was conceived by Stephen Carey (ADORATION and THIS BURNING EFFIGY) and Tony Pettitt (FIELDS OF THE NEPHILIM and RUBICON) in the late 2000's. Featuring guest female vocalists, at times including Julianne Regan of ALL ABOUT EVE, Lee Douglass of ANATHEMA and Monica Richards of FAITH AND THE MUSE, there have also been a number of guest musicians contributing too, resulting in a fluid, ever-changing sound. After three albums and an EP, and a number of well-received live dates, including festival appearances, the project is stronger than ever. 'Songs For The Broken Ones' is the latest album, and live dates have already been announced to support its release.
And it's good. Very good. There's always been a sense of forward motion with THE EDEN HOUSE, and also a refreshing sense of musical lateral thinking, where ideas come and go and new styles and atmospherics are explored, yet always retaining an overall sound they distinctly own. There's a gorgeous dark romanticism, layers of textures, and a steady middle-eastern gallop to the beautiful opening song 'Verdades (I Have Chosen You)' , sung seductively by Monica Richards, with a spine-tingling spoken-word interlude added, and dashing violins to ratchet up the intrigue. This is how you open an album. 'One Heart' follows, and is equally packed with barely supressed passions, and 'Misery', sung by Louise Crane, opens with a mournful violin and gently strummed guitar before building into something heart-breaking and deeply melancholic.
'12th Night' will have fans of Tony Pettitt's trademark bass-sound smiling into their black fingerless gloves, and 'The Ghost Of You' drifts sensually by like dark clouds skimming a mountain. Or something. You get the idea anyway. 'Ours Again' is another good-paced gothic-rock gem, glittering and sparkling in all the right places, held in the shadows by some distant violin and another effective spoken-word middle section, making it witchy and ethereal. And on 'It's Just A Death' the pace is chopped down to funereal, the singing is exquisite, and the emotions just tumble out. Psychedelic guitars and weird time changes propel 'Words And Deeds' into dark pastures new, and only on the violin-led 'Let Me In' is there a slight sense of the generic. But when you do this kind of song as well as THE EDEN HOUSE, it's easy to forgive a dip in inventiveness.
And to round things off, there's the shivery moment everything climaxes in 'Kiss Kiss Bang Bang', the slow, brooding but oddly optimistic sounding 'Second Skin', and finally the dreamlike, 4am come-down of the stunning closer 'The Ardent Tide', easily the best 9 minutes you'll spend this summer. This is how you close an album. THE EDEN HOUSE are important, because they prove a number of things. That collaborations and 'super-groups' can in fact work, that tired and worn genres like gothic-rock can be reworked, re-invited and reignited with new ideas and sounds, and that intelligent, skilful song-writing has not died, but flourishes here, both in the studio and in a live setting. Long may it continue!
Tracklist

01. Verdades (I Have Chosen You)
02. One Heart
03. Misery
04. 12th Night
05. The Ghost Of You
06. Ours Again
07. It's Just A Death
08. Words And Deeds
09. Let Me In
10. Kiss Kiss Bang Bang
11. Second Skin
12. The Ardent Tide
Line-up

Current Touring Band:
Stephen Carey
Tony Pettitt
Simon Rippin
Rob Leydon
Bob Loveday
Louise Crane
Meghan-Noel Pettitt
Monica Richards
Website

http://theedenhouse.com / https://www.facebook.com/TheEdenHouse
Cover Picture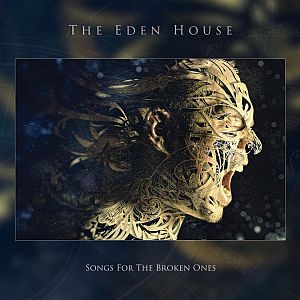 Rating

Music: 9
Sound: 9
Total: 9 / 10