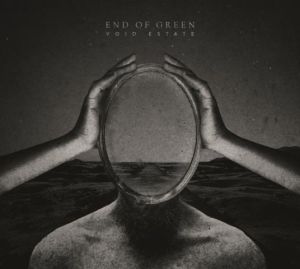 Artist: End of Green
Title: Void Estate
Genre: "Depressed Subcore" / Gothic Doom Metal
Release Date: 18th August 2017
Label: Napalm Records
Album Review

END OF GREEN, the German band from Stuttgart plays Gothic Doom Metal or as the musicians called it, "Depressed Subcore'. Their new album 'Void Estate' not in vain was released at the end of the summer: the songs are full of melancholy of the departing summer and tender autumn sadness. The themes of the tracks are quite sad, but this sorrow does not poison, you just listen to the music and think about the words of the songs or think about your own. If I chose an album for listening in the car while traveling on the rainy autumn roads of Europe, I would choose 'Void Estate'. The record has only one type of the emotional colouring, it isn't bad or boring - it needs just to acknowledge that 'Void Estate' is one big poem of hurt and sorrow.
'Send in the Clowns' and 'Dark Side of the Sun', the first tracks in the album, start to paint the depressive picture called 'Void Estate': space is becoming filled with the absorbing despair. The songs unobtrusively drag you into the bog of sad meditations and aching longing. From my point of view, the song which could describe all the album is 'Head Down': it's a melodic and slow ballad with tender percussions and insightful lyrics. But even in the darkest days, there is a place for something optimistic - 'Crossroads', gives the hope and possibility to get out of troubles. It has the charming romantic of road warrior's guitar tunes and Rock'n'Roll drive. In relation to other songs of the album, 'Crossroads' is fast and has joyful lyrics, it seems to be superfluous because of its style. The next one, 'The Unseen', brings back the gothic air of sound and keeps it till the last song 'Like a Stranger'.
Despite the fact that the songs on the album are quite interesting, the sound doesn't have enough of gothic depth; it looks like the imaginary suffering of young Rock'n'Roll Romeo with a guitar. To get the full taste of 'Void Estate' you need to listen to it several times, you should be ready to hear, and then it will find voice in your heartstrings.
Tracklist

01. Send in the Clowns
02. Dark Side of the Sun
03. The Door
04. Head Down
05. Crossroads
06. The Unseen
07. Dressed In Black Again
08. Mollodrome
09. Worn and Torn
10. City of Broken Thoughts
11. Like A Stranger Leave this Town (Bonus Track)
Line-up

Michelle Darkness
Kirk Kerker
Lou Siffer
Sad Sir
Rainier Sicone Di Hampez
Website

www.endofgreen.de / www.facebook.com/endofgreenofficial
Cover Picture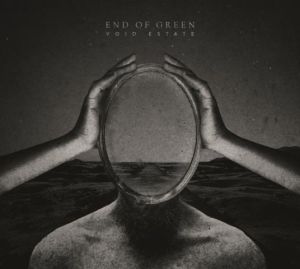 Rating

Music: 7
Sound: 6.5
Total: 7 / 10