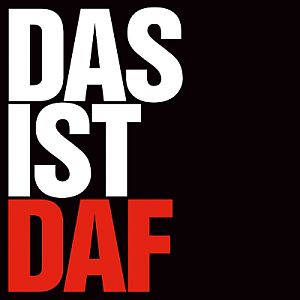 Artist: DAF
Title: Das ist DAF
Genre: Electronic
Release Date: 29th September 2017
Label: Grönland Records
Box Review

If one thing is clear right from the start, it is that the DEUTSCH AMERIKANISCHE FREUNDSCHAFT never was an ordinary thing, and quite frankly that was the goal all along and was the initial impetus to starting things way back in autumn of 1978 [Yes, that long ago]. The specific intent was that their music would be void of almost everything that was deemed popular in music at the time. This sure is all ancient history by now. Nevertheless, it is a crucial part in understanding the motivation in the creation of what many, many believe to be genre-defining. Since both Gabi and Robert wanted to celebrate history with their fans, they envisioned this box comprising all that is collectively called the classic phase of DAF, packaged in a beautifully designed box. There is actually a CD and a Vinyl version of the box, but if you're not calling one of those Vinyl boxes your own already, you'll probably having a hard time getting a copy since they're completely sold-out and there is no re-pressing planned as far as information about that goes.
The classic phase of DAF which I was talking about earlier and which is covered with this box set started with the debut 'Die Kleinen Und Die Bösen', well it might be that the band actually considers another record their debut but that's of course a matter of perspective and theirs surely is different from their listener's. That first album however, was actually recorded with a classic band setup with guitars, drums and the likes. Not that would make it sound any less mechanic or cold and hot blooded than it does. It's like man and machine agreed to an unholy union very early on in the band's career already. Just have a listen at 'Osten Währt Am Längsten' or 'Gewalt' for instance. Those sound much like early industrial, rather than anything remotely rock-related. The actual album that kicked things up a couple notches for DAF was 'Alles Ist Gut' which contains one of THE evergreens in their catalogue 'Der Mussolini': Just the thought of hearing it brings you back to last of their concerts you attended and what happened that moment. At that time DAF shrunk to a duo and would stay that way
The second half of the first phase of DAF brought about a more emotional side, especially with the lyrical content and when I say emotional in the DAF context, I'm talking unbridled passion, sexual arousal and everything connected to it. What sets those two apart from the previous ones you ask? The intensity of those emotions on there is much more extreme than that. Might be due to the fact that the guys recorded both albums in relatively short amount of time. The modern edge comes in with a couple of remix works added to the already extensive collection of songs presented within the scopes of this box. I myself had some problems listening to them. For me they're taking away too much of what made the original songs special and a remix should never do that in my opinion, you can replace sounds all you like. The spirit, however, should always stay intact. Apart from those remixes this applies to all of the boxes contents, which makes it hard to get around if you're a DAF fan. If you're completely new to this kind of music though, I'd suggest you have a listen at one album separately before buying the whole thing.
Tracklist

[Die Kleinen Und Die Bösen]

01. Osten Währt Am Längsten
02. Essen Dann Schlafen
03. Co Co Pino
04. Kinderfunk
05. Nacht Arbeit
06. Ich Gebe Dir Ein Stück Von Mir
07. De Panne
08. Gewalt
09. Gib's Mir
10. Auf Wiedersehen
11. Das Ist Liebe
12. Was Ist Eine Welle
13. Anzufassen Und Anzufassen
14. Volkstanz
15. Die Lustigen Stiefel
16. Die Kleinen Und Die Bösen
17. Die Fesche Lola
18. El Basilon
19. Y La Gracia
[Alles Ist Gut]

01. Sato-Sato
02. Der Mussolini
03. Rote Lippen
04. Mein Herz Macht Bum
05. Der Räuber Und Der Prinz
06. Ich Und Die Wirklichkeit
07. Als Wär's Das Letzte Mal
08. Verlier Nicht Den Kopf
09. Alle Gegen Alle
10. Alles Ist Gut
[Gold Und Liebe]

01. Liebe Auf Den Ersten Blick
02. El Que
03. Sex Unter Wasser
04. Was Ziehst Du An Heute Nacht
05. Goldenes Spielzeug
06. Ich Will
07. Muskel
08. Absolute Körperkontrolle
09. Verschwende Deine Jugend
10. Greif Nach Den Sternen
[Für Immer]

01. Im Dschungel Der Liebe
02. Ein Bisschen Krieg
03. Die Götter Sind Weiss
04. Verlieb Dich In Mich
05. Geheimnis
06. Kebab Träume
07. Prinzessin
08. Die Lippe
09. Verehrt Euren Haarschnitt
10. Wer Schön Sein Will, Muss Leiden
[Reworx]

01.Der Mussolini (Giorgio Moroder & Denis Naidanow Remix)
02.Sato Sato (WestBam Remix)
03.Als Wär's Das Letzte Mal (Boys Noize Remix)
04.Liebe Auf Den Ersten Blick (Görl & Hell Remix)
05.Goldenes Spielzeug (Lor Remix)
06.Der Mussolini (Gabi Delgado's Hysteric Disco Remix)
Line-up

Gabi Delgado
Robert Görl
Website

https://www.facebook.com/DASISTDAF/
Cover Picture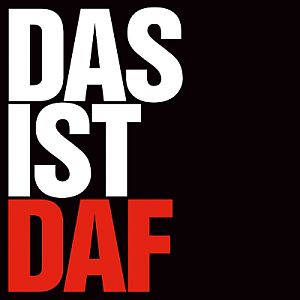 Rating

Music: 8
Sound: 9
Extras: -
Total: 8.5 / 10