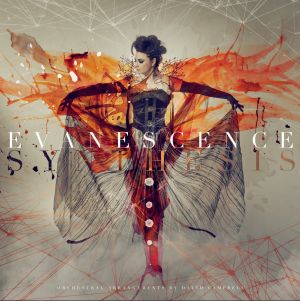 Artist: Evanescence
Title: Synthesis
Genre: Rock / Symphonic
Release Date: 10th November 2017
Label: Sony Music
Album Review

Grammy Award nominees from Arkansas, USA, EVANESCENCE was formed as a band in 1995 by singer Amy Lee and guitarist Ben Moody. The band experiences its highs and lows, released four albums, changed a lot of its members, reached 6th position with 'Fallen' in 'Top Bestselling Albums of the Last 10 Years', took a break in its career and was back again to active touring life in 2015. In 2017, the musicians have released a new album. The new album is kind of a memory-book. It consists of well-known material of the band which is reviewed, rethought, reinvented and now wears "a new dress". And this tasty cake has two cherries on the top - two new songs.
All tracks are like brilliants, framed in orchestral arrangements, clear and shiny. Maybe for some other rock bands this step would be a mistake, but not for EVANESCENCE. Amy Lee shows with her vocals that as a vocalist she has grown up through this years. It's her who has changed, not only the music. The album starts with a tender piano intro, supported by violin and floating into 'Never go back' which is touching. As to the songs, they smoothly pass on one into another as good old stories. 'Hi-Lo', a new track, not only provokes butterflies in the stomach with lyrics and Amy's voice, but also with delicate strings of LINDSEY STIRLING's violin, who has made a guest appearance on album. Next song, 'Lacrimosa', is like a secret door that leads listeners to 'The End of the Dream' from self-titled album of 2011, dramatic, strong drums, and impulsive guitars.
Most powerful is the transit to well-known and beloved 'Bring me to life' from the first album 'Fallen'. Also this song became a title song on the Daredevil movie soundtrack. The male rap part is removed from this track, only electronic embroidery and the voice of Amy is left, which confirms her power and genuineness. Song by song, step by step, the album comes to the end and in the end there is another new song, 'Imperfection', a perfect and impressive ending for the album. Verses are mainly read, not sung by Amy, but the refrain reveals her voice in full power, persistent and demanding: "Don't you dare surrender...", "'Cause I could never replace your perfect imperfection". That's the point! The production of the album was done by Amy and Will Hunt and it is marvelous. 'Synthesis' reveals the real Amy Lee and her voice as it is always meant to be heard.
Tracklist

01. Overture
02. Never Go Back (from 'Evanescence')
03. Hi-Lo
04. My Heart Is Broken (from 'Evanescence')
05. Lacrymosa (from 'The Open Door')
06. The End of the Dream (from 'Evanescence')
07. Bring Me to Life (from 'Fallen')
08. Unraveling (interlude)
09. Imaginary (from 'Fallen')
10. Secret Door (from 'Evanescence')
11. Lithium (from 'The Open Door')
12. Lost in Paradise (from 'Evanescence')
13. Your Star (from 'The Open Door')
14. My Immortal (from 'Fallen')
15. The In-Between (piano solo)
16. Imperfection
Line-up

Amy Lee – Piano, production, vocals
Tim McCord – Bass guitar, synth
Will Hunt – Drums
Troy McLawhorn – Lead guitar
Jen Majura – Rhythm guitar, Theremin
Website

www.evanescence.com
Cover Picture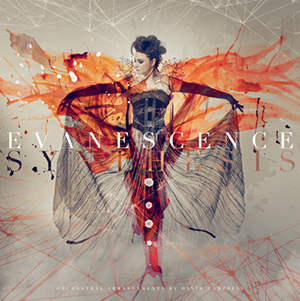 Rating

Music: 9
Sound: 9
Total: 9 / 10