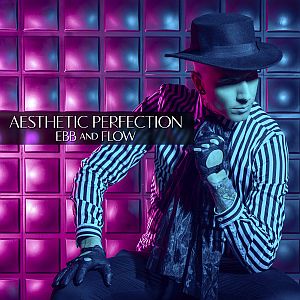 Artist: Aesthetic Perfection
Title: Ebb and flow
Genre: Aggrotech / Industrial / Future Pop / Synth Pop
Release Date: 2nd February 2018
Label: Close to human music
Single Review

AESTHETIC PERFECTION is an American Electronic project which is founded by Daniel Graves in 2000. For his live shows he has David Dutton on the keyboard (in Europe Elliot Berlin) and Tim van Horn on the drums as support. In the early years, AESTHETIC PERFECTION was more an insider's tip for the friends of Aggrotech / Industrial sound before it was supporting act for COMBICHRIST on their "Demons on tour" tour in the USA and Europe, as well as for COVENANT in 2014 and MESH in autumn 2016. And 2016 was certainly a good year for touring in Germany as the show in Hamburg was sold out. Being an independent artist Daniel decided in 2017 to join Patreon, a platform where artists are paid by their patrons for every piece of art they release. Up to now the project has released 6 albums and with this one 12 singles/ EPs. Apart from that AESTHETIC PERFECTION has contributed to numerous compilations and umpteenth remixes for other bands and projects.
That Daniel Graves is not an artist you can put in a genre box was made clear with his last releases as well with his live appearance at the MESH shows last year where he modified his songs in more Synth Pop versions. This new release shows that he not treading water and that he even dares to enter the more Pop-like genre without becoming too kitschy. The actual single is still in the older style as you have the whispering, the hissing and shouting but apart from some parts where he sings with his typical raspy voice, Daniel now mainly performs with clear singing. The lyrics are about a difficult and attritional relationship where the ebb and flow picture describes nicely this love affair.
The following remix surely won't be easily stomached by the purist fans as it is a Pop song you hardly will hear on the dance floors of independent clubs but rather in a discotheque where the mainstream songs are played though this song has still some rough points due to the singing of Daniel. But actually the music sounds like blend of CASCADA (Evacuate the dance floor) and SCHILLER. Being someone who doesn't really care about genres as long as the music is well made, I do like this version. With the last song on this EP we now know what little Daniel used to listen to in his youth. Well, joke aside, here he covered an N*SINC song and transferred the up-tempo dance track into a nice, melancholically ballad with additional guitars played by Nikki Misery. The EP is available as download version but you can also only download each song of it.
Tracklist

01. Ebb and flow
02. Ebb and flow (Miggiddo remix)
03. Bye, bye, bye (N*SINC cover) (feat. Nikki Misery)
Line-up

Daniel Graves
Website

http://www.aesthetic-perfection.net / https://www.facebook.com/aestheticperfection
Cover Picture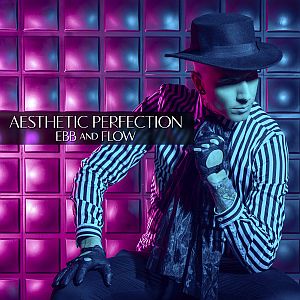 Rating

Music: 8
Sound: 10
Total: 9/ 10
See also (all categories):