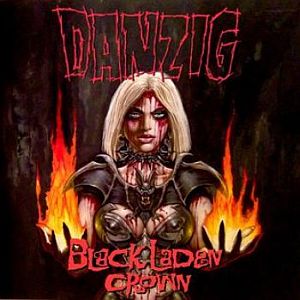 Artist: Danzig
Title: Black Laden Crown
Genre: Heavy Metal / Hard Rock
Release Date: 26th May 2017
Label: AFM Records
Album Review

After seven years without new material, DANZIG return with their new album 'Black Laden Crown' just following the reunion of Glenn Danzig's legendary punk band MISFITS. Glenn Danzig, founder of both MISFITS, SAMHAIN, and DANZIG, had not written any new music for DANZIG since the 2010 release 'Deth Red Sabaoth' but instead released the cover album 'Skeletons' in 2015. In 2017, it is finally time for new songs.
DANZIG clearly released their best albums in the nineties. With that said, I expect solid hard rock when I listen to 'Black Laden Crown' for the first time. Experienced and with their hunger for creative output still evident, DANZIG start the album darkly and slowly with the title track 'Black Laden Crown'. While I find it difficult to adjust to the mix and Glenn Danzig' vocals, I do enjoy Tommy Victor's guitar play. I even catch myself nodding my head to the quite catchy outro with its screeching riffs in best heavy metal attitude to the gloomy last bars. After that, more solid hard rock is delivered with 'Eyes Ripping Fire'. The single 'Devil on Hwy 9' picks up some speed but the whole mix and the irritatingly low quality of the vocals make me skip to the much slower and heavier 'Last Ride' – perfect with its doomy blues-character and yet another intense guitar solo. And although I like the song, I cannot enjoy it as the mix strains my headphones. And my ears.
The following 'The Witching Hour' remains a bit pale and the vocals sound less powerful than I would expect. Production-wise, this song is really unbalanced, and the guitars would profit from more gain. Instead, DANZIG increase speed again with the more forward 'But a Nightmare', a song that sounds much better but still feels a bit generic. This feeling fades away quickly though, as soon as 'Skulls & Daisies' begins. Despite its harsh riffs and the dark lyrics, this song about a Creole girl from Louisiana breathes an air of eerie romance into 'Black Laden Crown'. An impression that is literally trampled down by the much heavier 'Blackness Falls'. Which would be great if not for the song's frustrating fade-out. The final track 'Pull the Sun' makes up for that and offers one of the album's better tracks.
'Black Laden Crown' suffers from its horribly flat production that fails to keep instruments and vocals balanced and the general volume on the same level throughout the album. DANZIG and most of all Glenn Danzig have created an otherwise decent album with driving riffs and a dark atmosphere. Its runtime of 45 minutes seems just fine if only the sound was better. I find it hard to enjoy the better tracks of 'Black Laden Crown', such as 'Eyes Ripping Fire', 'Last Ride' or 'Pull the Sun' as they seem to drown in a pool of bad sound.
Tracklist

01. Black Laden Crown
02. Eyes Ripping Fire
03. Devil on Hwy 9
04. Last Ride
05. The Witching Hour
06. But a Nightmare
07. Skulls & Daisies
08. Blackness Falls
09. Pull the Sun
Line-up

Glenn Danzig – Vocals, guitar
Tommy Victor – Lead guitar
Steve Zing – Bass, backing vocals
Johnny Kelly – Drums
Website

http://www.danzig-verotik.com / https://www.facebook.com/Danzig
Cover Picture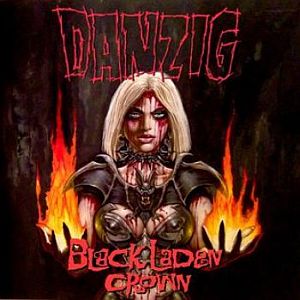 Rating

Sound: 3
Music: 7
Total: 5 / 10
Agnetha Lucas