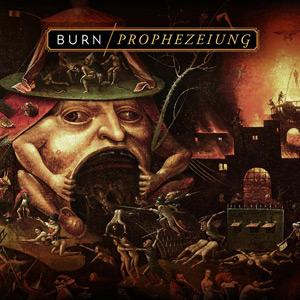 Artist: Burn
Title: Prophezeiung
Genre: Dark Wave / Dark Rock
Release Date: 19th October 2018
Label: Trisol Music Group
Album Review

BURN is a Wave Rock formation from Münster and anything but new to the music business. By the end of 2012, they had released an EP, two albums and had toured with the likes of UNHEILIG, SCHANDMAUL, and FIELDS OF THE NEPHILIM. After a line-up change in 2013, they released their third album 'Monument aus Gold' in 2016, switching from English to German lyrics, and went on tour with ASP. What's new is that their album placed in the top ten of the Deutsche Alternative Charts. More than two weeks before its actual release, their fourth album 'Prophezeiung' (Prophecy) pushed BURN into the well-deserved spotlight.
BURN is not wasting any of the attention, opening the album with the powerful 'Inferno', setting the stage for a downward spiral through infernal, all-consuming flames. The track is followed by the equally driven 'Echo im Nichts' (Echo in the Void), the pre-released single. It's apparent all too soon that BURN has matured since the last album: the riffs are harder, the context darker, turning from the almost typical dark wave gloom of the album prior to an ugly world of love betrayed, loss, isolation and solitude, spiralling all the way down to self-hatred and suicide.
Singer and main songwriter Felix Friberg draws inspiration from past and present, such diverse sources as paintings of Hieronymus Bosch for the nightmarish 'Seelenfresser' (Soul Eater), or the sad stories of victims of world politics for the apocalyptic title track, 'Prophezeiung'. Somehow he not only manages to avoid the many traps of the German language that would make his lyrics sound cliché, but also skilfully constructs memorable and beautifully grim imagery like "Ich schreib auf meinem Arm in silber, und versink langsam in rot."(I'm writing on my arm in silver, and slowly I'm immersed in red) in the chorus of the song 'Rot' (Red), or the rather poetic take on death of the almost instrumental finisher 'Der Duft der Zeit' (The Scent of Time). All in all its nearly impossible to pick favourites, the songs are too consistently catchy in both melodies and lyrics, each dealing with its own little piece of life's underbelly, forever current and relatable.
It'd be easy to still pull out the old THE CURE comparison that the band must've heard a million times by now. Friberg's desperate, yearning vocals still (and hopefully always will) hold a certain similarity to Smith's, but BURN's sound has evolved into something more than the sum of its parts; it has gained a level of anger mixed in with the desolate melancholy, making it more approachable for the dark masses without giving up on its roots. Here's hoping they catch the break the band and this album truly deserves.
Tracklist

01. Inferno
02. Echo im Nichts
03. Der schwarze Kreis
04. Seelenfresser
05. Absinth
06. Erleuchtet
07. Lazarus (mit jedem neuen Tag)
08. Chrom
09. Sie kommen!
10. Prophezeiung
11. Rot
12. Der Duft der Zeit
Line-up

Felix Friberg - Vocals, guitar
Christian Wischer - Guitar
Markus Düring - Bass
Jörg Schwaer - Drums
Website

http://burnmusic.de
Cover Picture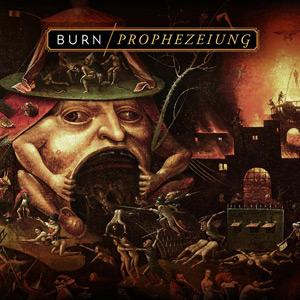 Rating

Music: 9
Sound: 9
Total: 9 / 10