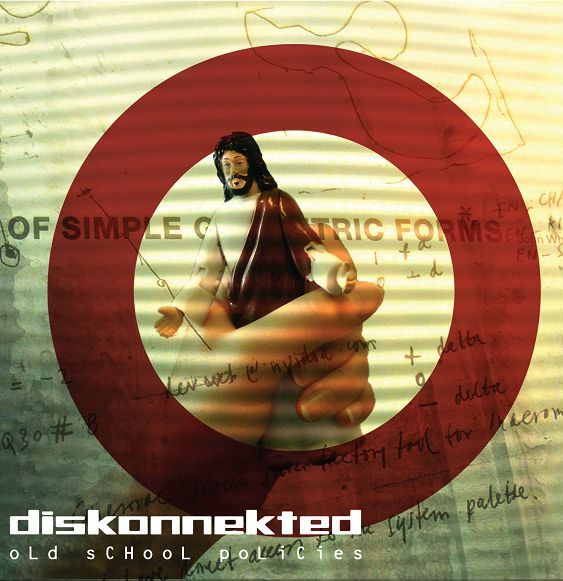 Title: Old School Policies
Artist: Diskonnekted
Genre: Electronic
Release Date: 4th April 2008
Label: Alfa Matrix
Introduction

At the beginning of a new millennium, Belgian artist Jan Dewulf founded DISKONNEKTED after he lost interest in continuing his former project MIDREDA due to an evolution of his taste and a remarkable change of dance music in general. The first DISKONNEKTED album with the title 'Jesus Raves' was released via Dying Culture in November 2003. Jan switched to the Belgian label Alfa Matrix which released the second album 'Neon Light' in summer 2005 preceded by the 'After Einstein EP'. DISKONNEKTED joined forces with DIVE aka Dirk Ivens to release the critically acclaimed 'Frozen EP'.
Members

Jan Dewulf - Production, Arrangements, Lyrics, Vocals
Website

http://www.diskonnekted.com/
/
http://www.myspace.com/diskonnekted
Track Review

01. Pray, Vote, Donate, Buy - 4:57

Floating atmospheres and a prayer which is getting more and more desperate lead into a lush dance beat with driving sequences and harsh, distorted industrial attacks, where a message is repeated over and over again 'Pray, Vote, Donate, Buy' like a subliminal message that is intended to brainwash the people or better to implant a certain ideology into their brains. Would be a nice tool for politicians don't you think?
02. Prayer (Stand up) - 3:51

I can only guess but the prayer the song is started with sounds like Arabian. It gets company by a layered, straight dance beat and is passed through with various speech samples and a sinister basic mood mostly created through the deep strings.
03. Adrenaline (ft. Frank Spinath) - 4:14

A song like a rush of adrenaline through your body. It's driving you on, is pushing you forward from the very beginning with infecting dance beats and heavy sequences. "Dance to the beat of Propaganda." What leads us to the main topic: Every few years, when it is time to vote a new president or chancellor, you see slogans popping up everywhere. Catchy slogans conceived by marketing strategists to convince the people of the altruistic goals of the candidate. Yeah, all for the good of the people…
04. Big Imaginary Friend - 4:16

You're asking yourself who that 'Big Imaginary Friend' is. Well, it's just a guess but I think it's the one, many people believe to be the creator of life on earth and in whose name countless murderers have been committed. Contrary to previous songs, this one has a stately tempo but therefore displays a much higher level of complexity regarding the rhythmic patterns and more atmosphere originating in the mighty strings.
05. Storm (ft. Frank Spinath) - 5:50

Imagine yourself standing in the eye of a storm, where a dead still lasts and where all troubles seem to stay outside. Consider it, as a metaphor for a place of refuge, where you can retreat to every time the weight on your shoulders gets too heavy. "Before I collapse, before I fall down, I find shelter in the eye of the storm". With a classic song structure and wonderful melodies, this song, goes more into a kind of edgy synth pop direction and I like it, not least because Frank has another guest appearance on this track.
06. Nu Speak - 4:08

An almost heavenly atmosphere surrounds 'Nu Speak' originating from the high-pitched female choral sound, which is extensively used all along but the lyrics are anything but heavenly. Like most songs on 'Old School Policies' also this one has a strong dance groove.
07. 10 Years - 3:26

The song goes into a similar direction also equipped with a danceable beat but appears to be much colder regarding its atmosphere due to an increased amount of destructive and industrial elements
08. Anger (ft. SMP) - 5:14

Opinions will surely differ on this song, as it's an untypical collaboration between the rapper and an industrial producer. The result already has a name. It's called 'Industrial Hip Hop'. As strange, as this combination might sound in the first place as strong is the execution combining the SMP's angry vocal style with a great atmosphere created by strings accentuated by multi-layered drum programming
09. When I come to fall - 4:22

…takes it a bit easer but like already experienced with the other slow track 'Big Imaginary Friend' this one involves a high complexity within the song structure starting almost calm with a low blowing wind turning into a fractured break beat sequence switching from one channel to another with chorals and textures in the background, subtle woven into the sound.. The track contains a few more twists and turns but I won't spoil you everything
10. Prayer (Kneel down) - 7:18

The 'Kneel down' diversion of 'Prayer is – unlike its twin – much calmer and moodier. The atmosphere plays a bigger part and various percussive sounds give the song a rather organic feeling. The melodic theme stayed the same and like its diversion 'Prayer (Stand up), it's passed through with speech samples.
Cover Picture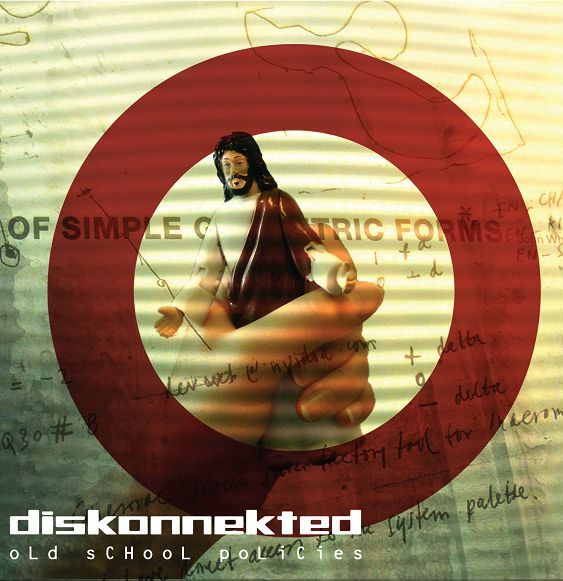 Rating

Music: 9
Sound: 9
Extras: -
Total: 9
Conclusion


The mood of 'Old School Policies' comes along much darker than 'Neon Light' but is a natural consequence if you're dealing with issues like religious fanaticism and propaganda politics. A wide range of styles is covered reaching from aggressive industrial opener 'Pray, Vote, Donate, Buy' and calmer songs like 'Big Imaginary Friend' or 'When I come to fall' to a real explosive and unique fusion of Industrial and Hip Hop in 'Anger'. Another milestone from the Belgian one-man project DISKONNEKTED.

{jos_sb_discuss:19}