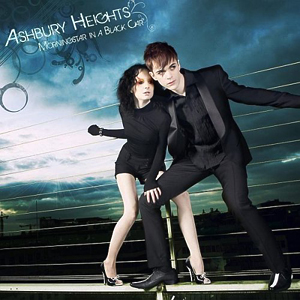 Title: Morning Star in a Black Car
Artist: Ashbury Heights
Genre: Electro Pop
Release Date: 18th July 2008
Label: Out of Line
Album Review

Swedish duo ASHBURY HEIGHTS aroused attention with their fresh mix of electronic pop sounds, so much unlike the well-known patterns. They became the fastest signing in the history of German label Out of Line with the contract signed within 1 hour. Now the time has come for the second assault, the 'Morning Star in a Black Car' EP.
The EP invites us in directly with the title track and a groove that animates the listeners to snap their fingers to it. In fact it's more like an order; I can really see thousands of people doing that simultaneously. Is quite a funny idea for a concert I guess, but where was I... oh yeah the song, accompanied by small piano chords and chopped sequences the sing leads to the chant performed by Anders charismatic voice and casually supported by Yasmine in the chorus. Their two voices harmonize quite well together here. Well I guess we should now rush on to 'Spiders', a bit straighter, a bit more melancholic could be the sum up for it and its first and foremost that special aura making it so enthralling. We'll stop here and don't spoil anymore to get to 'Die By Numbers' which was, obviously, a little sound experiment, small trumpet arpeggios, mixed up with wooden instruments sample stuff or whatever that is, the straight beat always underneath, carried by alternating vocal parts. I think Yasmine even more can show her vocal advantages in a solo part. The chorus is, as if you hadn't assumed already' kept in a hymnal style drowned in eclectic choirs. Speaking of anthems, the next song 'Smile' surely is one, bordering on the melancholic, sometimes more wistful, mainly employed by the sustained tones of deep pads and an Anders whose vocals sound much fuller.
With the next song 'World coming down' we're finally entering fast-paced territory; in case you've wondered where those tracks have been. The staccato–esque beat at the beginning lets you unwillingly nod your head very fast but don't overpay that, could cause dizziness. It's also the song with the most 80s influences shining through on every corner. 'Stormbringer' being the last of the regular track list brings a literal storm over you, musically transformed into chorals like thick dark clouds, pushed forward by the wind, or musically put, the fast beat. And now we're coming to my most favourite part of the EP: The remix section. Three of the songs have been remixes and they did exactly what I was expecting. I leave it up to you whether this is a good or bad thing. All remixes reworked the original material in a way that you have to consider them being songs from one of their album; only with different vocals and even though this is not very original, I must say that the UnterART remix of 'Spiders' is the best one of them; especially in keeping the atmosphere intact.
I hadn't heard anything of that Swedish duo before so I listened to their music with virgin ears so to speak and I wasn't disappointed, it's moiré the opposite; I'm totally convinced by this release and the refreshing catchy mixture on it.
Tracklist

1. Morningstar in a black Car – 4:52
2. Spiders – 5:25
3. Die by Numbers – 4:17
4. Smile – 3:44
5. World Coming Down – 3:17
6. Stormbringer (Aeria! Mix) – 4:21
7. Spiders _remix by Unterart) – 4:03
8. Die by Numbers (Remix by Agonoize) – 3:08
9. Smile (Remix by Marsheaux) – 3:43
Line-up

Anders H - Lead Vocals, Programming, Synthesizers.
Yasmine U - Lead Vocals, Synthesizers.
Website

http://www.myspace.com/ashburyheightsmusic
Cover Picture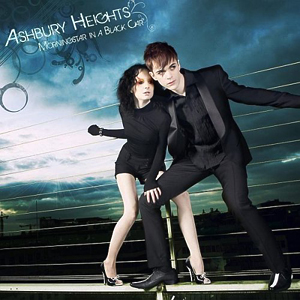 Rating

Music: 8
Sound: 8
Extras: -
Total: 8