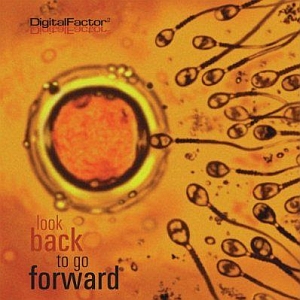 Title: Look Back to go forward
Artist: Digital Factor

Genre: EBM / Electro
Release Date: 23rd January 2009
Label: Lukotyk Records
Album Review

A project from the German territory comes with DIGITAL FACTOR from Altenburg. Founded in 1993, they soon established themselves as a sought live act, which already supported PLACEBO EFFECT or X MARKS THE PEDWALK. In 1994, they signed with the Danish label Hard Records and released their first EP 'Falling Down'. After the 1999 release of the sixth album 'Over One Million Times' it got quiet around the band; but after a waiting period of seven years, they surprisingly returned with a new album 'One More Piece' in 2006 and now only two years later with the newest album 'Look Back to go forward' is about to be released.
One's tempted to pigeonhole this band into the classic EBM corner - a genre bands like NITZER EBB or DAF brought to fame and glory - just by hearing this typical sequencer lines actually every band from the genre seems to use. That there's much more under the surface than just that become obvious when listening more attentively to the rhythmic construction of 'Look back to go forward' realized with a playful (real) drum section, beefed up with various electronic effects and heavily warped guitar. The vocals then are typically EBM raw and commanding with slight melodic undertones. Even more danceable and definitely a treat for club fanatics is 'Dein Herz' which gets straight to the point, with an emphasis on 'straight' regarding beats and sequences. The rougher vocals being processed with glitches are by turns calmer and powerful, the latter in the chorus.
'Face o Face' integrates kinda oriental vocal samples carried by a synthetic wind initially while soon migrating to another danceable title, shoes beats are not as forceful as before and intertwined with percussion. The chorus manifests with an ominous mood due to the pad sounds used to create sustained layers of ambience. Both tracks 'Don't Wait' and 'Electronic Body Makers' have one thing in common. They're like lots of the tracks here on the album focussing on the dance floors, but each one has a different approach. Where 'Don't wait' has some more melody, the compact 'Electronic Body Makers' rather gives prominence to screeching synths and harder vocals. The last track on the disc is 'Beauty Queen' and melodies are mostly few and far between here. The mood is mainly created by the vocals alone except for the chorus here they're being supported by keys. Quite catchy lines and after hearing them two or three times you can easily sing along to them.
Like I said before, there's much more under the surface of 'Look back to go forward' though EBM is indeed a main influence. But the way they're mixing it with a little crossover, more poppy elements, adding a few edges here and there as well sets it apart from 'Usual' releases of that genre. At times reminds a little of the last FIXMER/MCCARTHY output.
Tracklist

01. Looking Back To Go Forward – 4:02
02. Dein Herz (Steril Remix) – 4:14
03. Face To Face – 4:25
04. Dopamin – 3:55
05. The Picture – 4:43
06. Don't Wait – 3:38
07. Cogwheel – 3:28
08. EGA (East German Attitude) – 4:21
09. Dance To My Beat – 3:20
10. He was one of these guys – 4:39
11. Electronic Body Makers – 2:50
12. This is a Test – 3:40
13. Beauty Queen – 5:09
Line-up

Mike Langer – Synths, Vocals
Guido Litke – Guitars, Drums
Torsten Heise – Synth, Vocals
Website

http://www.digitalfactor.de/
/
http://www.myspace.com/digitalfactor
Cover Picture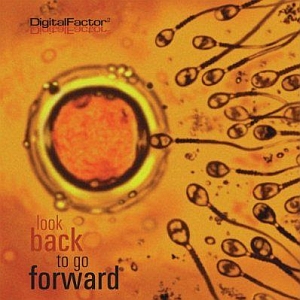 Rating

Music: 7
Sound: 7
Extras: -
Total: 7 / 10