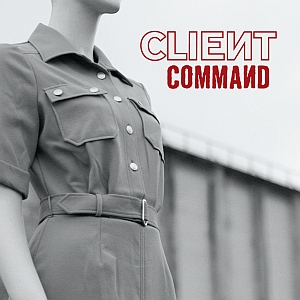 Title: Command
Artist: Client
Genre: Electronic
Release Date: 6th March 2009
Label: Out of Line
Album Review

The British group once discovered by DEPECHE MODE's Andy Fletcher comes back with a brand-new studio album entitled 'Command' and the successor to the 2007 release 'Heartland' moves away again from the very bombastic production of the album.
'Petrol', a chilly, minimal-pop flavoured track is what we get to hear first after putting 'Command' into our player and pushing the play button. It also makes clear that there's a new signature sound to this album grounded on analogue synths but with the distance and coolness fans have come to like of the ladies. The gloomy atmosphere in 'Don't Run Away' is dripping off an eerie-sounding piano theme all the upcoming sounds like the ancient, time-bridging strings or white background noises are wrapped around. Sarah's vocals sometimes are like haunting whispers leaking into your skin and even if they're not, there's an intriguing mesmerizing attraction to the way she's performing them.
Perfectly suitable for hip shaking purposes is 'Make me Believe in you' even if it does admittedly sound a little quirky in its intro sequence. But then the straight beat with a couple background riffs kicks in and the party can start. Apart from that it's equipped with a rousing sing-a-long chorus that also brings back the signature strings I mentioned before. The piano is returning for 'Ghosts', a slow-brooding piece that with its submerged harsher guitar lines underlines the verses which are very lightly sung while revealing darker edges in the string permeated chorus. But they're also displaying a certain determination with the words "I'm through with you". 'Satisfaction' is another more club-oriented number opening up in the chorus with cascading choirs and vocals. The heaviest industrial rhythms are being presented on the album closer 'In My Mind' and they really sound industrial, like from a fabric, very mechanic and stuff. If my ears are still working correctly I heard some acoustic guitar stuff in the backdrop behind the very present riffs. The track's climax for me is the spherical guitar line emerging under the strings in the latter half of the song.
I really dig the retro style of the album's sound overall. I would have loved to hear more of these melancholic, moody tracks as these are definitely at the top of my favourite's list, but you can't do a complete album with such tracks and so there's of course something for every mood on 'Command'. Danceable ones, moody ones etc!
Tracklist

01. Petrol – 3:14
02. Can you feel – 4:32
03. Don't run away – 3:04
04. Make me believe in you – 4:19
05. Lullaby – 3:10
06. Ghosts – 4:10
07. Satisfaction – 3:38
08. Son of a Gun – 3:45
09. Blackheart – 3:30
10. In my Mind – 3:29
Line-up

Client A (Kate Holmes)
Client B (Sarah Blackwood)
Website

http://www.client-online.eu/
/
http://www.myspace.com/client
Cover Picture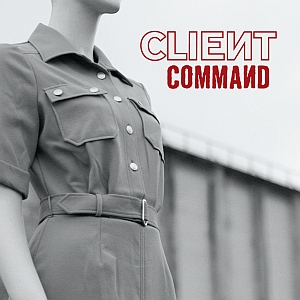 Rating

Music: 8
Sound: 8
Extras: -
Total: 8 / 10