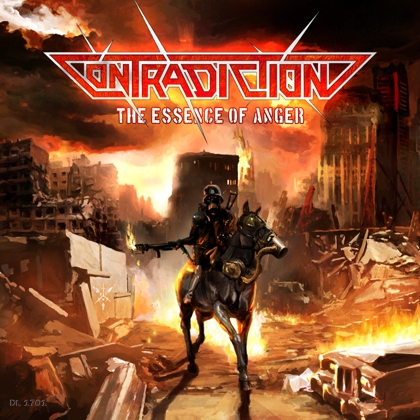 Title: The Essence of Anger
Artist: Contradiction
Genre: Thrash Metal
Release Date: 25th September 2009
Label: Limited Access Records
Album Review


CONTRADICTION started back in 1989 and earned first success with a couple local gigs in and around their hometown. Two demo tapes were released before the first CD 'Rules of Peace' was self-released in 1993. The record symbolically inked them their first record deal and in 1995, the first "official" album 'All We Hate' was released. Today, the four-piece can look back on a discography with 5 full-length albums. On 25th September, they are going to add their sixth one with the title 'The Essence of Anger'.


The opener 'Perfect Combatants' kicks it off with a speech sample of George Bush whose end is underlined by gun shot noises before galloping drums, chopped riffs and anger-filled vocals take over the control. Right in the midst of chaos the band also found time to weave in a melodic solo. The following title track, which features Leif Jensen of DEW-SCENTED on vocals, wastes no time and starts right away with propelling riffs until the drums join the driving roundelay. 'Start The Action' begins with a rather mid-tempo section having in stock a nice guitar line processed with a cool effect. It is just the prelude to an undertow of rage you'll be getting tugged in a few seconds later. 'Death is Now' comes up with an introduction that would be perfect for a military parade in its first seconds - if you think away the guitars. The track gains an immense momentum and dynamics afterwards incorporating lots of tempo and rhythmic changes.

'Reign of Fear' makes its start with a melange of picking, melodic riffs and drums leading over to a surprisingly slow section, but the chorus makes it up again for the speed addicts by flooring the gas pedal again. But the best thing about this track for me is its little, slow mid section with the nice guitar solo. 'The Essence of Anger' has become an album that is going to please any fan of a more varied form of Thrash Metal. Even I have found some tracks I like, though I'm not the type who listens to the genre on a regular basis.
Tracklist

01. Perfect Combatants - 4:43
02. The Essence Of Anger feat. Leif Jensen - 4:28
03. Start The Action - 4:15
04. The Spectator - 4:45
05. Walk Of Shame - 4:13
06. For The Light - 3:33
07. Death Is Now - 4:57
08. Lifes End - 5:03
09. Collateral Carnage - 3:43
10. Reign Of Fear - 4:02
11. Domesticated feat. Leif Jensen - 5:05
12. Commandments - 5:27
Line-up

Oliver Lux - Vocals, E-Guitar
Oliver Kämper - E-Guitar
Andreas Westphal - E-Bass

Christoph Zelt - Drums
Website

http://www.contradiction.de/
/
http://www.myspace.com/contradictionmetal
Cover Picture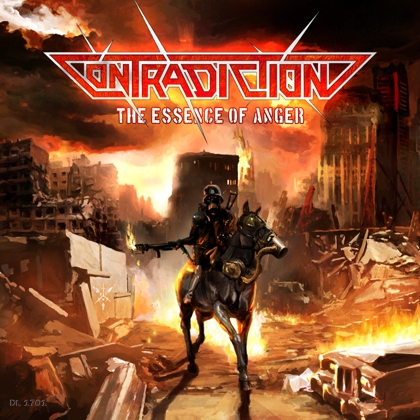 Rating

Music: 6
Sound: 7
Extras: -
Total: 6.5 / 10
{jos_sb_discuss:19}