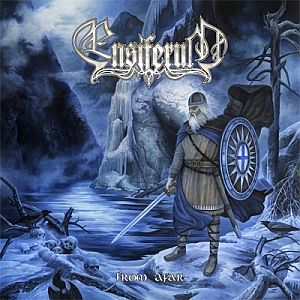 Title: From Afar
Artist: Ensiferum

Genre: Pagan Metal
Release Date: 11th September 2009
Label: Drakkar
Album Review

After a little more than two years after their last output, fans of the Finnish folk / Viking metal heroes ENSIFERUM were eagerly awaiting the fourth full-length instalment of the band named 'From Afar'. This is quite a significant album title since they grew enormous fan bases all over Europe, if not in the whole world. So expectations are high - let's listen to the tales they brought. The first from a total of nine songs is a nearly 4 minute long instrumental introduction called 'By the Dividing Stream' in which acoustic guitars, flutes, recorders and some minor percussion form a calm, misty, ice covered and mysterious fantasy world - or paint the landscape of Finland in winter. Whatever may come to your mind, it's a very nice acoustic piece, but with its length not really suitable as an intro.
Don't get caught in dreaming and be prepared for 'From Afar', the title track and also first single of the album. This was a really good choice, because it shows for what the band stands in 2009: Large amount of synthesizers (or other not rock-related instruments), sharp precise riffing, great melody lines and tight drumming. I like it how a brass and string section and even a orchestral percussion is melted into the composition, which is great for lovers of pathos and opulence but it takes also out a bit of the genre's aggressiveness, when they urge too much into the acoustical foreground - but overall a very good first impression. The second track, 'Twilight Tavern' is quite decent, too, which opens as a typical galloping ENSIFERUM up-tempo shredder with great lead guitars. If you liked the more "folky" songs of the band, you have to check this one out. The only flaw is the short female choir part, which I regard kind of redundant, even it's a variety in gender for the band.
As typical as the second one is, as unusual the third song will turn out, which is called 'Heathen Throne' and is only ENSIFERUM's second approach on breaking the 10 minute barrier with one track. As it starts you might think: "Wait. I must have switched to the wrong CD" or "There must have been mixed another band's song into the tracklist here", since the main riff of 'Heathen Throne' sounds REALLY Swedish and could have come right out of the feather of AMON AMARTH. But this great mid-tempo bulldozer has more to offer than then the trademark borrowings to other countries. After some time the synthetics evolve more and more and some great epic choirs join into them. In one moment you are reminded of MOONSORROW, but somehow it turns into a complete other direction half through the song. A greatly varied piece of music, which lacks unfortunately a bit in the overuse of the keyboard in the later minutes. Since the band recruited a new member on that instrument it seems that they almost wanted to advertise her in some parts of the record.
Anyway. Some tempo is acquired in 'Elusive Reaches' which offers great, diversified work in the lead guitar section, especially the solo kicks some ass and it turns out to be a very decent track, after which the speed is throttled again to mid-tempo in the promising galloper 'Stone Cold Metal'. But it let's you abruptly cancel any possible head-banging when the song's time-code reaches 3:06 and leaves nothing but a 'what-the-fuck-face' behind. This is because a lot of strange things are about to happen. Imagine you've been in the cold, Finnish, icy winter wonderland with some fun and booze for the last half hour. Now you find yourself suddenly in a hot, Italian desert. Someone is whistling a tune. You are reminded of 'High Noon'. Some country guitars begin to strum. A piano play a light melody. Now you're in a tavern. Hasn't there been some metal a few minutes ago? Ah, there it comes back. But, wait! Who the fuck is picking the banjo?! Weird. I wake up. The song of the first minutes is back. I hope this was a dream… wasn't it?
'Smoking Ruins' whose acoustic start encourages to sway to the music back and forth can also be considered as one of the astonishingly lot mid-tempo songs. The melody line is picked up by the lead guitar and melts with the dominating choir parts, which also gained presence form album to album. It's a good song. Not more or less. And at least one minute to long. This minute could have been easily added to the following, only 52 seconds long Finnish a-Capella track called 'Tumman Virran Taa', which is sung by a monophonic male choir, which shows that the band is capable of accurately hitting the notes without any backing music. Very nice, but could have been more elaborated. But the short doesn't really disturb, because it find it's place between the metal songs perfectly, as it's theme is taken up by the guitars, flutes and orchestral sections in the following, last song 'The Longest Journey', which name is matching perfectly, since it's the longest track of the band so far with a runtime of 12.49 minutes. It contains the typical elements of an ENSIFERUM song. Great riffing, licking and vocal performances and all the things I mentioned above plus a great epic feeling as it slowly fades away with some snare-roll under a great atmospheric pad of orchestra and choirs.
After these paragraphs you might think I'm a great ENSIFERUM fan. I'm far from that. I liked the first, self-titled album much. And I somehow liked 'Iron', even when there was already the presence of the problem I especially had with 'Victory Songs': Too many songs sound the same or worse: like songs from the former albums. Songs like 'Blood Is a Price of Glory' which somehow or exactly sounded like 'Token of Time' and / or 'Windrider' gave me doubts of the band's creativity writing the same songs over and over. Clearly front man Petri Lindroos' decision the retreat from the same position in the band NORTHER was a right step to the benefit of ENSIFERUM and definitely in support of 'From Afar', which turned out to be a very good fourth album. Is has the trademarks of the band, without copying the already released. I personally regard this as the best output since the debut, although the song quality today is another. I hope they continue this path and bring us lots more tales in the future, told from afar.
Tracklist

01. By the Dividing Stream 03:50
02. From Afar 04:51
03. Twilight Tavern 05:38
04. Heathen Throne 11:09
05. Elusive Reaches 03:26
06. Stone Cold Metal 07:25
07. Smoking Ruins 06:40
08. Tumman Virran Taa 00:52
09. The Longest Journey (Heathen Throne Part II) 12:49
Total playing time: 56:40
The Limited Edition includes the bonus track: Vandraren (Nordman cover) (03:41)
Line-Up

Petri Lindroos - Harsh Vocals, Guitar
Markus Toivonen - Electric & Acoustic Guitar, Banjo, Clean & Backing Vocals
Sami Hinkka - Bass, Clean & Backing Vocals
Emmi Silvennoinen - Keyboards, Hammond, Backing Vocals
Janne Parviainen - Drums, Shaman Drum
Website
http://www.ensiferum.com/
Cover-Picture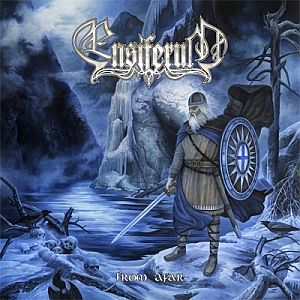 Rating
Music: 8.5
Sound: 9.5
Extras: - (Digipack with Bonus track)
Total: 9 / 10
{jos_sb_discuss:19}