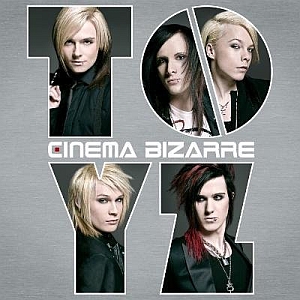 Title: Toyz
Artist: Cinema Bizarre
Genre: Glam Rock, Glam Pop
Release Date: 21st August 2009
Label: Island / Universal Music
Album Review

According to the legend, Strify, Kiro and Yu of CINEMA BIZARRE met in 2005 while joining a Manga convention. Later on, they should recruit Shin and Luminor (who was replaced by Romeo after he had left the band) via the internet. Though the whole band history remains in the dark, this is a matter of fact: CINEMA BIZARRE´s style and appearance is orientated towards Manga aesthetics featuring futuristic outfits you might know from Japanese cartoons.
Well, so much for the formation's outward appearance, let's have a look at the quintet's music. In 2007, they released their debut long-player entitled with `Final Attraction´ which made it to #9 in the German charts. `Toyz´ is the second recording and hit the stores in this year's August. The band is touring European countries at the moment. As the promo package featured the sound snippets of the below mentioned 16 tracks, I can only comment on these. After listening to them, I guess that a lot of the CINEMA BIZARRE fascination mainly bases on the special image the guys and their management have kept up.
Unfortunately, `Toyz´ isn't as innovative as their self-description of modern Glam Pop but rather shallow and creating the impression that you have already heard all the songs, respectively some of their features, before. In my opinion, the tracks taken from `Toyz´ oscillate between Euro Dance-like pieces such as the title track or `Out of Love´ and melodic Pop with some New Wave-influences as heard on `Modern Lover´. Moreover, some ballad stuff like `My Obsession´ and `Are you crying?´ shouldn't be missing. Lead singer Strify has got an agreeable voice enhancing the in other respects trivial compositions which are obviously addressed to a very young audience that is into the entire anime cult. Therefore, you might also need a fondness for the Manga scene and its protagonists to appreciate the artfully designed music world of CINEMA BIZARRE.
Tracklist

01. Erase and Replace
02. Tears in Vegas
03. My Obsession
04. American Beauty
05. Hypnotized By Jane
06. Out Of Love
07. Je Ne Regrette Rien
08. Dark Star
09. In Your Cage
10. Touching and Kissing
11. Modern Lover
12. Blasphemy
13. Toyz
14. Are You Crying?
15. I Don't Wanna Know (If U Got Laid)
16. Sad Day (For Happiness)
Line-up

Strify - vocals
Yu - guitar
Shin - drums
Romeo - keys
Kiro - bass
Website

http://www.myspace.com/cinemabizarre
/
http://www.cinemabizarre.com/
Cover-Picture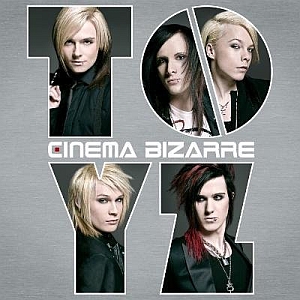 Rating

Music: 5
Sound: 7
Extras: -
Total: 6 / 10
{jos_sb_discuss:19}