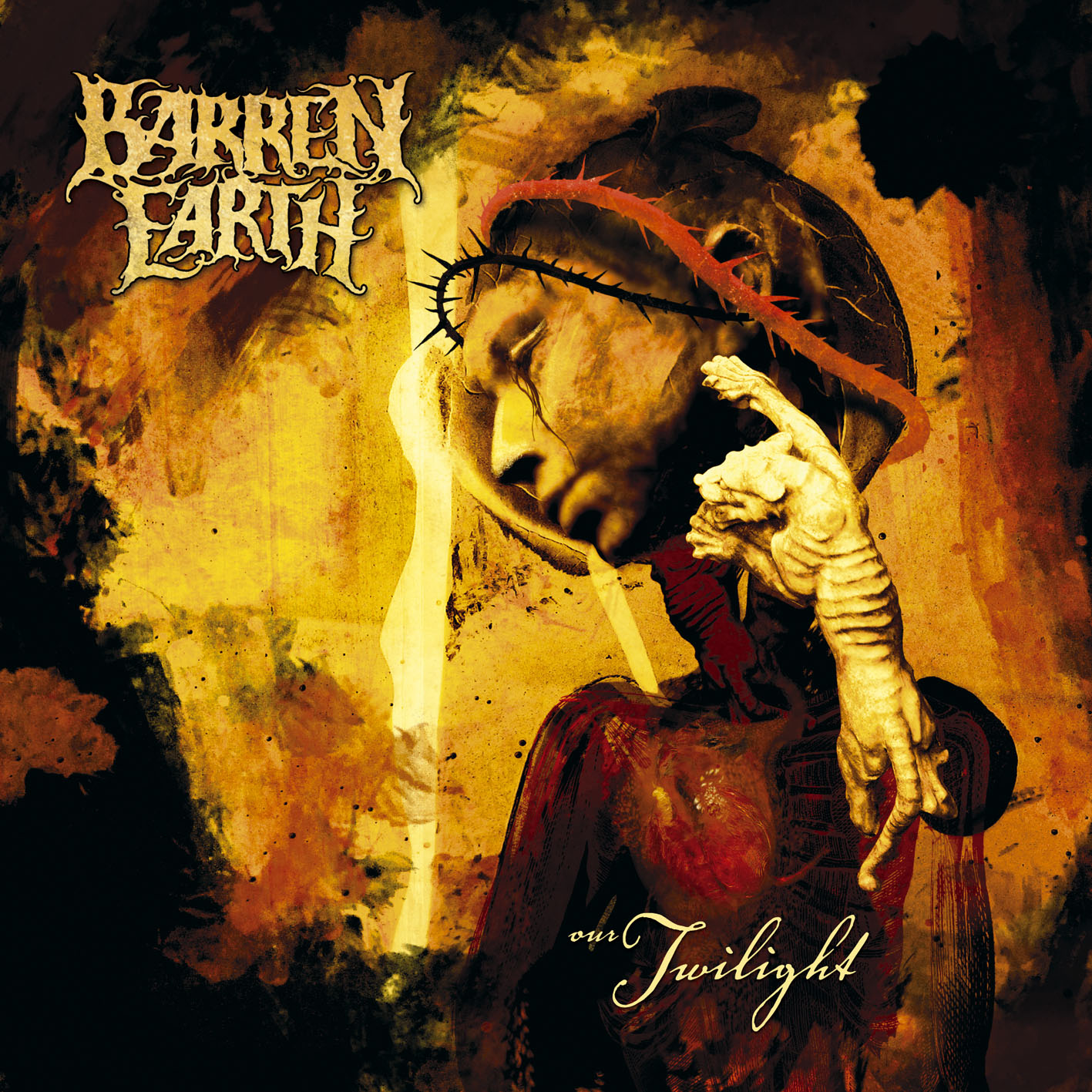 Title: Our Twilight
Artist: Barren Earth
Genre: Progressive / Doom metal
Release Date: 9th november 2009
Label: Peaceville Records
What do you get when Finnish talented musicians assemble and form a new collective? A new notion on how technical metal becomes more melodic an interesting. Breaking with traditional musical boundaries and discover new paths. Leave that to the Scandinavians: for years they are masters in creating a perfect mixture of different styles. BARREN EARTH is for those reasons an interesting addiction.
The members are coming from different backgrounds like Swallow the Sun, Amorphis, Moonsorrow and Kreator. There is a risk to deduce that BARREN EARTH is an average imitation from those bands. BARREN EARTH has inevitable similarities, but that doesn't make them predictable. On the contrary 'Our Twilight' EP creates high expectations for their début album, expected in 2010.
Album Review
The title track 'Our Twilight' is a strongly guitar orientated song, very progressive.
Impressive team work from guitarists Janne Perttilä and Sami Yli- Sirniö. Both have an own style, but very talented in fast technical parts. From the first second bass player Olli-Pekka forms a strong base together with drummer Marko Tarvonen, having a prominent position in the mix. The grunts from vocalist Mikko are deep, fitting well in the dark atmosphere. Opeth fans definitely will like that. It breaks open in the refrain when he shows a totally other side: soft clean parts, not very strong but very melodic. A dexterous classical guitar solo halfway the song, is a more catchy part in 'Our Twilight.'
Each song on this EP has such an own atmosphere and style. Kasper Mårtenson immediately grabs the attention in 'Jewel.' When the guitars are taking over the melody, the intro is almost too short. For sure the most progressive and dared song from BARREN EARTH. Mikko is not such a strong grunter like death metal vocalists in Morbid Angel or Obituary. But he is dynamic with folk influences like colleagues from Ensiferum. Halfway a very complex murge from keyboards, mixed vocals and technical guitar lines settles under your skin. Mikko's almost spoken lyrics are changing the atmosphere, again a strong alliance of all those talents.
'The Flame of Serenity' is dark, almost doom, but it still breaths. No massive wall of music. High guitar riffs are in strong contradiction with the grunts. Mikko growls lower and lower, again showing a different side of his voice. The technical base is necessary to make the song grow, but it is the melodic guitar changes what holds the attention. The tension is there and when the solo finally comes, it grabs you for sure. Less is more and BARREN EARTH understands that very well in this production.
'Floodred' is absolutely the masterpiece, with more death metal influences. It is hard to translate the emotion because it is the whole team of musicians what makes this song overwhelming. Most remarkable is again the strong drum parts from Mikko, mixed with spoken parts, and a prominent bass guitar. On top the guitarists duo Janne and Sami, almost sounding like one. Progressive is it when Kasper get's his prominent part on top of the drums. It is the breaking point of the song. Till then they sounded like one strong metal machine, but now the melody changed and be prepared for an impressive instrumental roller coaster. The unique mixture of styles, are coming to a climax. The melodic piano is taken over by a breathtaking guitar solo from Sami Yli-Sirniö. A talented musician, after you heard this you will never underestimate that or the idea that BARREN EARTH doesn't have an own sound. They are creative and talented enough to discover new musical paths.
BARREN EARTH challenged themselves and the metal scene. They created a masterpiece, earthshaking for every progressive and technical metal fan. With such an entrance, you are certainly not forgotten!


Tracklist
01. Our Twilight
02. Jewel
03. Flame Of Serenity
04. Floodred
Line-up
Mikko Kotamäki – Vocals (Swallow The Sun)
Olli-Pekka Laine – Bass (Ex-Amorphis, Mannhai)
Kasper Mårtenson –Keyboards (Ex-Amorphis, Ben Granfelt Band)
Janne Perttilä – Guitar (Rytmihäiriö)
Marko Tarvonen – Drums (Moonsorrow)
Sami Yli- Sirniö – Guitar, backing vocals (Kreator, Waltari)
Website
Official website:
http://www.barrenearth.com/v2/index.html
Peacevill page:
http://www.peaceville.com/barrenearth/ourtwilight/
Myspace:
http://www.myspace.com/officialbarrenearth
Cover Picture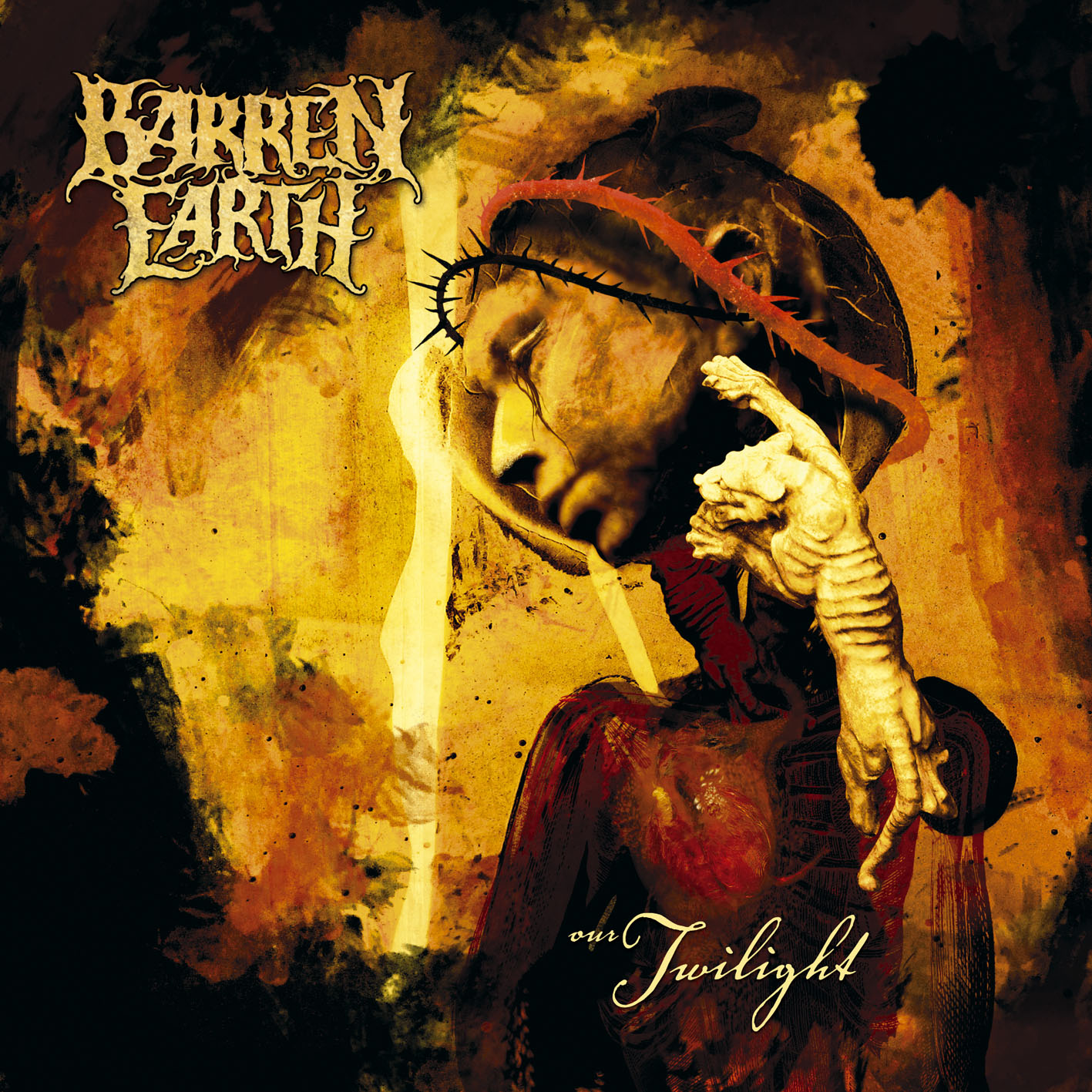 Rating
Music: 9.5
Sound: 9
Extras: -
Total: 9 / 10
band information page on RoD webzine:
http://www.reflectionsofdarkness.com/index.php?option=com_content&task=view&id=6145&Itemid=110
{jos_sb_discuss:17}