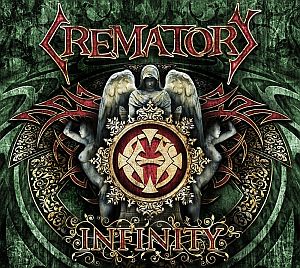 Title: Infinity
Artist: Crematory

Genre: Gothic Metal
Release Date: 29th January 2010
Label: Massacre Records / Soulfood
Album Review

CREMATORY is considered as one of the founders of German gothic metal. The band formed in 1991 originally played doom death metal, under the influence of such outfits as PARADISE LOST and TIAMAT, but a bit later it started to make something more melodic. Katrin Goger, at that time a session keyboard player was invited for recording of the first demo and that was a very daring step because the use of keyboards wasn't widespread in extreme metal. Afterwards that formula turned to be rather successful and a lot of metal formations added it to their armoury. CREMATORY's unique sound took the final shape on the album 'Illusions' released in 1995, and even the breakup of the band in 2001 and its reunion in 2004 didn't tell on its music at all.
The formation's new album 'Infinity' vividly demonstrates the faithfulness of the musicians to their traditions: the same catchy tunefulness, the mixture of brutal and clean vocals, filigree keyboards, slightly dark atmosphere with a shade of mystery and metaphoric lyrics. There's no intro and the powerful stream of guitar riffs pounces upon a listener from the very beginning and continues to attack without respite till the first ballad 'Broken Halo' in which the acoustic guitar goes fancifully with the drumming unusual for the band. The next song, 'Where Are You Now' turns you back into the world of unruly notching guitars with the impenetrable walls of nearly blast beats that can remind you a bit of true death or traditional thrash metal, but in the chorus these walls are successfully broken and it makes the composition sound unexpectedly amusing. The last track 'Auf der Flucht', a melodic opus also produces a great impression and it's an excellent song to finish the whole CD.
So, 'Infinity' is a very interesting and diverse album, nevertheless it's typical to CREMATORY. The band's early stylistic findings and the temperate propensity to experiments are reflected in the record which will definitely suit the taste of the fans.
Tracklist

01. Infinity – 4:52
02. Sense of Time – 5:46
03. Out of Mind – 3:21
04. Black Celebration – 4:56
05. Never Look Back – 4:11
06. Broken Halo – 4:19
07. Where Are You Now – 5:02
08. A Story about… - 4:51
09. No One Knows – 4:28
10. Auf der Flucht – 4:35
Line-up

Felix – Vocals
Matthias – Guitars & Vocals
Harald – Bass
Katrin – Keyboards & Samples
Markus – Drums & Programmings
Website

http://www.crematory.de/
/
http://www.myspace.com/crematorymusic
Cover Picture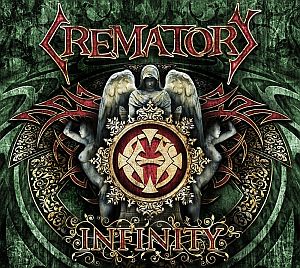 Rating

Music: 8
Sound: 9
Extras: -
Total: 8.5 / 10
{jos_sb_discuss:19}