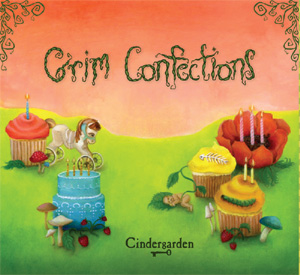 Title: Grim Confections
Artist: Cindergarden

Genre: Alternative
Release Date: 2010
Label: Looking Glass Records, MachineKUNT Records
Album Review

Creepy atmospheric musical box sounds begin 'Candles on a cake', give way to heavy electronic beats and vie back and forth for supremacy for a moment until... ethereal vocals emerge to top off the otherworldly effect coupled with splurges of vocoded voices, all wrapped into a compelling tune. It's a great debut track for this album and is quickly followed by the even more surreal 'Gingerbread' which slithers around inside you insidiously making it's ever so gently sinister presence felt. 'Has arrived' begins with more tinkling musical box sounds and the whirr of clockwork, invoking a very uneasy feeling as it ends abruptly after only 33 seconds and leads into 'Hex', a track in much the same vein of spooky reminiscence, overlaid by some clever and tuneful electronic and some discordant and mournful vocals.
Track five 'Mesmerize' has a dark and disturbing organ intro which fits beautifully with the very intense lyrics and poignant vocals. The mastering on this album is to be commended because the sound is excellent in every way. 'One more drop' builds on the sense of eeriness, becoming more disjointed than any of the preceding tracks with whispered, confidential lyrics and a worrying tendency to lurk in your head. 'Playthings' and 'Pop Up' up the tempo without ever once losing the foreboding unsettling air that this album sets whilst 'Rainbow's End' changes the flavour entirely of the music and is a real surprise and for me the album highlight. 'Sheep' is back to the broken, haunted music box feel with slightly subtler overtones than the tracks that precede it, but it has no less impact for that, in fact if anything it has more. The final track, 'The beat inside' takes us full circle back to the insidious feel of 'Candles on a cake', relentlessly nagging at your sense of unease.
It's a very brave album, being well produced, well performed and thoughtfully composed. The vocals are absolutely beautiful and it never once misses its mark being a real pleasure for anyone who likes their music eerie, dark, sinister and cleverly conceived.
Tracklist

01. Has Arrived
02. Candles on a Cake
03. Hex
04. Sheep
05. The Beat Inside
06. Gingerbread
07. Pop Up
08. Playthings
09. Mesmerize
10. One More Drop
11. Rainbow's End
Line-up

Jaymie Valentine - Vocals etc
Website

http://www.myspace.com/cindergarden
Cover Picture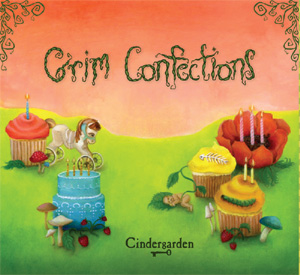 Rating

Music: 9
Sound: 9
Extras:-
Total: 9 / 10
{jos_sb_discuss:19}