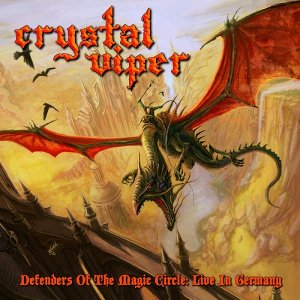 Artist: Crystal Viper
Title: Defenders Of The Magic Circle: Live In Germany
Genre: Heavy Metal / Power Metal
Release Date: 4th June 2010
Label: AFM Records
Album Review
I can't help myself, but in my opinion all Power Metal bands sound like a mixture of my former heroes like MANOWAR, IRON MAIDEN, HELLOWEEN, or even BLIND GUARDIAN. There's no development in composing or sound! Maybe due to the fantasy motives, all singers yell like they're having a bad headache and lost their masculinity. In this special case, we have a female singer bringing up her female skills as a siren right from the depths of hell.
Is CRYSTAL VIPER therefore a band not being worth to listen to, because one is fed up with all these whiners and posers? Not at all! CRYSTAL VIPER has solid qualities in live performance, that's for sure. It's a shame that these qualities are not valued by the sound engineering of this release! Don't get me wrong, recording a live album is always the hardest part of the business. But in this case the mixing is unbalanced and doesn't even get the atmosphere of the audience. Another weak spot is that 'Defenders of the Magic Circle' is only half a live performance. Only five songs (not counting the intro) are live, the others are so called makeshifts.
All in all, CRYSTAL VIPER is an ambitious band in their genre and sound like e.g. HELLOWEEN should sound nowadays in remembrance of the eighties.
Tracklist
01. Breaking the Curse
02. Metal Nation
03. Legions of Truth
04. The Island of the Silver Skull
05. Shadows on the Horizon
06. The Last Axeman
07. Secret Of The Black Water (taken from the forthcoming studio album)
08. The Wolf And The Witch (first time on CD)
09. Stronghold: Under Siege (taken from the limited edition CD single)
10. Obsession (It Burns For You) (Virgin Steele cover song, previously unreleased)
Line-Up
Bass - Tom Woryna
Vocals - Marta Gabriel
Guitars - Andy Wave
Drums - Tomasz "Golem" Danczak
Website
http://www.crystalviper.com/
/
http://www.myspace.com/crystalviperofficial
Cover-Picture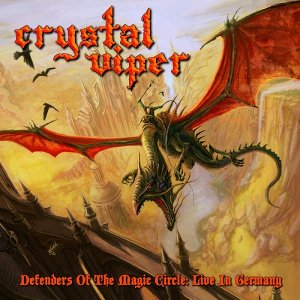 Rating
Music: 7
Sound: 8
Extras: -
Total: 7.5 / 10
{jos_sb_discuss:19}