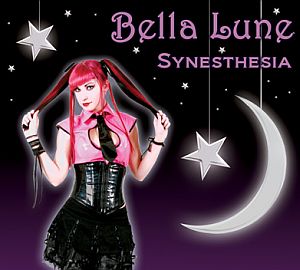 Artist: Bella Lune
Title: Synesthesia
Genre: Indie / Electronica / Gothic
Release Date: 24th July 10
Label: Aetheria Music
Album Review

Established in 2005 by Fuchsia and Kal3id, American band BELLA LUNE released their debut album 'Abstracted Visions' in 2008, received a lot of positive feedback and devoted the following two years to the active touring and live performances, during which they shared the stage with such bands as AYRIA, THE CRUXSHADOWS, PETER MURPHY, BELLA MORTE, NITZER EBB and many others. This summer, BELLA LUNE gave away their second full length album 'Synesthesia' with a charity benefit show as a release party.
The opener 'Denial' commences with the melancholic strings and rather minimalistic arrangements accompanying Fuchsia's chatoyant angelic vocals to blossom into carrying away dramatic fusion of guitar, piano, multi-layered vocals and wide string section. In romantic 'Ophelia' Kal3id joins Fuchsia making a harmonious gentle duet and also embellishes the song with ascending guitar solo. Light and imponderable, sung in the subtlest voice 'Illogical Logic' with the Synth passages resembling a bit of Depeche Mode contrasts sharply with 'No Escape', cold and vast soundscapes of which create the disturbing atmosphere of a prolonged haunting nightmare strengthened by the unearthly vocals of Fuchsia and the ominous beat of the drum in the ending. The following 'The Dolly Pop Song' stands out of the rest of the album both lyrically and musically being the most danceable and the most electronic track that expresses quite plain lyrics perfectly fitting its title: "Deviate, violate, fornicate, penetrate / The dolly pop song / Fuck me iced".
But in the end the sound yields to the dark descending atmospherics conveying the general mood of 'Synesthesia'. The song may diversify the sound of the album but the appropriateness of such diversifying is open to question, in my opinion. Dreamy aerial sounds in the beginning of 'Unanswered Questions' veil the listener, arousing the engaging feeling of absolute serenity and calmness. The heartfelt singing in the chorus adds a slight tinge of sadness to the song, but in no way depressing. The last tracks of the album, 'So Long Ago' and 'The Finite One', share the similar sensation of the blue calm. The release also includes a Black Jacket Remix on 'Silent and Still'. The song was converted into a pure club-oriented track with all essential components such as straight beat, changing rhythm and simple arrangements. So, only vocals seem to last from the original version. Despite 'Synesthesia' is far from being an innovation on the gothic scene; it still represents a thorough work that may become an outright gift to everyone who enjoys autumn melancholy. Tender heavenly voice rises above the music to drown in it again and melt in the soaring Synth lines and post-punk guitars – what else can a romantic of the dark side desire?
Tracklist

01. Denial
02. This and the Other
03. Ophelia
04. A Different Effect
05. Who Knows
06. Illogical Logic
07. No Escape
08. The Dolly Pop Song
09. Spiral Effect
10. Unanswered Questions
11. Last Words
12. So Long Ago
13. The Finite One
14. Silent and Still (Black Jacket Remix)
Line-up

Fuchsia - Studio: Song Writer, Vocals, Guitar, Bass, Synth, Drums, Production. Live: Vocals and Guitar
Kal3id - Studio: Song Writer, Guitar, Synth, Drums, Production. Live: Guitar
Hurley - Live: Synth
R. Duke - Live: Drums
Divad - Live: Guitar
Beeka - Live: Violin
Website

http://bellalune.net/
/
http://www.myspace.com/bellalune
Cover Picture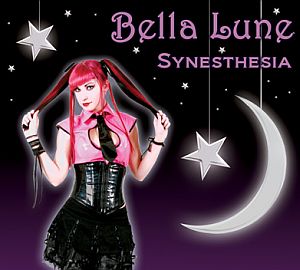 Rating

Music: 7
Sound: 7
Extras: -
Total: 7 / 10
{jos_sb_discuss:19}