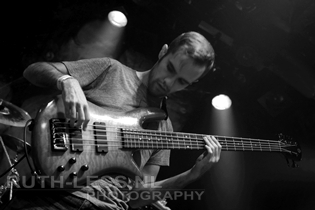 De Melkweg, Amsterdam, The Netherlands
16th September 2011
Between the Buried and Me, Animals as Leaders, Doyle

After missing my train from Brussels to Amsterdam, I didn't make it in time to see the take-off of tonight's show at the Melkweg. But after a day full of public transport disasters, I was glad I actually made it there. Three bands hit the stage tonight and treated the audience to some Progressive / Hardcore metal candy.



Doyle

DOYLE took off in 2006 in France. Their EP 'Submerge' didn't go by unnoticed and got them booked as opening acts for big names in the (post) Hardcore scene such as DEFTONES and 36 CRAZYFISTS. Soon after, they recorded their first full length album 'And gods will…' A change in the line-up with new front man Thomas V allowed the band to broaden its musical spectrum, drawing its wealth of emotions as much from Screamo and Metalcore as from post-rock and electro. http://www.myspace.com/doyleband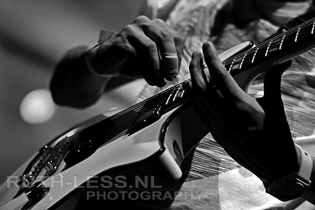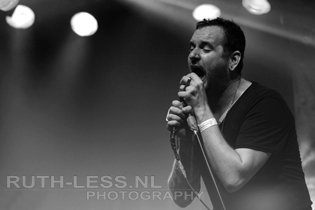 Music & Performance
Only about a month ago, DOYLE was added to the line-up. I had never heard of this band, but from the start it became clear why they were added to tonight's bill. Subtle guitar riffs slowly building up to an emotional outburst, followed by an intermezzo and some more loudness. Although front man Thomas didn't really communicate that much with the audience, the crowd seemed to enjoy DOYLE. Unfortunately, one of their last songs sort of got stuck in an intermezzo that seemed to go on forever, which wasn't really appreciated. In short: although not an entirely convincing show, DOYLE is an interesting band and I'd like to see some more of them in the future.

Rating
Music: 7
Performance: 6
Sound: 7
Light: 6
Total: 6.5 / 10


Animals as Leaders

ANIMALS AS LEADERS is an instrumental progressive metal band from Washington, D.C. formed in 2007. The name ANIMALS AS LEADERS was inspired by Daniel Quinn's 1992 novel 'Ishmael', which addresses anthropocentrism. Their self-titled debut album was released in 2009 by Prosthetic Records. Multi-tasking guitar player Abasi recorded most guitar and bass tracks on the album; a few guitar solos, drums and various synthesized effects were programmed by an engineer. Both ANIMALS AS LEADERS's guitar players Abasi and Reyes are also members of the super group T.R.A.M alongside former THE MARS VOLTA wind instrumentalist Adrian Terrazas and SUICIDAL TENDENCIES drummer Eric Moore. Since the release of their first album, ANIMALS AS LEADERS has done extensive touring including the 2010 "Summer Slaughter" tour with amongst others DECAPITATED and ALL SHALL PERISH. Since then they have also toured with more mainstream acts like CIRCA SURVIVE and DREDG and headlined their first tour. www.myspace.com/animalsasleaders / http://prostheticrecords.com/?p=1846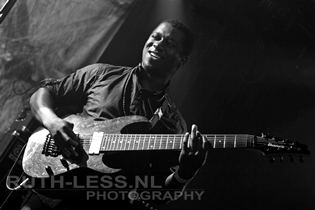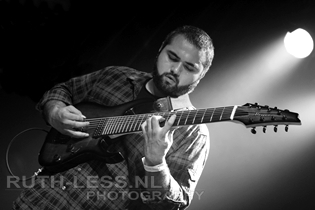 Music & Performance
From the cheers of the audience it became clear that ANIMALS AS LEADERS is one of the bands they really came for. While every guitar and bass nerd took a few steps forward and tried not to even blink, ANIMALS AS LEADERS took off with their hurricane of superfast riffs, intermezzos and breaks. Not much talking is being done during this gig, but most of the audience's eyes are focused on the fingers of Abasi and Reyes going over their (bass) guitars anyway. ANIMALS AS LEADERS seemed to enjoy the amazement of the audience most, when they treat them to one impossible move after another. About halfway their set, ANIMALS AS LEADERS announced a new song titled 'Isolated Incidents' from their forthcoming album 'Weightless', to be released in November. ANIMALS AS LEADERS concluded their show with the single 'CAFO' from their current self-titled album. My only remark on their show is that I personally would've enjoyed a bit more movement on the stage. Bands like AND SO I WATCH YOU FROM AFAR have shown that instrumental bands don't have to be static on stage and I like that attitude. ANIMALS AS LEADERS's technical performance is flawless though and tight as sh*t. I'm already looking forward to their new album!

Rating
Music: 8
Performance: 6
Sound: 7
Light: 6
Total: 6.8 / 10


Between the Buried and Me

BETWEEN THE BURIED AND ME was founded in 2000 in Raleigh, North Carolina. The band's name is derived from a section of lyrics in the COUNTING CROWS song, 'Ghost Train'. As of 2011, BETWEEN THE BURIED AND ME released five studio albums, as well as a cover album and a live DVD/CD. Their musical style is described as a blend of mainly metal core, progressive metal and death metal, sometimes leaving their audience confused. The band's latest studio album called 'The Great Misdirect' was released in 2009. In 2011, the band switched labels and released their First EP entitled 'The Parallax: Hypersleep Dialogues'. Over the years, BETWEEN THE BURIED AND ME has toured with big names IN FLAMES, THE DILLINGER ESCAPE PLAN, KILLSWITCH ENGAGE, CHILDREN OF BODOM and many more. On September 2nd, BETWEEN THE BURIED AND ME started their European tour. www.betweentheburiedandme.com / www.myspace.com/betweentheburiedandme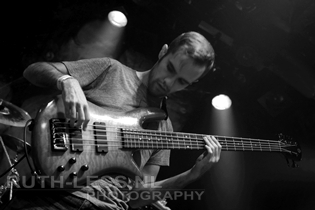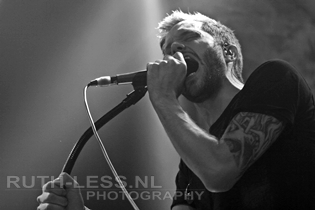 Music & Performance
I've never seen BTBAM live before, but on CD I sometimes got a little lost due to the huge variation in their songs and style. On stage though, their music seemed much more coherent. Front man Tommy Rogers treats the audience to raw grunts from centre stage followed by some clean vocals (and growling!) from behind his keyboard. I can't help but thinking grunting behind a keyboard looks a bit awkward, but BTBAM can get away with that. During their 90 minute set BTBAM plays songs from both their older albums such as 'The Silent Circus' and 'Alaska', as from their latest album 'The Great Misdirect', all of which were enthusiastically embraced by the crowd. BETWEEN THE BURIED AND ME makes a unique blend of metal core, progressive metal and death metal and the variation between the slower intermezzo's and the metal core parts is exactly what makes their performance vibrant and never dull.

Rating
Music: 8
Performance: 8
Sound: 7
Light: 6
Total: 7.3 / 10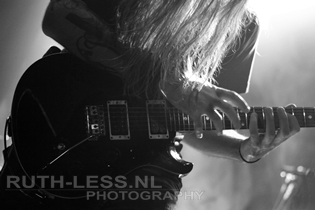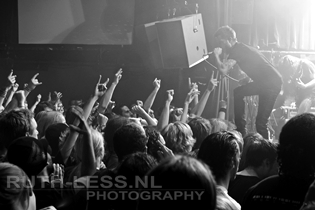 All pics by Ruth Mampuys (www.ruth-less.nl)