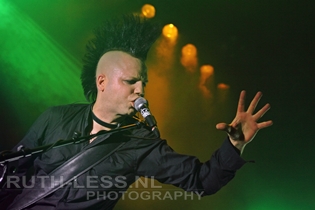 P60, Amstelveen, The Netherlands
29th October 2011
Diary of Dreams, The Arch, Consumer Junk

The German Darkwave band DIARY OF DREAMS was headlining this fall's edition of Underground Frequencies at P60. Their 10th studio album called 'Ego:X' has just been released end of August and their show in The Netherlands is part of their promotional tour. Support was taken care of by CONSUMER JUNK and THE ARCH.



Consumer Junk

CONSUMER JUNK was founded in 2009 by Gerwin van Ruiswijk, who has a leading role in the project being responsible for the music, lyrics and vocals. Van Ruiswijk has over a decade of experience in producing and performing electronic music from other projects. VJ William de Vries was added to the project to visualize the bands most important theme: the hopeless addiction of society to satisfy their demands, hence the name of the project. In August 2010, CONSUMER JUNK released 'C14H18N2O5' (chemical formula of Aspartame, an artificial sweetener used in food) on Bandcamp.com. After this release, CONSUMER JUNK signed a contract with FK Digital Records in Berlin and released their first full length album: 'PRODUCT' in 2011. www.consumerjunk.com / www.myspace.com/consumerjunk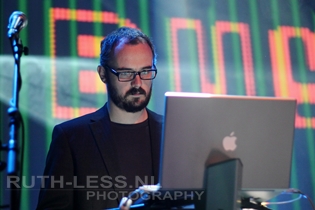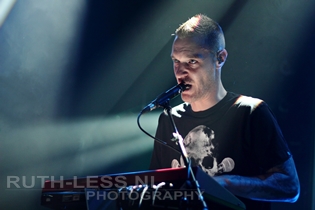 Music & Performance
The beats of P60's DJs Marcel & G.Host almost fluently merged into CONSUMER JUNK's performance. With only two individuals on stage, a great deal is asked from their performance. The fact that both Van Ruiswijk and VJ De Vries had limited space to manoeuvre because of the nature of their instruments turned this into a challenge. CONSUMER JUNK treated the audience to an accessible dose of electronic / industrial techno that makes your feet (mine at least) want to move around. Unfortunately, the audience didn't seem to feel like dancing (yet). Perhaps the artists didn't really set an example? VJ William hardly moved and didn't even bother to look up from his PC. Van Ruiswijk played with his Theremin, while confronting the audience with the theme of consumerism via electronic voice-over. However, somehow the energy wasn't really transferred to the audience. Being unfamiliar with their music, I had difficulty distinguishing between the different tracks. In the end, I have to conclude that CONSUMER JUNK's live performance did not really add to their music.

Rating
Music: 6
Performance: 5
Sound: 6
Light: 5
Total: 5.5 / 10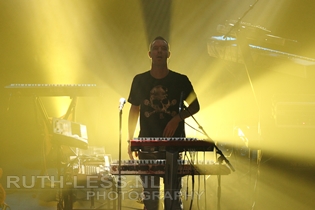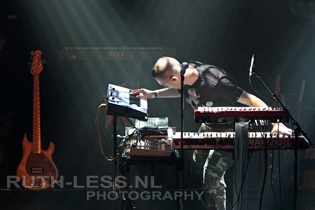 The Arch

THE ARCH was formed in 1986. They describe their music as a cross between electronic body music and guitar rock with each instrument maintaining its individual sound. THE ARCH's first demo, 'Revenge Revival', appeared on the compilation 'Expo 87' followed by their first EP 'As Quiet As' released by Anything But Records. After a series of international shows in amongst others Amsterdam, Berlin, Hamburg, Zagreb, Belgrade, Budapest, the first album, 'A Strange Point of You' was released in 1988. After their next album 'The Only Thing' was released in 1991, THE ARCH quit. In November 2011 the band will release a new album called 'Engine In Void' through ECHOZONE. www.thearch.be / www.myspace.com/thearchbelgium

Music & Performance
Looking like Edward Kowalczyk (back in the days) in a furry jacket, front man CUVG drew attention from the audience by crawling over the stage and seeking eye contact with the people in front. THE ARCH put up a proper show while entertaining P60 with a selection of songs from their many albums. Their songs have different themes, but all share a dark atmospheric Indie/electronic sound. THE ARCH concluded their short set with the song 'Babsi ist tot', which was inspired by the German book & movie 'Christiane F'. It must be said that although the audience seemed to enjoy their performance, it was clear from the start that most of them actually gathered in P60 tonight to see headliner DIARY OF DREAMS.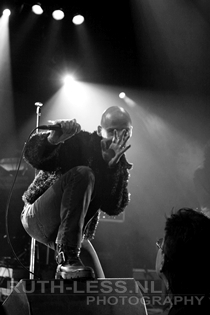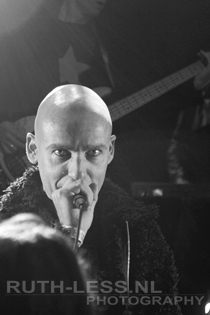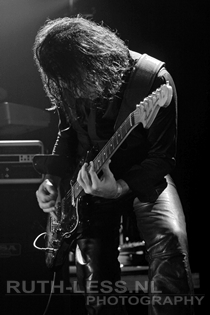 Setlist
01. PRI
02. Individuals
03. Coward
04. Skinny Meadows
05. Ribdancer
06. Waterfall
07. Babsi ist tot

Rating
Music: 7
Performance: 7
Sound: 7
Light: 5
Total: 6.5 / 10


Diary of Dreams

Front man Adrian Hates, who is originally a classically trained guitar player and pianist, started DIARY OF DREAMS in the late 1980s as a project. From the release of the first album entitled 'Cholymelan' in 1994, DIARY OF DREAMS built a steady and loyal fan base which grew with every album release. From their album 'Nigredo', the band became known to a wider public with a combination of their old concepts influenced by the German expressionism and a more dance-oriented sound. Most of their work is not just a compilation of songs, but also a conceptual artwork with a philosophical theme. In 2011, DIARY OF DREAMS released their new album 'Ego:X' followed by a German / European tour. www.diaryofdreams.de / www.myspace.com/diaryofdreams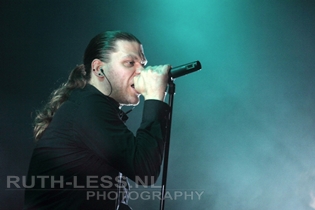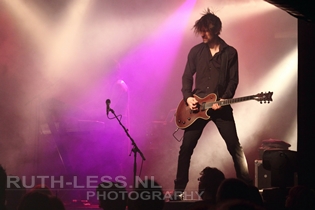 Music & Performance
DIARY OF DREAMS was given a warm welcome from the audience as they entered the stage. Front man Adrian Hates is not unfamiliar with this stage, since DIARY OF DREAMS gave a show here in 2009 as well. I have to admit that I've vaguely known the music of DIARY OF DREAMS for some years but never saw them live. Having read the review of the latest album 'Ego:X' on Reflections of Darkness, I was somewhat afraid that a live performance of this band might be only fully enjoyed by loyal fans familiar with the philosophical themes of their work. Therefore, I am very pleased to say that I really enjoyed DIARY OF DREAMS live. It was a great show, with every musician in the band involved and taking their part in the live performance, running around and climbing the risers. Having a full band (instead of a drum computer and some heavy synths as with many bands in this genre) really adds to the live experience and sound of the band. Front man Adrian Hates is charismatic and has a very pleasant voice one cannot resist listening to. I would compare it to an exciting audio book keeping your attention wondering what the next chapter might be about.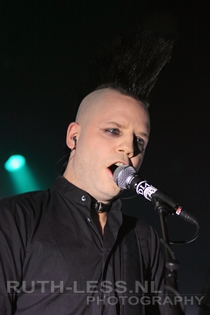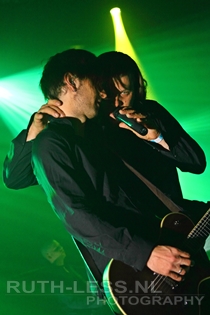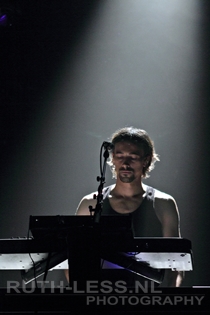 The setlist consisted of both old and new songs from their discography. Both, the musicians as well as the audience, seemed to really enjoy themselves, and the game of "Zugabe" was played for two times before DIARY OF DREAMS eventually left the stage. Great show!

Setlist
01. Intro (Into X)
02. Giftraum
03. The Wedding
04. Lebenslang
05. Grey The Blue
06. Reign Of Chaos
07. Echo In Me
08. Mein-Eid
09. False Affection, False Creation
10. Wahn!sinn?
11. AmoK
12. King of Nowhere
13. Undividable
14. Butterfly: Dance!
---
15. The Curse
16. Kindrom
---
17. Menschfeind
18. Traumtänzer

Rating
Music: 8
Performance: 8
Sound: 8
Light: 7
Total: 7.8 / 10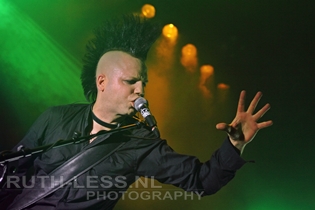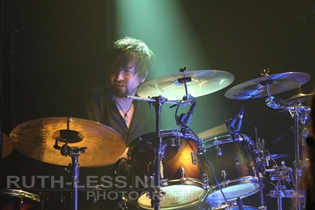 All pics by Ruth Mampuys (www.ruth-less.nl)