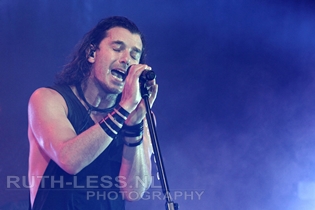 013, Tilburg, The Netherlands
16th November 2011
Bush & Evaline

After almost a decade, BUSH is back this year with a new album. Listening to 'The Sea Of Memories', you wouldn't think that much time has passed since the last album in 2002. Most songs still have that nice grunge sound. As expected, BUSH's show at The Melkweg (Amsterdam) sold out quickly, and many people also showed up at 013 to see if they still have it… I used to listen to their music but never saw a live show before, so I was very much looking forward to tonight!


Evaline

EVALINE from California (USA) started out in 2003. Soon after, the band recorded their first EP 'Postpartum Modesty. A Portrait of Skin' which was eventually released by Maverick Records. The next years where filled with touring and also brought some changes in the line-up. In 2008, EVALINE started working on their debut album. Their EP 'The Patterned' was released on ITunes in 2010, followed by their debut album 'Woven Material' in June this year. From that point on, EVALINE has performed at a number of festivals in Europe, such as the ITunes festival in London where they supported MY CHEMICAL ROMANCE. This fall, EVALINE supports BUSH on their European tour. EVALINE is Richard Perry (Vocals), Greg Petersen (Drums), Daniel Petersen (Baritone Guitar), Christian Lewis (Guitar), Dominic DiCiano (Guitar) and Steve Pedersen (Bass). www.myspace.com/evaline / www.weareevaline.com/band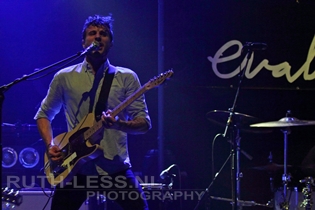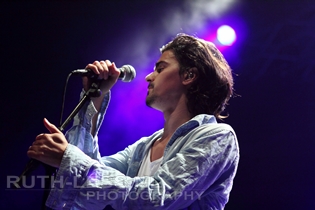 Music & Performance
EVALINE does a pretty decent job at warming up the audience for tonight's headliner. Starting off with 'Patterned' from their EP, Perry jumped off the stage to get the audiences' attention. With all eyes focused on the stage now, he continues to introduce the band and presents the next songs, 'Picking it Up' and a Johnny Cash cover 'God's gonna cut you down'. Their single 'There There' is very well chosen and definitely the most catchy song of their repertoire, easily sung along by the audience. EVALINE music is somehow very recognizable, but I can't really point out what exactly makes their music sound so pleasantly familiar, which should be taken as a compliment! EVALINE is an energetic live band and with their short set, they show diversity in their repertoire as well as live experience. The musicians don't visibly interact with each other that much at the start. With as many as four guitars, things get a little messy on stage with everybody jumping around. By the end of their show, the team spirit of EVALINE fortunately does emerge in a massive drum collaboration.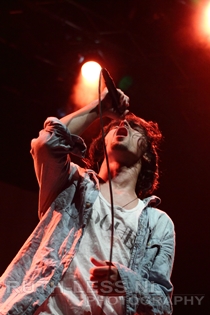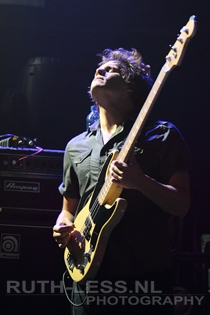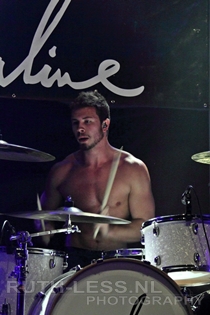 Before he leaves, Perry asks the audience to give BUSH a big applause and invites the audience to come and hang out with the band at the merchandise stand later on. The bottom line: great band, great music and friendly musicians!

Setlist
01. Patterned
02. Picking it up
03. God's gonna cut you down (Johnny Cash cover)
04. Beneath the Fire
05. There There
06. Rapture
07. Equally
08. All in my mind

Rating
Music: 8
Performance: 8
Sound: 8
Light: 5
Total: 7.5 / 10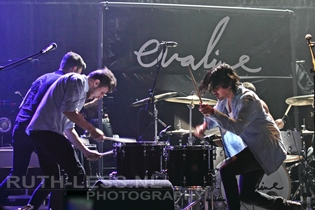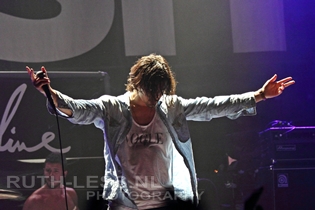 Bush

BUSH is a British rock band formed in 1992 in London. In 1994, they released their first album 'Sixteen Stone' including hit song 'Glycerine'. Over the next years, BUSH became one of the most successful rock bands of the 1990s in the United States, selling over 10 million records with their albums 'Razorblade Suitcase' and 'The Science of Things'. After the release of their album 'Golden State' in 2002, BUSH decided to stop. Front man Gavin Rossdale started another band called INSTITUTE releasing only one album in 2004. In 2010, part of the original BUSH line-up got back together and started working on a new album, 'The Sea of Memories', which was released in September 2011. BUSH is Gavin Rossdale (vocals, guitar), Robin Goodridge (drums, percussion), Chris Traynor (guitar) and Corey Britz (bass guitar). www.bushofficial.com / www.myspace.com/bush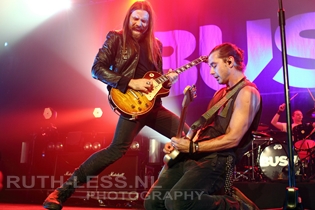 Music & Performance
Bush kicked off their show with 'Machinehead' from their first album 'Sixteen Stone' and was welcomed by the audience with a big applause. Looking around, I can tell that many people my age knew the song by heart. Up next was 'The land of the living' from their fore last album 'Golden State', followed by 'All my life' from their new release. Fifteen years of BUSH history in three songs; now it was time to fill in the gaps. The overall set list held a very good balance of old songs, hit songs and the new album 'The Sea of Memories' as BUSH continued with 'Prizefighter', 'I believe in you' and 'The Chemicals Between us'. With numerous phone cameras pointed towards the stage, Gavin friendly reminds to audience "not to forget taking pictures of each other as well". Although only Rossdale and Goodridge are from the original line-up, the band made a great team on stage, each playing their part during the show.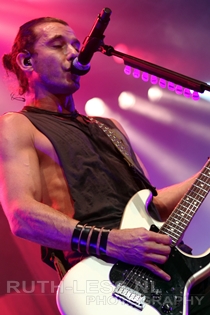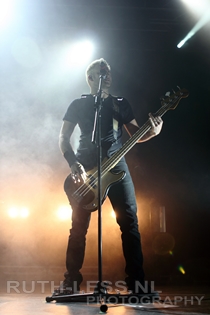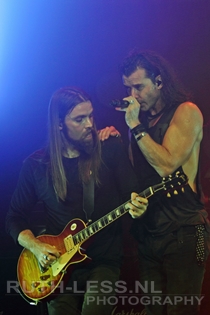 Guitar player Traynor (who has a wicked moustache, it must be said) was tiptoeing around the stage while playing his guitar solos, sometimes together with Gavin. Drummer Goodridge got up from his seat every now and then to check if the audience response was according to plan while bass player and newbie Britz visibly enjoyed the stage as well: with a big smile on his face while interacting with his colleagues. After a few songs, Gavin took off his jacket and let his hair down, which was responded with big cheers from the ladies in the audience. Rossdale let the audience know that he's very happy to be back and pleased with the new album. After a mix of old and new songs such as 'Everything Zen' and 'The People that we Love', where Gavin got on his knees playing the guitar, it was time for a few quiet more ballad like song 'Be still my Love' where his beautiful voice really was sticking out. The audience atmosphere seemed modestly enthusiastic during most of the songs. Gavin perfectly described this when he said that he feels like being examined at the doctor, not sure what the audience will find. As if the audience seemed triggered by this statement they started moving and jumping around some more during the next songs…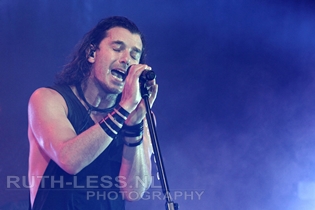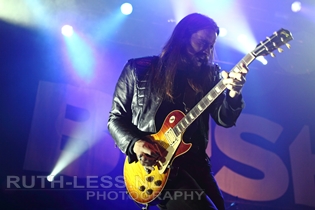 It seemed like BUSH saved the best for last as the encore was filled with oldies 'Alien', 'Glycerine' and 'Comedown', with a Beatles cover in between ('Come Together'). The band gave all, and the audience sang along loudly. Traynor was visibly at ease, as he kicked off his shoes to finish the show. BUSH is definitely back and hopefully here to stay. I'm looking forward to their next album(s) and more awesome shows like this!

Setlist
01. Machine head
02. The Land of the Living
03. All My Life
04. Prizefighter
05. I Believe In You
06. The Chemicals Between Us
07. The Sound Of Winter
08. Everything Zen
09. The Heart of The Matter
10. The People That We Love
11. Be Still My Love
12. Swallowed
13. The Afterlife
14. Little Things
---
15. Alien
16. Come Together (The Beatles cover)
17. Glycerine
18. Comedown

Rating
Music: 9
Performance: 10
Sound: 8
Light: 10
Total: 9 / 10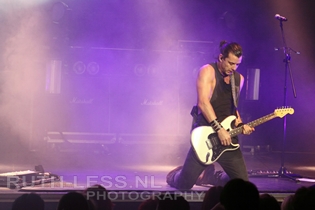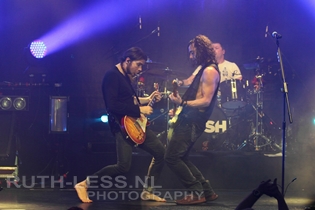 All pics by Ruth Mampuys (www.ruth-less.nl)



See also (all categories):