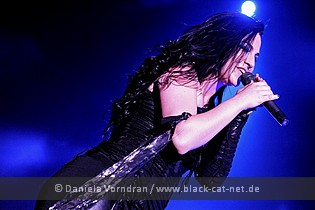 Mitsubishi-Electric Hall, Düsseldorf, Germany
18th November 2011
Evanescence, The Pretty Reckless, Kellermensch

It has been about five years since the previous album by EVANESCENCE was released. In spite of the great popularity, the band doesn't churn out tons of material and doesn't release new album every year. The self-titled album was the third official studio album of the band existing for 15 years already. Now, they are back in Germany for four shows and of course we did not miss out one of the rare opportunities to see the band live on stage.



Kellermensch

Danish band KELLERMENSCH formed in Ejsberg in 2006 and ever since has turned quite some heads with Art and progressive rock aficionados. The band has released two records so far with the eponymous album from 2009 and the follow-up EP 'Narcissus'. This year saw a re-release of the debut album on vinyl. KELLERMENSCH is Christian Sindermann (vocals), Sebastian Wolff (guitar, vocals), Anders Trans (drums), Claudio W. Suez (bass), Jan V. Laursen (guitar) and John V. Laursen (upright bass). http://kellermensch.com/ / https://www.facebook.com/Kellermensch / http://www.myspace.com/kellermensch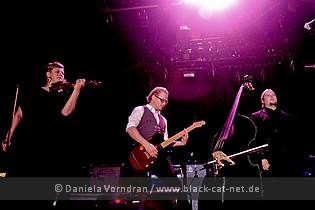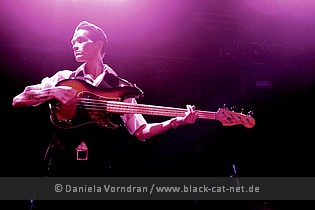 Music & Performance
KELLERMENSCH were the first filling in for FAIR TO MIDLAND who jumped off the band wagon on short notice because of a missing bass player. I was unbiased against KELLERMENSCH right until the moment they played their very first song. Some might think it's a completely new twist to performing vocals but I couldn't find any pleasure in listening to it longer than the show's duration. Not that the music itself, instrumental set included a double-bass as well, wasn't executed with proficiency. The violin and its special tuning gave the songs a slightly medieval feel. Don't take this little text as a personal offence to your tastes. If you like it, fine with me but don't expect me to laud it here.

Rating
Music: 4
Performance: 5
Sound: 7
Light: 6
Total: 5.1 / 10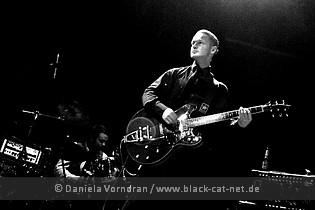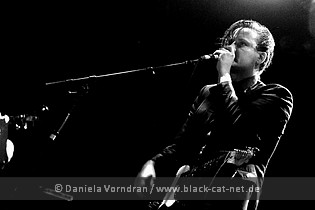 The Pretty Reckless

With alternative rock band THE PRETTY RECKLESS, another female fronted band was supporting EVANESCENCE after FAIR TO MIDLAND had cancelled their support slot. Being nine years old, Taylor Momsen, who is known to many by her role in "Gossip Girl", saw a show of THE WHITE STRIPES making her decide to find her luck as musician. Founded 2008, the band released its debut album 'Light me up' in August 2010 after they already released an EP before. Having experience on stage due to several festival appearances, the band now came to Europe to open for EVANESCENCE. THE PRETTY RECKLESS is Taylor Momsen (vocals), Ben Phillips (guitar), Mark Damon (bass) and Jamie Perkins (drums). http://www.theprettyreckless.com / https://www.facebook.com/theprettyreckless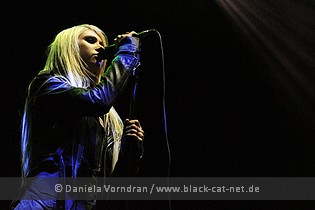 Music & Performance
Forward to the second support act THE PRETTY RECKLESS fronted by 19 years old Taylor Momsen. The band apparently had a lot of fans amongst the attendees of this evening's show. The first song the band played, 'Since You're Gone', was hard proof that there was a real vocal talent at work. Soulful and with a darker timbre, Momsen sounds as if she was at least ten years older. The songs that have been played mostly were, say, mainstream alternative rock with no real surprises within but with a lot of punch coming through. I've heard 'Seven Nation Army' in a lot of variations so far. This one's definitely one of the better takes on the WHITE STRIPES track and a neck shaker extraordinaire. Judging from the screams from around the fans, mostly ladies or girls I guess were freaking out completely over a new songs announcement and quite often you could spot people dancing wildly. THE PRETTY RECKLESS definitely were an improvement to the flat start of the evening.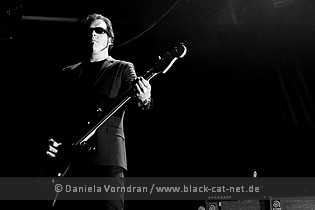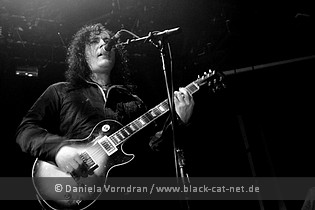 Setlist
01. Since You're Gone
02. Zombie
03. Miss Nothing
04. Just Tonight
05. Goin' Down
06. You
07. My Medicine
08. Seven Nation Army (The White Stripes cover)
09. Make Me Wanna Die
10. Factory Girl

Rating
Music: 7
Performance: 8
Sound: 7
Light: 7
Total: 7.3 / 10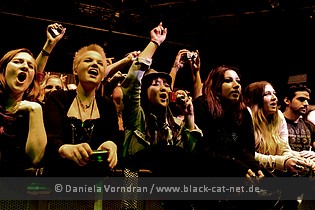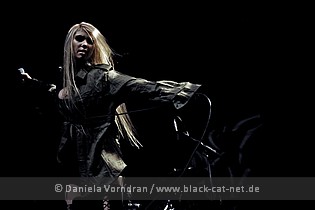 Evanescence

US rock band EVANESCENCE was already founded back in 1995 and even though they exist quite long now, they only released three albums up to now. Official debut album 'Fallen' was released in 2003 and sold more than 17 million copies worldwide. With the single 'Bring me to life' out of it, the band hat its international breakthrough. After releasing the live album 'Anywhere but home', next studio album 'The Open Door' hit the stores in 2006 followed finally by 'Evanescence' in October 2011. In the past, the line-up changed several times and today, EVANESCENCE is Amy Lee (lead vocals, keyboards, harp), Terry Balsamo (lead guitar), Troy McLawhorn (rhythm guitar), Tim McCord (bass) and Will Hunt (drums). http://www.evanescence.com / https://www.facebook.com/Evanescence / http://www.myspace.com/evanescence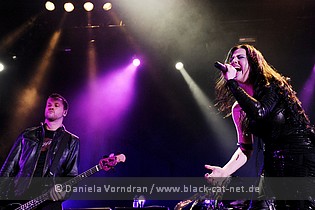 Music & Performance
Finally! Thought I would never see the day I would attend an EVANESCENCE live show and with a little less luck I wouldn't have. Anyway, the stage rebuilding and line check got wrapped up pretty fast and the show could begin with the first electronic sequences of 'What You Want' blasting out of the PA. First kudos goes out to the sound engineer. Very clear and detailed mixing! Now back to the important things. Once Amy appeared there was no holding back and the charged up enthusiasm broke the sonic barrier. Something that Amy could achieve with her voice alone if you ask me. I really didn't expect her to sound that good in a live setting, especially considering that she was moving around all the time. With the next song we jumped right back to where the success started with the album 'Fallen'. Its opener 'Going Under' was up and made everyone scream with pleasure. At this point I began to notice how little the other band members were moving in comparison. No, they were not close to statues. A little more enthusiasm couldn't have hurt in my opinion though.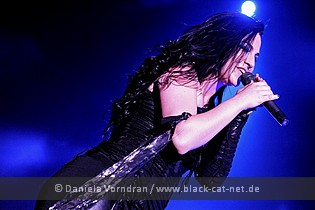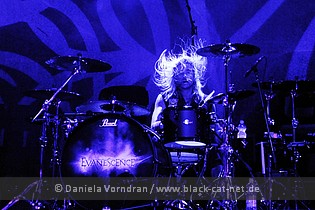 The focus, how surprising, was placed on Amy anyway and the next songs, amongst them being 'The Other Side' or 'Weight Of The World' saw her sweeping back and forth. The majority of tracks played this evening were taken from the long awaited new album and amongst the killer 'Made Of Stone' I was so glad the band included 'Lost In Paradise' and 'My Heart Is Broken', two of the strongest and most heart-rending tracks on the new album. They were performed from the piano. But during the latter Amy could hardly sit still behind the instruments. Completely understandable; that rhythm forces you to move. The mood at this point was already on a peak although nothing compared to the screams heard when 'Bring Me To Life' came up as the main set's closing. But this couldn't be the end, could it? No, it couldn't! The band came back for three more songs and as highlight placed 'My Immortal' at the very end. A strong and moreover emotional ending to a fantastic show!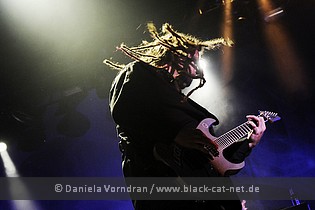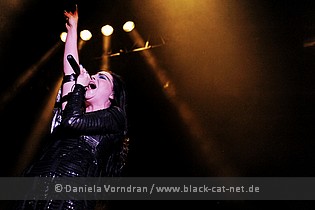 Setlist
01. What You Want
02. Going Under
03. The Other Side
04. Weight of the World
05. The Change
06. Made of Stone
07. Lost in Paradise
08. My Heart Is Broken
09. Lithium
10. Sick
11. Oceans
12. Call Me When You're Sober
13. Imaginary
14. Bring Me to Life
---
15. Never Go Back
16. Your Star
17. My Immortal

Rating
Music: 9
Performance: 9
Sound: 9
Light: 9
Total: 9 / 10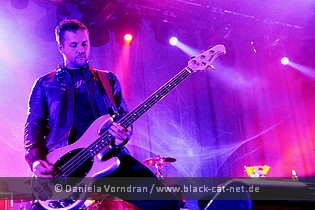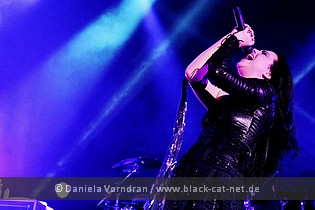 All pictures by Daniela Vorndran (http://www.vorndranphotography.com / http://www.black-cat-net.de/ / http://www.myspace.com/vorndranphotography / http://www.facebook.com/blackcatnet)