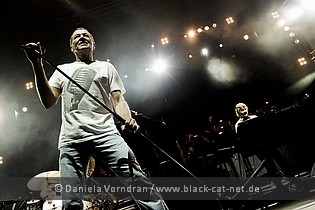 Gerry-Weber-Stadium, Halle/Westfalen, Germany
3rd December 2011
Deep Purple & Neue Philharmonie Frankfurt Orchestra - The Songs That Built Rock; Support: Marc Angers

Five month after their July tour through Germany, DEEP PURPLE are back for two more shows in German cities presenting this special orchestral program. Even though the band was not playing the border-breaking master piece 'Concerto for Group and Orchestra' like happened 11 years ago, this was a special event. Today, about 3,800 people were showing up to see this special event. But before the heroes of the evening entered the stage, there was little time to introduce a young Canadian artist named Marc Angers.



Marc Angers

Canadian tall redhead MARC ANGERS was finalist in the 2005 edition of Star Academie and won already heart of millions in Quebec. So far, he released two albums, a vocal one called 'L'Enfant-roi' (2008) and a pure instrumental one named 'Un Violon dans la tête' (2009). Personally, he wrote eight out of the thirteen contained titles. 2011 turned out to be quite busy for Marc, with trips to France to promote his album 'L'Enfant-roi' and many summer festivals and concerts in Québec. Currently he's working on another instrumental album to be out next year and besides that, he's planning some club gigs in Germany in 2012 as well. http://www.marcangers.ca/en/index.html / http://www.myspace.com/marcangers / https://www.facebook.com/pages/Marc-Angers/21142621826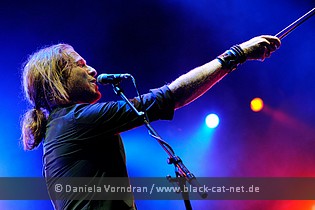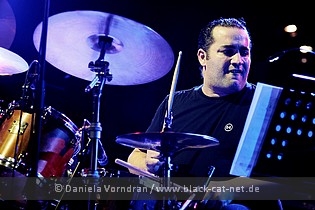 Music & Performance
Never heard of MARC ANGERS, it turned out he was a versatile and energetic performer on the violin, supported live by a whole band containing keys, drums, guitar and bass. It turned out that singer and songwriter Marc was able to create a universe full of sensitivity and romanticism just with his inseparable violin. First songs he presented were pure instrumental but then he announced an own one in French, being with vocals provided by himself. Marc was really vivid on stage putting a lot of emotion into his play and pretty soon, even though probably most of the visitors never heard of him, the crowd was infected by his virtuous play. Really a nice surprise and one can already be curious about him coming back to Germany.

Rating
Music: 9
Performance: 8
Sound: 8
Light: 7
Total: 8 / 10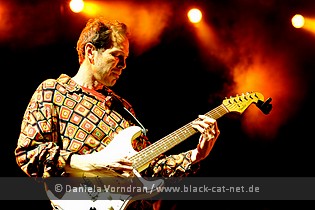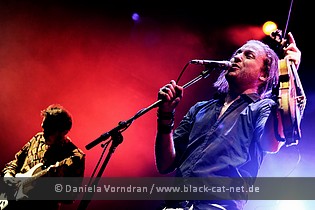 Deep Purple

DEEP PURPLE does not need any particular introduction, I think since this band is one of the cornerstones of Hard Rock and Heavy Metal with a tremendous culture impact. I guess anyone knows a t least their hit 'Smoke on the Water'. Founded back in 1968, the band is famous for its Hammond Organ sounds, remarkable guitar riffs and solid rhythm works. All in all, the band sold much more than 120 millions albums. Several line-up changes during the years also brought several changes in musical styles: from Psychedelic to Blues Rock and integration of classical elements. Currently, the band consists of Ian Gillan (vocals, harmonica), Steve Morse (guitar), Roger Glover (bass), Don Airey (Hammond, keyboard) and founding member Ian Paice (drums). http://www.deeppurple.tv / https://www.facebook.com/deeppurple6876 / http://www.deep-purple.com / http://www.deeppurple.com/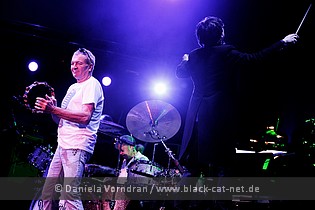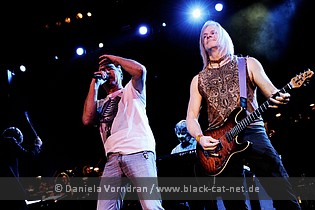 Music & Performance
Together with the Neue Philharmonie Frankfurt Orchestra, DEEP PURPLE were here to present the perfect symbiosis of "entertainment" and "serious" music with a new main focus: individual, so far unheard arrangements of popular titles but also some rare gems out of their more than 40 years history being presented by the 5-piece together with the orchestra consisting of 36 people including strings and wind instruments. "Songs that built Rock" was the headline of the tour, and ondeed, Rock dinosaurs DEEP PURPLE had a lot of uber-classics to offer. When the band entered the stage, you did not have the feeling you had people past their 60s (well, except guitarist Steve who is "only" 57) in front of you. From the very first song, they spread a lot of fun and you could see their happy faces during the whole show.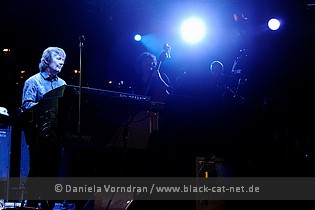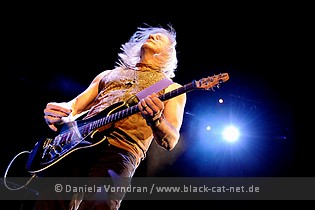 After the 'Deep Purple Overture' presented by the orchestra on their own, the quintet entered the stage to start with 'Highway Star'. At the beginning, the orchestra took a back seat compared to the pushing power of the band. But that changed soon when the orchestra got more audible room for development , i.e. during classic 'Strange kind of woman' or the Oriental tinted 'Rapture of the deep' with its great string arrangements, both honoured with big applause. It was great to see the orchestra being into the music when string players were banging their hair or even doing a little La-Ola wave. The set contained a lot of classics, especially titles from the legendary "Mark II" era (1969-1973) like 'Hard Lovin' Man', 'Maybe I'm A Leo', 'Lazy' or 'Woman From Tokyo'. Offering a great symbiosis of Blues and Rock, those songs can be called musical mile stones.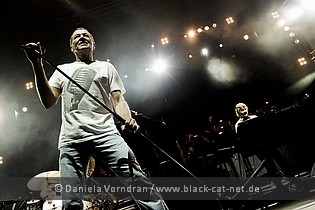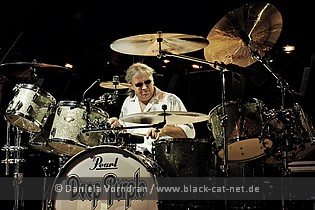 The concert was no One-Man show like known from so many other bands. Any band member got his own solo part, might it be guitarist Steve Morse, doing a battle with first violinist, or Don Airey treating his Hammond for about five minutes. One of the highlights surely was 'Smoke on the Water' ending the main set and getting the audience excited. Encores 'Hush' and 'Black Night' prove ones more that DEEP PURPLE made songs for eternity. This show in Halle was a real success, melting classic and Hard Rock perfectly. And for all who cannot get enough of the band, DEEP PURPLE will be back end of 2012 with their Rock program!

Setlist
01. Deep Purple Overture
02. Highway Star
03. Hard Lovin' Man
04. Maybe I'm a Leo
05. Strange Kind of Woman
06. Rapture of the Deep
07. Woman From Tokyo
08. Contact Lost
09. Guitar Solo
10. When a Blind Man Cries
11. The Well Dressed Guitar
12. Drum Solo
13. Lazy (with Keyboard Solo intro)
14. No One Came
15. Keyboard Solo
16. Perfect Strangers
17. Space Truckin'
18. Smoke on the Water
---
19. Hush (Billy Joe Royal cover incl. Drum Solo)
20. Bass Solo
21. Black Night

Rating
Music: 9
Performance: 10
Sound: 9
Light: 10
Total: 9.5 / 10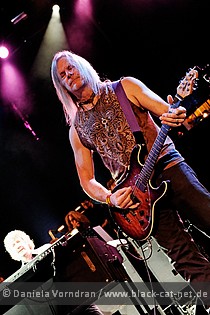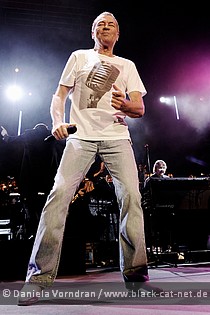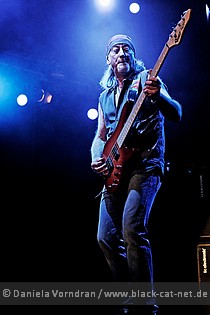 All pictures by Daniela Vorndran (http://www.vorndranphotography.com / http://www.black-cat-net.de/ / http://www.myspace.com/vorndranphotography / http://www.facebook.com/blackcatnet)