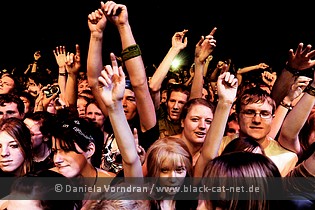 Halle Münsterland, Münster, Germany
10th December 2011
Donots & Special Guests: Millencolin & Support: ZSK

DONOTS invited to the "Grand Münster Slam" and lots of people followed their call. This should be a great event, where even Campino and Andy from DIE TOTEN HOSEN could be spotted at the VIP Lounge. For their show, DONOTS were supported by their Swedish friends MILLENCOLIN and Berlin based ZSK.



ZSK

ZSK were founded in 1997 soon playing first concerts. The first CD was a split CD with BLOWING FUSE out in 1999. The first own album 'Riot Radio' followed in 2002 later. After numerous concerts they were supporting DIE TOREN HOSEN in 2005 followed by shows i.e. with BAD RELIGION or THE BLOODHOUND GANG. In 2005, the third album 'Discontent Hearts And Gasoline' was released followed by a live DVD in 2007. In March of the same year, the band officially split up. But 2011 saw them returning on stages for a few concerts. ZSK is Beni (guitar), Eike (bass), Joshi (vocals & guitar) and Flori (drums). http://www.skatepunks.de/ / http://myspace.com/zsk / https://www.facebook.com/ZSKBerlin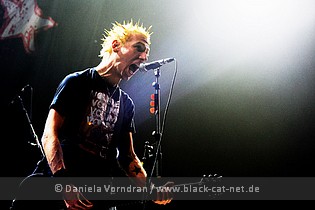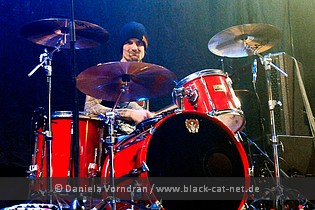 Music & Performance
The show in Münster was their second one of the current tour after they already played in Hamburg. Before the band started, they were introduced by DONOTS' Ingo. Then, the four Punk Rockers started with full force with 'Alles steht still' (Everything is at standstill). But in fact to one was at standstill anymore when the guys started with their fast punk rock. Of course, they had some message too, like in 'Küsst die Faschisten', a song against Nazis and racists. Musically, their songs were fast reminding every now and then of OFFSPRING. The lyrics were mostly in German. ZSK did really a good job warming up the audience, making them jump and scream or asking for a Laola wave from front to back. Towards the end, they were asking for the biggest circle pit in Germany. Well, I doubt it was the biggest one, but anyway people had fun. After 30 minutes and 10 fast energy driven songs, the set was already over. Cool show and you shouldn't miss one of the upcoming German concerts.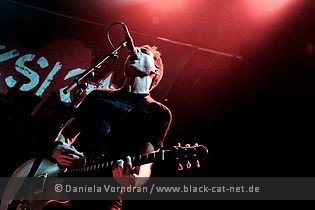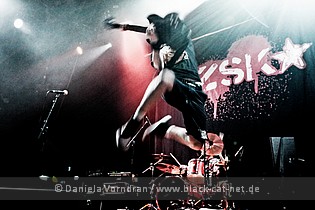 Setlist
01. Alles steht still
02. This is our Answer (Raise your Fist)
03. Küsst die Faschisten
04. Fight for More
05. Keine Angst
06. Kein Mensch ist Illegal
07. Wenn so viele schweigen
08. Riot Radio
09. We are the Kids
10. Unity (von Operation Ivy)

Rating
Music: 8
Performance: 8
Sound: 7
Light: 5
Total: 7 / 10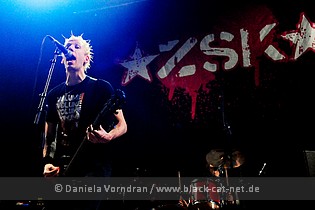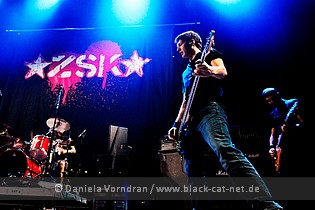 Millencolin

All the four members of MILLENCOLIN have a passion: The skateboarding and sometimes fate rings together some like-minded people like in this case. So they founded MILLENCOLIN in 1993, named after the skateboard trick "melancholy". With the second demo tape 'Melack' the band sent out in 1993, they get signed with Burning Heart Records, a new record label formed earlier that year and put out their first major release 'Tiny Tunes' in 1994. Coinciding with the release of the second album 'Life on a Plate' in 1995, the band began to tour outside of Scandinavia. However, their popularity really burst with 'Pennybridge Pioneers', an album with more of a rock influence than the band's previous Skate punk sound, directly followed by the first world tour of the band. In 2008, the band released their meanwhile 8th and so far latest album 'Machine 15'. MILLENCOLIN is Nikola Sarcevic (vocals, bass), Mathias Färm (guitar, backing vocals), Erik Ohlsson (guitar, backing vocals) and Fredrik Larzon (drums). http://www.millencolin.com / http://www.myspace.com/millencolin / https://www.facebook.com/millencolinofficial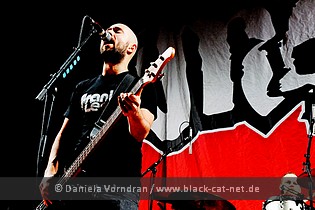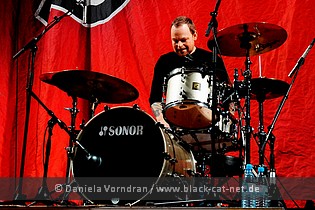 Music & Performance
After a really short break, Ingo was also introducing this band: "Besides ABBA and IKEA, there is one more good thing coming from Sweden, MILLENCOLIN!" The Swedes were starting their 45 minutes lasting show sharp at 20:15 with 'No Cigar'. Now, it got really packed in front of stage and people were pushing forward, during the show you could also see people crowd surfing. There was lots of energy and anyone seemed to like what they were offered. Anyway, I thought that ZSK were more energetic on stage, MILLENCOLIN were much calmer, there was not much to see on stage, no show at all and additionally, boring lights as well. Just the backdrop was a little eye catcher. Anyway, their music wasn't as calm as the band itself. Of course, also MILLENCOLIN were asking for a circle pit and the well-known wall of death. All in all, a good show for most people with lots of songs they liked to hear. Fo me, it was a bit too static to be real punk rock.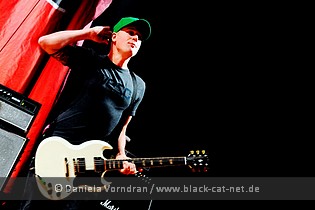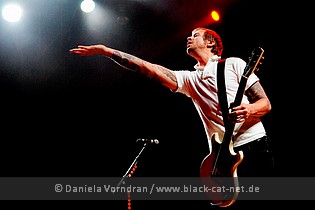 Setlist
01. No Cigar
02. Man or Mouse
03. Material Boy
04. Duck Pond
05. Detox
06. Penguins & Polarbears
07. Hellman
08. Devil me
09. Bullion
10. E20 Norr
11. Ray
12. A-ten
13. Farewell my Hell
14. Black Eye

Rating
Music: 8
Performance: 6
Sound: 7
Light: 5
Total: 6.5 / 10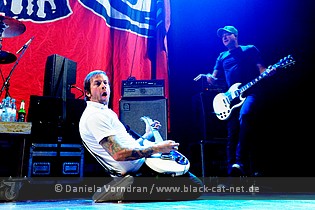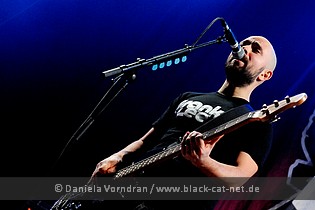 Donots

The DONOTS from Ibbenbüren (near Münster) came into being in 1993 and had their debut album released two years later, entitled 'Pedigree Punk'. The band name references the word "Doing nothing". Following years of hard work would pay off with the release of their third album 'Pocketrock', becoming their breakthrough and especially the single 'Whatever Happened to the 80s' became a hit. The album was followed up by a tour with American MIDTOWN through Germany, Austria and Switzerland. Following 'Amplify The Good Times' even became a major hit in Japan and led to the band's first tour over there. A wave of success they continue to ride on to the present day. Their latest album 'The Long Way Home' has come out in March 2010 followed by a big tour. This tour had its great final in hometown Münster in front of 3,000 people and was very successful with several shows being moved into bigger venues. Furthermore, additional shows were announced. To satisfy the fans and due to high demand, three more shows have been added before the band returns to the studio, one of them being the one in Münster. DONOTS are Ingo Knollmann (vocalist), Guido Knollmann (electric guitar, guitar, vocalist), Jan Dirk Poggemann (bass guitar, vocalist), Eike Herwig (drums) and Alex Siedenbiedel (electric guitar, guitar, vocalist) plus new guitarist/keyboardist Rüdiger. http://www.donots.com/ / http://www.myspace.com/donots / https://www.facebook.com/donotsofficial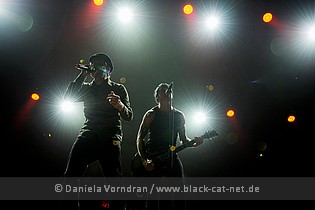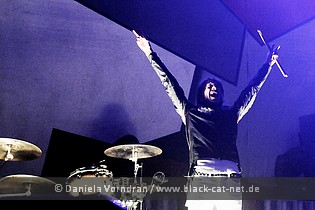 Music & Performance
Before DONOTS started at 21:30, a curtain was removed from stage so it got much bigger and the huge backdrop plus lots of light phalanxes were unveiled. During 'The Dead, the Man & the Walking' intro, the band was marching in starting with 'Dead Man Walking'. First thing I spotted was that there were more people on stage as I used to know. During the show, Ingo introduced the new band member Rüdiger. There was an extremely good mood right from the start, not only in front of stage, but also on stage. There was power, movement, energy! People in the crowd were singing loudly, pushing forward and screaming. The light installations were well used and especially the crowd was illuminated over and over again and so, you could see how much fun anyone had. For the RAMONES cover 'Blitzkrieg Bop', Ingo was asking for a Wall of Death. The audience went mental and anyone just screamed "Hey ho, let's go". When the song faded, all you could hear were loud "Donots, Donots" chants. It was amazing! Following this party song was a very new one to be out on the upcoming album next year, 'Into the Grey'.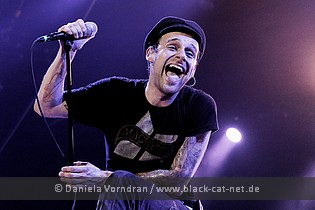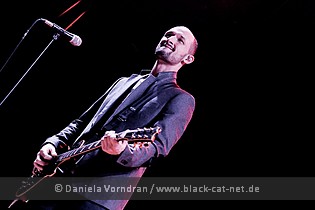 'No Hope for the Dead' was giving people a little time to take a breath since it was a bit calmer, but then, the party started again when anyone was asked to sit down and jump up during the song throwing anything into the air they could find - well, mostly you saw beer mugs flying, no matter if they were full or empty. When the band wanted to cool down the heated people, they tried to spread water with big pump guns. Not sure if people were lucky, but the guns did not really work. And so, people stayed dry except bathing in their own sweat. 'The Years gone by' saw a little experiment when Dirk, Guido and Ingo were going down into the crowd, playing the song just with guitar and mandolin without any additional amp. It was a bit hard to calm people down but soon, you could listen to the song and a big choir of people singing along. 'Room with a view' went on in the usual way and the Rock 'n' Roll party. Soon it was time for another new song called 'Come Away', a calmer, more melodic Indie piece. I really liked it. After 'Stop the Clocks', the song guitarist Guido feared most came next: 'Who you are'. This song was presented by him all alone singing to his guitar play. I think he should just stick to playing the guitar, since the vocals were not delivered very well.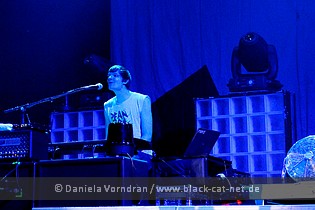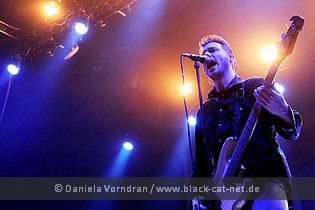 The howling of sirens and red beacon lights announced 'Big Mouth', surely one of the biggest DONOTS hits, making anyone jump. For this song, the band was looking for a show trainee. His task would be to get a tablet of liquor to the crew on FOH… crowd surfing! Soon, the trainee, a girl named Miri, was found and she did her job pretty well. Quite some liquor was reaching the FOH. With 'Whatever happened to the 80s' and the backdrops falling down from the walls, the main set ended and the band left stage after 100 minutes. For the encore, Ingo first came back alone, presenting 'Parade of one' all alone acoustically playing the piano while the stage was illuminated by a starry sky. Soon back with the whole band, there was another cover version presented, THE KNACK's classic 'My Sharona' where Guido was playing the drums while drummer Eike had some spare time. Afterwards, Ingo announced next song to be 'We're not gonna take it' but he got interrupted since there was first time for one more new song, 'Wake the Dogs', where the first chords sounded like 'The Passenger' of IGGY POP.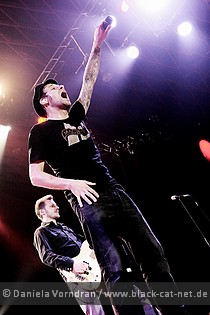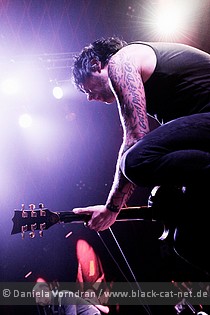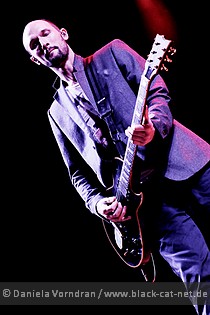 Then, it was really time for 'We're not gonna take it', accompanied with lots of silver glitter being spread over the audience and the announcement, that there will be a "Grand Münster Slam" in 2012 as well. With an acoustic version of 'Good Bye Routine', the band said goodbye leaving happy faces everywhere.

Setlist
00. The Dead, the Man & the Walking (Intro)
01. Dead Man Walking
02. Superhero
03. Calling
04. High & Dry
05. Today
06. Blitzkrieg Bop (Ramones cover)
07. Into the Grey (new)
08. Now Hope for the Dead
09. Forever ends today
10. Hello Knife
11. To Hell with Love
12. Got the Noise
13. The Years gone by (played in the crowd)
14. Room with a view
15. Not a Drill
16. Saccharine Smile
17. Come Away (new)
18. Stop the Clocks
19. Who you are (Guido solo)
20. Duck and Cover
21. Big Mouth
22. Whatever happened to the 80s
---
23. Parade of one (acoustic piano)
24. Pick up the pieces
25. My Sharona (The Knack cover)
26. Wake the Dogs (new)
27. We're not gonna take it (glitter rain)
28. Good Bye Routine (acoustic)

Rating
Music: 9
Performance: 10
Sound: 8
Light: 9
Total: 9 / 10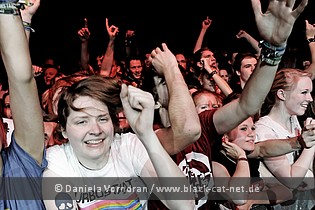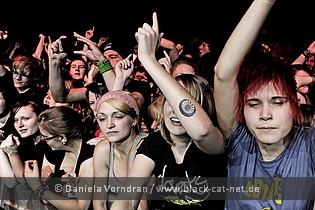 All pictures by Daniela Vorndran (http://www.vorndranphotography.com / http://www.black-cat-net.de/ / http://www.myspace.com/vorndranphotography / http://www.facebook.com/blackcatnet)