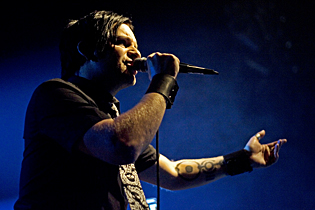 LKA Longhorn, Stuttgart, Germany
6th June 2006
Apoptygma Berzerk and Liv Kristine

Hearing Liv Kristine will be supporting Apoptygma Berzerk we didn't know what to aspect. Both acts are from Norway, but beside this they didn't seem to have anything in common. The concert was also planned for the day after the WGT. Many people were still on their way home or didn't have enough money left after this huge festival. Maybe because of that only about 350 people found their way to the LKA.


Liv Kristine

Eight years ago Liv Kristine released her first solo-album "Deus ex Machina". After splitting with Theatre of  Tragedy, getting married to the German singer and producer Alex Krull (Atrocity) and the foundation of her own band Leaves´ Eyes she made another album  in 2006: "Enter my religion". http://www.livkristine.de/

Music
The first album was a quiet one and we hadn't heard anything from the new one until the concert. With Leaves´ Eyes she released mainly metal-grounded songs. Her new solo songs are really filled with variety and supported by different instruments. There were also some oriental sounds.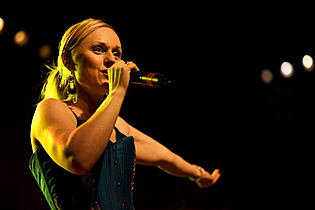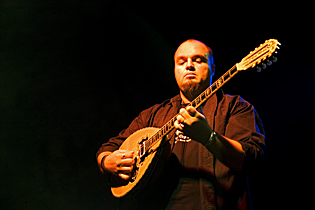 Performance
Liv Kristine has a nice voice which is sometimes a little bit to high. At this evening she matches all songs and made a good show, although she really doesn't fit to Apoptygma Berzerk. Supported by three guitarists she knew how to rock and her long-standing experience was shown. She also sang the old song "3 am", which is originally a duet with Nick Holmes (Paradise Lost). Now the male part was taken by one of her guitarists who is not Nick Holmes unfortunately...

Rating
Music 5
Performance 6
Sound 5
Light 6
Total 5 (5.45)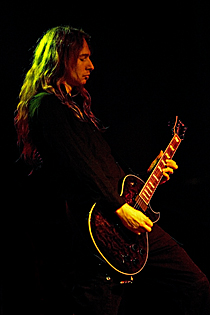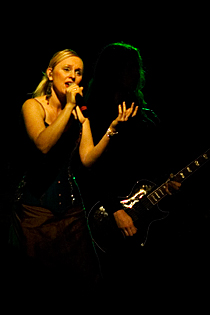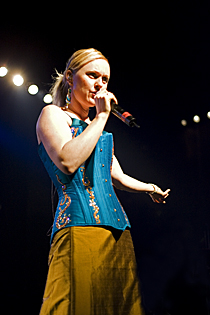 Apoptygma Berzerk

For twenty years Apoptygma Berzerk are an institution of electronic music. Until now they released nine albums through all kind of EBM-styles. The only constant part of the band was Stephan Groth - the singer. With the last album "You and me against the world" they found their way to the regular music television and charts. The song "In this together" was used for commercials and they will be playing at the soccer-WM-Open-Air. http://www.apoptygmaberzerk.de/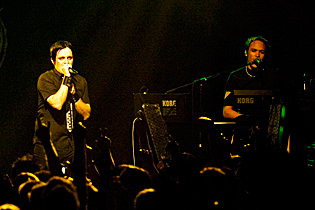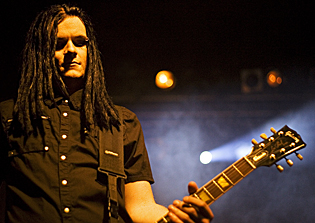 Music
We saw Apoptygma already some years ago. Then they made a really horrible techno-show with bass-drums, which was really hard to stand. So we were a little bit unsure what this evening was going to be. But all our worries were useless. Right from the beginning Stephan Groth convinced us with his new musical course. He revised all songs. The last album was a little bit too over-produced and some kind of too poppy. Now on stage this were all hard-rocking songs, supported by synthie-melodies and much bass. Even the older ones like "Kathy's song" or "Until the end of the world" were shining in a new light. Only one of our favourites -"Love never dies"- wasn't successful. The music was great and we can't wait to hear this version in a dance club, but Stephan could not handle his voice in this new version.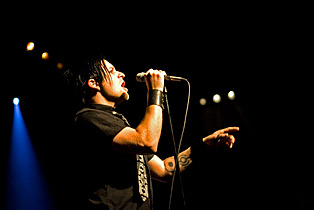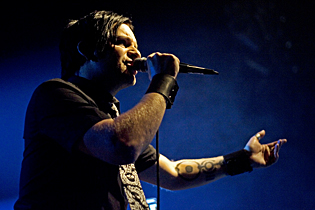 Performance
What a show! Stephan Groth and his musicians were really in a good mood. They wanted to party with the audience and they did. Right from the start the fans celebrated the songs. Although the room wasn't even half-filled, there was an atmosphere of thousands of party-people. Everybody was singing and dancing. If the bass and the drums wouldn't have been so loud, the whole town could have heard their choirs. There was no impression of routine or boredom on stage. Stephan talked to the audience mostly in German and he was really pleased of their reaction to his new-styled songs. In summary we had not that kind of fun with an electro-act for a long time....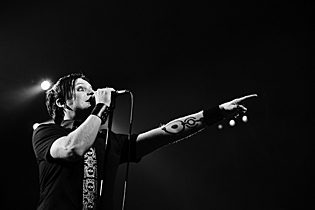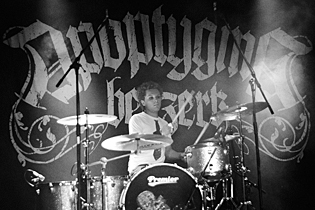 Setlist
01. Eclipse
02. You keep me from breaking apart
03. Tuning in again
04. Spiritual Reality
05. In this together
06. Starsign
07. Deep red
08. Mercy Kill
09. Kathy's Song
10. Lost in Translation
11. Burning Heretic
12. Shine on
13. Unicorn
14. Until the end of the World
---
15. Non-Stop Violence
16. Love never dies
---
17. Bitch

Rating
Music 7
Performance 9
Sound 7
Light 8
Total 8 (7.8)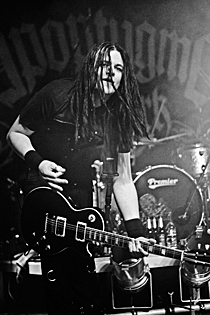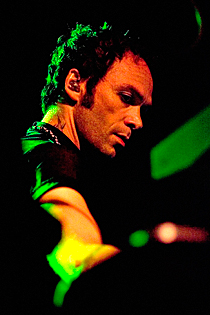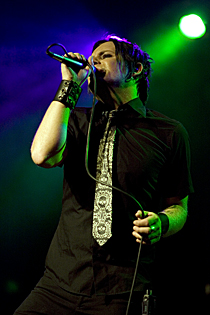 Written by Madlen Köhn, pictures by Ruth Gräbeldinger
{jos_sb_discuss:17}