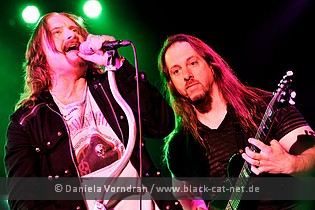 Mitsubishi-Electric Halle, Düsseldorf, Germany
2nd February 2012
Dream Theater & Periphery

It was fucking cold on that February evening, when DREAM THEATER were calling to Düsseldorf. Many fans followed the call and big jams before entering finally the parking were proof of the popularity of the band. Together with label mates PERIPHERY, the band was caring for an evening of fine progressive music.



Periphery

PERIPHERY is a Progressive Metal band with some Metalcore influences, founded 2004 and hailing from Maryland, USA. First, they drew attention with their songs they made available online for free. Finally, some labels recognized the band, leading to their breakthrough in 2010 with the debut album 'Periphery', being released in Europe by Roadrunner Records. In June 2011, Misha Mansoor announced the release of two albums in 2012, one of them being a concept album titled 'Juggernaut'. PERIPHERY is Spencer Sotelo (vocals), Misha Mansoor (guitar), Jake Bowen (guitar), Alex Bois (guitar), Tom Murphy (E-bass) and Matt Halpern (drums). http://periphery.firebrandlive.com/ /
https://www.facebook.com/PeripheryBand / http://www.myspace.com/periphery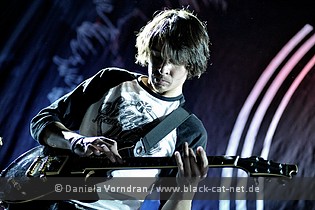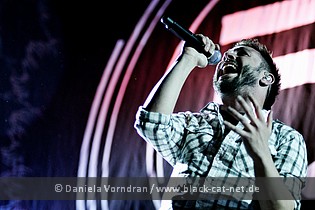 Music & Performance
PERIPHERY were already entering the stage earlier than announced, at 19:20. Starting with 'New Groove' the band proved from the very start that anyone is a professional musician playing the instruments very crafted. Sadly, the vocals were much too low in the front rows. I would have loved to hear Spencer's vocals, sometimes clear and sometimes with a deep growling, louder. So, they were mostly covered by the sound carpet the instruments had woven. The show was rather short with just 40 minutes while the songs were rather long, so only 6 song could make it into the set. Even though the sound was not optimal and the light were bright but static, the band presented and energetic and tight show which was pretty well received by the audience.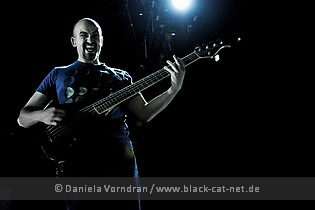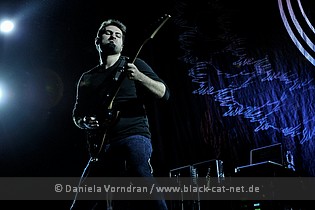 Before the band could start its final track, 'Racecar' (btw really long with about 10 minutes), they had some technical issues being very well overplayed by the drummer. At about eight, the band finally waved goodbye making a good impression at least on me.

Setlist
01. New Groove
02. Letter Experiment
03. Jetpacks Was Yes!
04. Buttersnips
05. Icarus Lives!
06. Racecar

Rating
Music: 8
Performance: 8
Sound: 5
Light: 6
Total: 7 / 10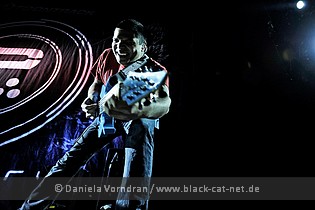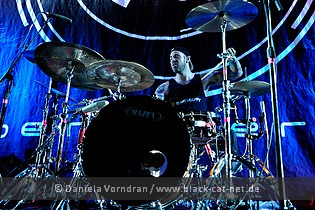 Dream Theater

DREAM THEATER has been formed under the name MAJESTY in 1985 but had to drop that name as another band of the same name already existed and took the suggestion of founding member Mike Portnoys father, inspired by a theatre in Monterrey. The first official album 'When Dream and Day Unite' (1989) didn't get the success band and label had hoped but widely gained positive reception in the press. Over the years, the band has reached an almost iconic status in the genre of progressive rock music with albums such as 'Images and Words', or 'Metropolis Pt.2: Scenes from a Memory'. Ever since, some years have passed and a string of more albums have been released not all meeting with general acclaim both from the fans and music critics and in 2009 there's been a new record out with the title 'Black Clouds & Silver Linings', the tenth DREAM THEATER album that could garner some really favourable reviews. Fate would have it though that founding member Mike Portnoy would part ways with them in 2010 to save himself from burning out completely after 20 years. The band decided to continue without him and started auditioning for a new drummer which they found in Mike Mangini whom they started recording the new album 'A Dramatic Turn Of Events' with. The album was released in September 2011. DREAM THEATER is James LaBrie (vocals), John Petrucci (guitars), John Myung (bass), Jordan Rudess (keyboards) and Mike Mangini (percussion). http://www.dreamtheater.net/ / https://www.facebook.com/pages/Dream-Theater/7677942180 / www.myspace.com/dreamtheater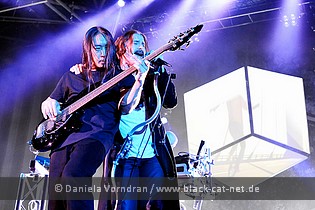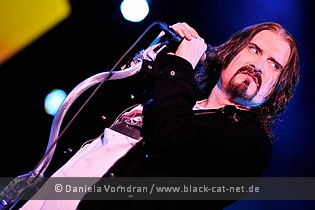 Music & Performance
The leave of former drummer Portnoy was hitting the band hard and now, new drummer Mangini should prove his live abilities. When the support act's banner was removed from stage, his immense drum set was revealed cause the first cheers on that evening. It indeed looked impressive waking high expectations for his later play. When the intro started at about 8:25, first a cartoon was showed on the three video cubes presenting each band member in a caricature version, as pirate, ninja, wizard, warrior and genie. Somehow, this show and tour was a bit different with the introduction of new drummer, but I must say he did very well, as he proofs later especially during his solo. He was really a maniac in his cage-like drum set, and I am sure he did not leave behind Portnoy , at least in my humble opinion. But back to the set which opened with a song from the current album, 'Bridges in the Sky', already showing the musical qualities and virtuosity of all band members. Amazing John Petrucci and John Myung "showed off" with their skills several times during the evening.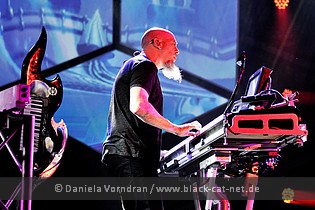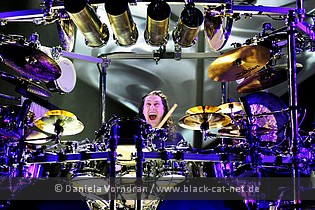 '6:00' from 1994 album 'Awake' was up next and already that early in the show you could feel that DREAM THEATER are keeping it plain and normal compared with other Rock or Metal bands. LaBrie was pushing the audience and impressed with his extraordinary vocals. Not to forget Rudess celebrating his keyboard play while moving the "steady" one or playing an visual extraordinary keytar within the set. Always, when it was time for one or another solo of any band member, LaBrie was disappearing from stage taking attention from his person leading it to his band mates whose soli were enthusiastically celebrated by the audience. With 'Build Me Up, Break Me Down' another new song was presented before the band moved back to older classics. 'The Dark Eternal Night' from 'Systematic Chaos' album (2007) was leading into an unbelievable drum solo where Mangini finally (if you were not already convinced by his play) proofed that he was the perfect choice taking over Portnoy's play. You could not only hear his virtuosity, you could also see it since live pictures, also from above, were shown at the screens. Speaking of screens, they did not only show live pictures of the show, but also fitting videos to the song's content or just abstract elements. The screens were one part of the visual show. The other one were the fantastic light installations, where a combination of LED spots, audience blenders and turning heads took care for a stunning visual experience.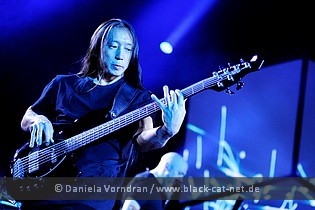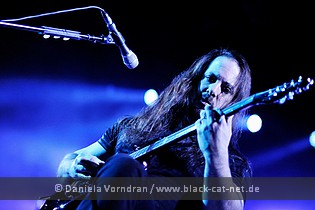 Following the set, 'A Fortune in Lies' led over to another new song, 'Outcry'. Time ran fast, even though the band played quite long (well, several songs are really long), but with 'The Spirit Carries On' and new 'Breaking All Illusions', the set already found its end. At least there was room for one encore, and so, after constant clapping and screaming, DREAM THEATER returned with 'As I Am' where band and audience equally contributed to, an perfect musical experience came to an end. How to sum this show up? It was simply amazing, a great combination of phantastic songs, musical

Setlist
01. Intro: Dream Is Collapsing (Hans Zimmer song)
02. Bridges in the Sky
03. 6:00
04. Build Me Up, Break Me Down
05. Surrounded
06. The Dark Eternal Night
07. Drum Solo
08. A Fortune in Lies
09. Outcry
10. Wait for Sleep
11. Far from Heaven
12. On the Backs of Angels
13. War Inside My Head
14. The Test that Stumped Them All
15. The Spirit Carries On
16. Breaking All Illusions
---
17. As I Am
18. Outro

Rating
Music: 10
Performance: 9
Sound: 8
Light: 9
Total: 9 / 10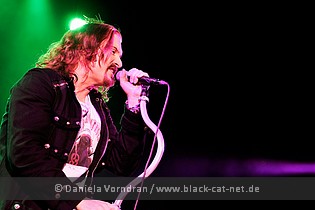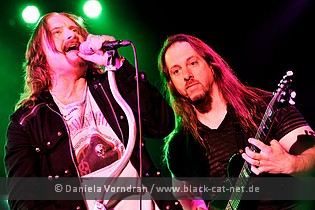 All pictures by Daniela Vorndran (http://www.vorndranphotography.com / http://www.black-cat-net.de/ / http://www.myspace.com/vorndranphotography / http://www.facebook.com/blackcatnet)