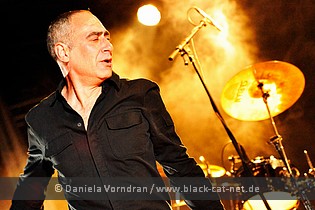 Rosenhof, Osnabrück, Germany
3rd February 2012
DAF & Tyske Ludder

DAF have made themselves a bit scarce in their home country Germany recently when it comes to live shows, hence fans were more than pleased when the band announced an exclusive club show at the Rosenhof in Osnabrück. While the rest of the country has to wait until March to get the chance to see DEUTSCH-AMERIKANISCHE FREUNDSCHAFT live, the fans in North Germany were privileged to see "their" DAF gig in early February already. An event not to be missed!



Tyske Ludder

Hailing from the very north of Germany, TYSKE LUDDER formed in the early 1990s to realize their vision of harsh and provocative Electronic Body Music. The phrase TYSKE LUDDER means "German whore" in Norwegian. The career of TYSKE LUDDER is divided into two stages: In the 1990s TYSKE LUDDER produced two albums, 'Bombt die Mörder' (1994) and 'Dalmarnock' (1995), plus the 'Creutzfeld' EP and rarely performed live, even though the live shows have been an eminent part of the band's concept. Many years of inactivity followed until the musicians decided to work on new material in 2004. The second era of TYSKE LUDDER proved to be much more prolific than the first stage, with three new albums, overhauled re-releases of their old albums and a greater number of live gigs. The latest release is the critically acclaimed album 'Diaspora', which hit the shelves in March 2011. The German EBM project TYSKE LUDDER is Claus Albers (vocals), Olaf A. Reimers (keyboards, percussion), and Ralf Homann (percussions, keyboards). http://www.tyske-ludder.de / http://www.myspace.com/tyskeludder / https://www.facebook.com/tyskeludder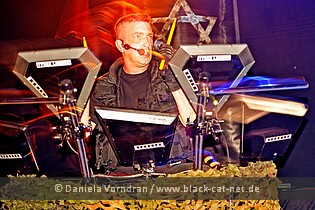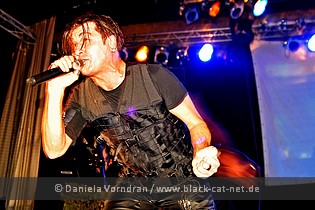 Music & Performance
TYSKE LUDDER were up to fulfil every EBM cliché you might think of and, unlike the headliner, the German trio opted for an extensive and detailed stage design. Camouflage nets, computer monitors, video projections on a huge backdrop - minimalism is apparently not quite TYSKE LUDDER's mission, but rather an "in-yer-face" attitude. Musically, lyrically and as a live band also visually! The stomping hardcore beats of 'Eugenix' started TYSKE LUDDER's live assault, and while parts of the audience were still reserved things got sweaty and ferocious on stage quite quickly. There were quite a few TYSKE LUDDER fans in the audience but to be honest some of the people who came to see DAF obviously were not too impressed by the Harsh Electro of TYSKE LUDDER. Vocalist Claus Albers tried to provoke those who just stood  there in a safe distance with flabbergasted faces by calling them "sugar Goths" but to no effect. However, the fans at the front marched to the super-aggressive beats of tracks like 'Der androgyne Held' or 'Canossa' and thoroughly enjoyed the EBM performance of TYSKE LUDDER. Without much doubt the band knows that their uncompromising attitude will always split an audience into lovers and haters, but simply pleasing a crowd is not a goal for a radical band like TYSKE LUDDER.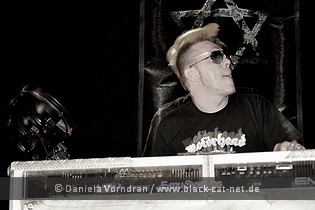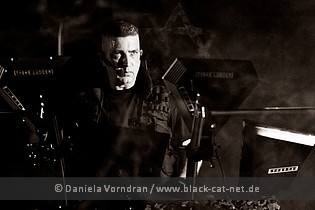 There is a smashing, bone-crushing energy to TYSKE LUDDER's live performance which you simply cannot deny, no matter if you actually enjoy the show or not. So it's safe to say that the trio left an impression on everyone at the Rosenhof club, and in a weird way TYSKE LUDDER with their over-the-top approach and their provocative mannerism was a pretty adequate support act for DAF.

Setlist
01 Eugenix
02 Wie der Stahl gehärtet wurde
03 Androgyner Held
04 Bastard
05 An vordester Front
06 Canossa
07 Shokkz
08 Hexenjagd
09 Panzer

Rating
Music: 7
Performance: 7
Sound: 9
Light: 7
Total: 7.2 / 10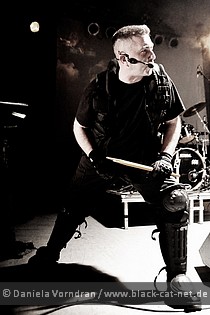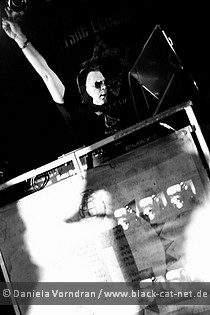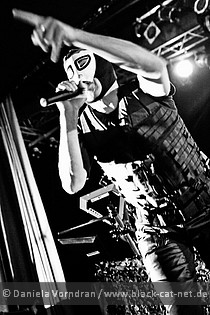 Deutsch-Amerikanische Freundschaft (DAF)

DEUTSCH-AMERIKANISCHE FREUNDSCHAFT, better known as DAF, is Robert Görl (drums, programming) and Gabi Delgado-Lopez (vocals, programming). DAF is a phenomenon in the German music scene. Founded in 1978 - yes, that's incredible 34 years ago! - as a five-piece avant-garde collective, the line up and the sound of DAF were simultaneously reduced to a minimum soon. In 1980 the band was shrank to the core duo Görl and Delgado-Lopez, and the music was likewise as minimal as it could get. Drums, a swirling synth sequence and Dadaistic slogans were the magic recipe to make the 1980 album 'Die Kleinen und die Bösen' a success. In the early 1980s DAF broke down all boundaries and accepted rules of music with their minimalistic concept. This made sure that they were rejected and disdained by the mainstream and by the press but also embraced by a youth who was craving for something new. It was the era of Post-Punk and Neue Deutsche Welle, and the two following albums 'Alles ist gut' (1981) and 'Für Immer' (1982) marked the major breakthrough of DAF. Some of the songs like 'Der Mussolini', 'Die Götter sind weiß' or 'Ein bisschen Krieg' caused controversies with their provoking lyrics, and quite frequently DAF were accused of playing with Nazi imagery and being fascists.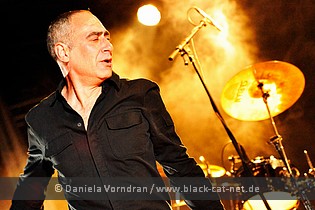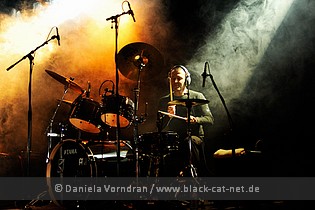 Of course Görl and Delgado-Lopez are anything but fascists or Nazis, as usual it all comes down to breaking rules and taboos when it comes to DAF. When 'Für Immer' was released in 1982, DAF had already called it quits and both members pursued solo activities. However, the four years from 1978 to 1982 were suffice to make DAF a pioneering act who laid the foundation stones for numerous subsequent music genres. Techno, House, the so called 'Neue Deutsche Härte', EBM and a lot of artists from many other genres draw their inspirations from the minimalistic, repetitive and raw sound of DAF. In 1986 another album called '1st Step to Heaven', the first with English lyrics, was released under the DAF moniker. It was more or less only intended for the US market and should be the only musical sign of that band until 2003 when DAF reunited and released '15 neue DAF Lieder'. After a world tour DAF broke up again in 2005, just to re-unite again in 2008. The single 'Du bist DAF' is the only new material from DAF's latest era, Görl and Delgado-Lopez rather perform selected live events all around the globe. www.deutschamerikanischefreundschaft.de / http://www.myspace.com/officialdaf / https://www.facebook.com/daf.deutschamerikanischefreundschaft

Music & Performance
Quite fittingly for the godfathers of minimalism, the stage of the Rosenhof looked pretty empty when DAF entered the arena. Just a drum kit in the back and a microphone stand at the front. A fizzing and ominous noise started (which might have been the old instrumental 'Gewalt', though I'm not too sure) Görl placed himself behind the drum kit, while Delgado-Lopez grabbed one of the many water bottles on stage to bespatter people in the first rows. Some were apparently not too amused about this but there was no time to be crossed about it.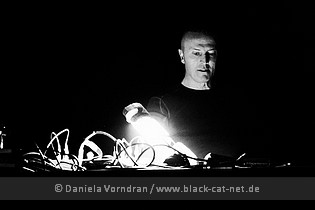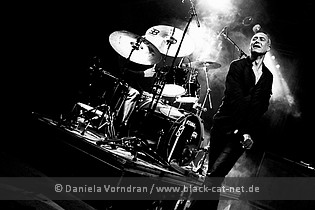 After a quick "Hello boys, hello girls!" from Delgado-Lopez the show got under way in an instant with the high-speed rhythms of 'Verschwende Deine Jugend'. This is DAF's standard show opener but it did the trick and got the fans moving from the start. The dark and slow 'Ich und die Wirklichkeit' followed before DAF's biggest hit, 'Der Mussolini', gripped the crowd very early in the set. The sound at the Rosenhof was very clear but the first three songs significantly lacked bass, something that the technicians luckily managed to sort out after the first string of songs. After all, bass is important to the very physical and sweaty music of DAF and its bombing sequenced loops. When you go for a very minimalistic approach all parts simply have to work perfectly, and they did! The musical concept of DAF may be as sparse and reduced as their stage setup but yet it feels complete, you just don't miss anything. The raging Gabi Delgado-Lopez filled the empty stage with his presence and delivered a very accentuated and emphatic vocal performance. The chanted slogans of DAF's songs may be, well, very minimal but all the more the pronunciation of the smallest morpheme seems to be important indeed. Görl on the other hand plays a very simple but effective style where every single hit counts. As a trained Jazz drummer with a fully-fledged  acoustic drum kit (no electronic drum pads!) he certainly would be able to do a fancy drum fill or a showy solo every now and then, but then this would simply feel wrong in DAF's concept of reducing things to the max.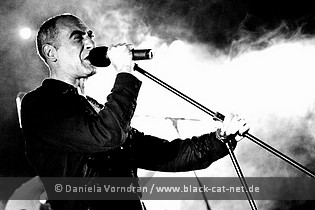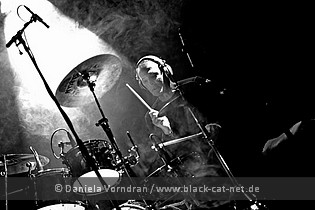 Görl and Delgado-Lopez work their way through a 1.5-hour set with many tracks of their early days as well as some handpicked songs from their 2003 reunion album, the latter often in different versions than their studio equivalents. But also some of the old ones come to a new life when played live - I think I never heard such a powerful rendition of the 32 years old 'Nachtarbeit', for example. The dynamic, provocative and sexually-charged electronic Punk of DAF indeed comes to full effect when performed live on stage at a dark club in front of a crowd who's up for it. No surprise that the audience demanded more loudly, so DAF gave us more by playing the excessively cute 'Der Räuber und der Prinz', the classic 'Kebapträume' and 'Der Mussolini'. Yes, 'Der Mussolini' a second time! Actually another standard for DAF club shows and yet another proof that they refuse to play by the rules. The fans in Osnabrück were very appreciative to get this anthem a second time - and this time with a very big and loud bass! A perfect ending of a musically very intense night!

Setlist
01. Intro
02. Verschwende deine Jugend
03. Ich und die Wirklichkeit
04. Der Mussolini
05. Ich Will
06. Muskel
07. Die Lippe
08. Mein Herz Macht Bum
09. Algorithmus
10. Rote Lippen
11. Liebeszimmer (Opium Mix)
12. Du Bist DAF
13. Sato Sato
14. Alle gegen Alle
15. Nachtarbeit
16. Der Sheriff
17. Die Lüge
18. Als wär's das letzte Mal
---
19. Der Räuber und der Prinz
20. Kebapträume
---
21. Der Mussolini

Rating
Music: 9
Performance: 9
Sound: 9
Light: 7
Total: 8.8 / 10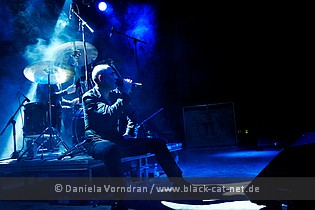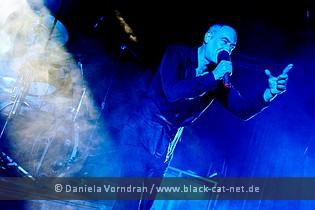 Further DAF live gigs
02.03.2012 D-Berlin, Bi Nuu
09.03.2012 D-Frankfurt, Batschkapp
10.03.2012 D-Augsburg, Kantine (+ No More)
24.03.2012 D-Dessau, Beatclub (@ 36. Electric Tremor-Festival)
07.04.2012 B-Gent, Vooruit (Rewind-Easter-Festival 2012)
21.07.2012 D-Köln, Staatenhaus (@ Amphi-Festival 2012)
Get your tickets here!

All pictures by Daniela Vorndran (http://www.vorndranphotography.com / http://www.black-cat-net.de/ / http://www.myspace.com/vorndranphotography / http://www.facebook.com/blackcatnet)