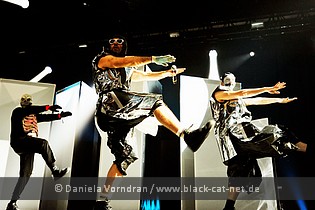 Mitsubishi-Electric Halle, Düsseldorf, Germany
5th March 2012
Deichkind

Who does not know DEICHKIND? With their hits 'Onkel Willibald will baden', 'F(or)EVER' and 'Hauptsache Hüpfburg', the band balanced or ignited the cravings of a whole De-generation, depending on the angle of society you watch from. Now, the three to six members (Kryptic Joe (Philipp Grütering) - MC, Beats, Ferris Hilton (Ferris MC) - MC, DJ Phono, Porky (Sebastian Dürre) - Bass, MC etc.) are back with a new album in 2012, named 'Befehl von ganz unten' (Order from the very bottom). And of course, this record is accompanied by a new live show we were checking out in Düsseldorf. https://www.facebook.com/Deichkind / http://www.deichkind.de / http://www.myspace.com/deichkind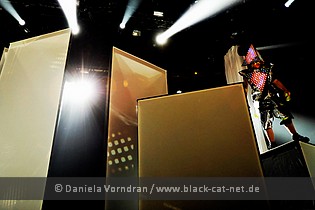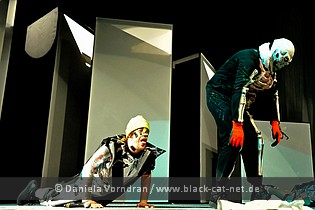 Music & Performance
After three years, DECIHKIND were back in German halls to present their current album. As mad as the band itself is, the fans were… you saw people dressed in garbage bags wearing pyramid hats, anything painted with glowing colour. Before the show started, the audience was warmed up with several dancy songs from bands like DAFT PUNK or FAITHLESS, accompanied with music videos. Finally, at 20:20, the long intro video was shown before the band appeared on stage for '99 Bierkanister' transporting their message "Attention, all hands up" (Achtung, alle Hände hoch) getting the audience involved from the very start. The show following now was more a big party than a usual concert, with more requisites than in a theatre, lots of different outfits and a great choreography. There was no instrument visible on stage, the music was presented from DJ Phono and all six band members delivered the vocals along with it. Also the stage design was extraordinary, there were several moving stage elements in different sizes, being used as podiums, walls or projection screens, like along with 'Leider geil'.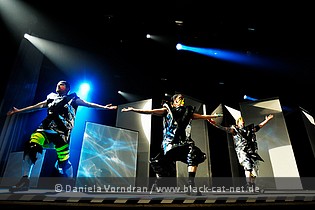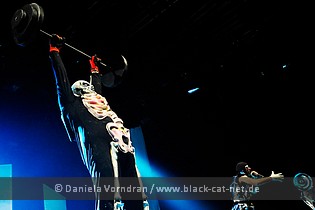 The show was not only music and party, there was a lot of action on and off stage. For 'Hovercraft', the obligatory Rubber raft tour through the audience started. For 'Egolution', Ferris was rolled onto stage in a big colourful solarium, you had band members driving over stage on a tandem, there was a office chair performance and for '23 Dohlen', the band was dressed up in feathers. There was also lots of social criticism within the songs, like in 'Bück dich hoch'. The new songs were celebrated, with 'Leider geil' leading the way. But there was also room for older gems, like 'Komm schon' or 'Bon Voyage'. Some time for romance? A little with FRANKIE GOES TO HOLLYWOOD's 'The Power of love', but not for long… MC Phillip was riding on an XXL beer barrel over the audience, delivering the beer shower that cannot be missed. The party mood was culminating with 'Remmidemmi' when even a jumping castle was thrown into the audience and a skeleton in stage jumped on a trampoline. Even if you are not a fan of the band you had to admin, the show was "Leider geil" (alas phat).

Setlist
01. Intro
02. 99 Bierkanister
03. Befehl von ganz unten
04. Dicker Bauch
05. Hovercraft
06. Bück dich hoch
07. Egolution
08. Partnerlook
09. 23 Dohlen
10. Papillion
11. Leider geil (Leider geil)
12. Pferd aus Glas
13. Herz aus Hack
14. Luftbahn
15. Der Mond
16. Der Strahl
17. Illegale Fans
---
18. Arbeit nervt
19. Krieg
20. Komm Schon
21. Bon Voyage
22. Reimemonster (Afrob cover)
23. Roll das Fass rein
24. Hört ihr die Signale / The Power of Love (Frankie Goes to Hollywood cover)
25. Prost
26. Limit
---
27. Remmidemmi (Yippie Yippie Yeah)
28. Outro (Abspann/Die rote Kiste)

Rating
Music: 7
Performance: 10
Sound: 8
Light: 9
Total: 8.5 / 10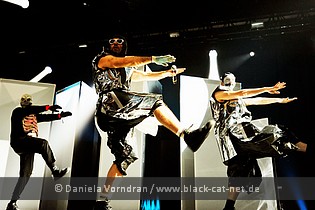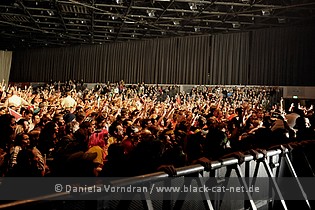 All pictures by Daniela Vorndran (http://www.vorndranphotography.com / http://www.black-cat-net.de/ / http://www.myspace.com/vorndranphotography / http://www.facebook.com/blackcatnet)