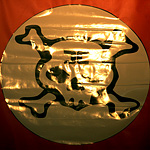 Eisenlager, Oberhausen, Germany
10th March 2005
Combichrist, Amduscia

It´s quite a good thing to combine these two acts for one concert. Andy La Plegua with his industrial-electro project "CombiChrist" and the Mexican electro band "Amduscia" fit very good together.

Concert Report

I drove to Oberhausen right after finishing my work at the office on that Thursday. It wasn´t that far and so I reached the venue very early... long time before they were ready for opening the doors. But that wasn´t really a problem. I just discovered the surrounding and then I was sitting down in the cafe right opposite the concert hall. As I found out later this place worked as backstage room that evening. Because of my early arrivel I had the chance to listen to the soundchecks of both bands and at least "CombiChrist" seemed to have good sound. A funny episode as noted in the margin: Marco, singer of "Amduscia" came to me to ask for a new kohl pencial. Unfortunately I couldn´t help him out. But it seemed that he found someone to help him because he was perfectly rouged later on stage.


Amduscia

The electro band "Amduscia" from Mexico just released their first album "Melodies For The Devil" on the "Out of Line" label. Edgar Manuel Acevedo Garcia (Synthies, Sampling, Mix), Marco Polo Acevedo Garcia (Gesang, Texte, Sampling) and Karlos Hernandez Cordoba (Mix) fat electronic-body-music with high bpm´s, hard bass and "shout-chant" remembering a bit of "Laeather Strip".
Music
The band seemed to be a bit nervous. Unfortunately they had to fight against some sounds problems at the beginning. A drumming noise overlayed the music what sounded really odd. But luckily it became better during the show so you could listen to the beating sounds much better.

Performance
As you often find it with electro bands, the show lives from the performance ot the singer and front man. The same happens with "Amduscia". Edgar and Karlos were standing nearly motionless behind their synths while Marco ran from one side of the stage to the other one. He looked really cool with his black clothes, the long coat wich he undressed later, his pink mohawk haircut and this metal thing on his one eye that reminds of a "Borg" (all Start Trek fans know what I mean ;) ). As with most electro bands, the lights were very dimmed only broken by flickering strobe lights. A lot of smoke supported the acherontic spirit of the music. The set of course contained of course songs from the debut album. Even their repertoire wasn´t that big the audience seemed to love it so the band was even convinced to give an encore.

Rating
Music 6
Performance 7
Sound 5
Light 6
Total 6 (6.15)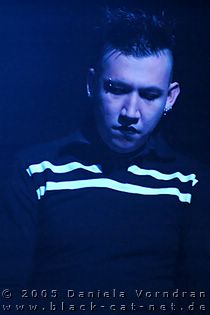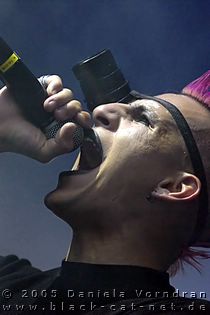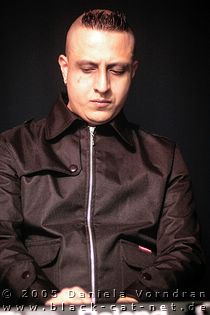 CombiChrist
Sometimes you ask yourself when Andy La Plegua eats and drinks with all his music projects: "Icon of Coil", "Panzer AG" and "CombiChrist" which is his electro-industrial project and provides some harder electro music. Pummeling dancefloor grooves and distorted beats combined with scathing vocals and electro arrangements produce a full-tilt dancefloor onslaught. Andy his self describes his music as "Techno-Body-Music". Just out with the album "Everybody Hates You" he is now on tour through some European countries.
Music

Seemed the sound engineed learned from the mistakes he made with "Amduscia" and so "CombiChrist" could start with a beating clear sound. Pushing beats and high beats per minute are the characteristics of the show. Andy´s voice sounded very strong and clear.
Performance
It was just a two men show... well... probably better called as only one man show. The keyboard player harldy moved behind his desk on the podest and Andy was meeting the show all alone running around the stage like a devil. While doing this unfortunately he kicked a guy in the audience. You could not really call this bad luck for him... as compensation he got a lot of hugs from Andy during the entire show. Andy is really charismatic and it seemed he enjoyed being on stage a lot. He flirted with the audience and especially with the girls there. And they of course could not resist his smile and screemed out loud with every smile they got. After a little more than one hour the main set was over. But of course "CombiChrist" was very pleased by the positive reactions of the audience so they of course presented an encore. In my opinion the song "This Shit Will Fuck You Up" was the absolute hightlight of the show. The beats animated nearly anyone to dance.
Rating
Music 8
Performance 8
Sound 8
Light 7
Total 8 (7.85)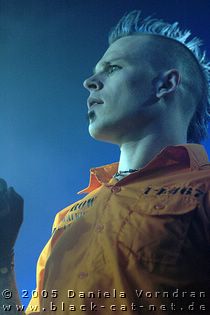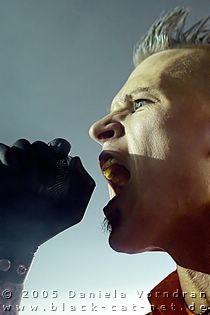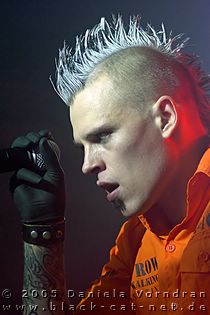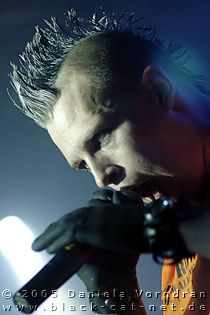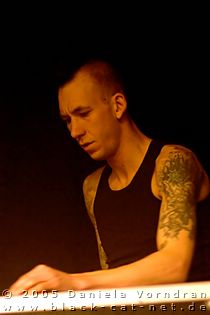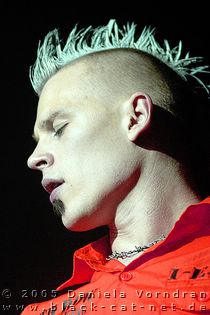 Eisenlager, Oberhausen

The "Eisenlager" (
www.eisenlager.de
) is part of the "Zentrum Altenberg", an old industrial area with cinema, museum, cafe, and the "Eisenlager" as club/concert area.
Food and drinks
You can buy food in the nearby café. At the "Eisenlager", they sell any kind of drinks for very reasonable prices. Included in the entrance for the "Düstertag", in which surrounding the concert was taking place, is a buffet. Some snacks are also spread on the bad and tables.
Stage
The stage is not too big, but big enough for the venue.
Audience area

I would say it grasps about 500 people. On the left side there are some tables and on the right side there is a bar. Because the venue isn´t that big you have a good view to the stage from all places.
Staff
As I can say they were all very friendly and helpful.
Rating

Venue accomodation 8
Staff 8
Total 8