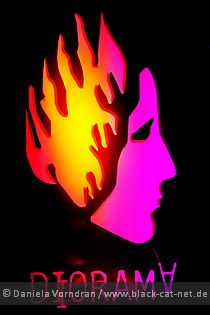 Matrix, Bochum, Germany
11th May 2012
Diorama, Felix Marc

Start of vacation for me and what could be better to start a few relaxing days with a concert, even better if it's a DIORAMA show. The first in a long time! Special guest was FELIX MARC with another surprise for us up his sleeves, celebrating the German live premiere of his solo project.



Felix Marc

FELIX MARC is known to many as being a member of DIORAMA and front man, of the duo FROZEN PLASMA. Several years ago, he started on a solo project that brought forth two albums, namely 'Pathways' and 'Parallel Worlds'. There, however, hasn't been any activity on the live sector as yet, so it was quite a surprise he finally found it was the right moment to do it. He already tested a solo live show some weeks ago as support for DIARY OF DREAMS in Moscow and now it was time for a German live test. The band Felix has gatheres for his live show consists of Zura (guitar), Dr. Drums (drums) and Joe Haynes (bass). The keyboard and backing vocal part was taken over by Mylucina. http://www.felixmarc.de/ / http://www.facebook.com/pages/felix-marc/184231984968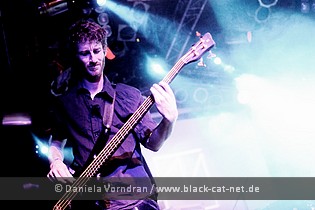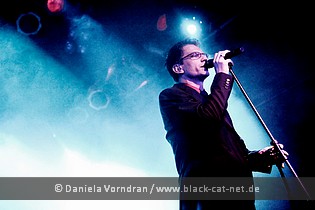 Music & Performance
So we had the pleasure to bear witness to the German debut show of Felix's solo project. Surprisingly enough, he didn't come alone but bringing a whole bunch of befriended musicians with him to form a complete band. The orange glowing strings of the bass guy were the killer feature. Let's get to the musical part, shall we? It all started with some 'Digital Love'. Those who might have expected to see some half-baked transportation to the live medium were silenced with that first track right away. The guitar additions were fitting and the drums on the track had enough punch to push it all forward. 'Belles' took us back to the first album, one rare moment in the set actually, and to one of my favourite tracks of 'Pathways', whereas 'Back to Life' would've been ace to hear it live. 'Ghost' only won in the live setting in every aspect.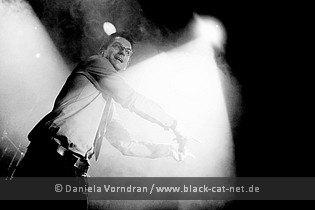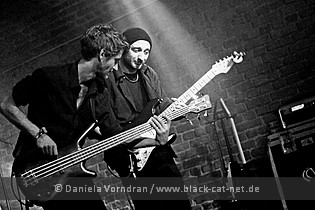 The crowd was hooked by the live sound of the crew right away and celebrated just as if Felix and band were just playing their 100th show. Well, I mentioned that songs from the first album were a rare treat. In fact, 90% of the second album found its way into this evening's setlist. Amongst them a few that just hit the right nerve at the right time like 'Moscow Paris', a club hit par excellence or the 'Collector', performed as a nice duet of male (Felix) and female (Mylucina) vocals. One song that particularly intrigued me on the recent album, 'Repair', came up pretty late during the show but was nevertheless a welcome treat. In all that time, the protagonists on stage almost made you forget you dealt with an otherwise purely electronic output and the chemistry matched as was clearly to be seen. Final song was given with 'Give back the moment' from the first album.

Setlist
01. digital love
02. belles
03. ghost
04. moscowparis
05. modern talking
06. parallel world
07. fallen stars
08. mystify (INXS Cover)
09. collector
10. the muse
11. life is porn
12. garden of light
13. give back the moments

Rating
Music: 9
Performance: 9
Sound: 9
Light: 9
Total: 9 / 10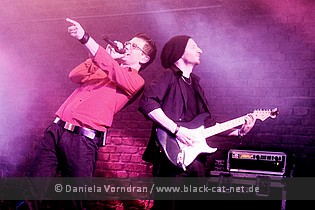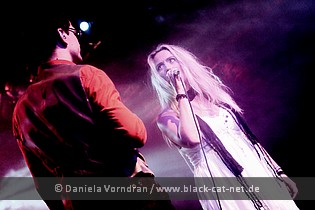 Diorama

DIORAMA was founded by Torben Wendt between 1994 and 1996. His long-time friend Felix Marc soon joined him as a co-producer and keyboard player. Sometime later, bass player Bernard le Sigue and guitarist Sash Fiddler, who were fellow students of Torben and Felix, gradually grew into the line-up and last but not least drummer Marquess became a member of the band. Unfortunately Bernard le Sigue left the Band in October 2006. In 2007, the band released their fifth and newest album 'A Different Life', preceded by the single 'Synthesize me'. The band played some extremely energetic and compelling festival shows to present the album and kept playing various shows in the following time. Eventually in February 2010 the silence was broken with the release of the new single 'Child of Entertainment', being the offspring of the long-awaited album 'Cubed', released in March 2010. Currently, the band is working on new material and there might hopefully be a new album already later this year. DIORAMA is Torben Wendt (words and music, vocals, keys, percussion), Felix Marc (co-production, keys, vocals), Sash Fiddler (guitars) and Marquess (drums). http://www.diorama-music.com/ / http://www.myspace.com/dioramamusic / http://de-de.facebook.com/pages/Diorama/20921056622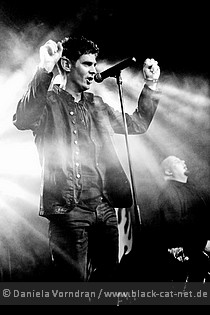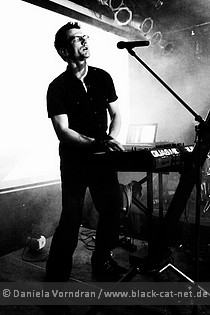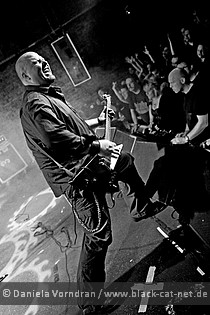 Music & Performance
Long-time no see. At least that goes for me. Can't even recall the last time I've seen DIORAMA live on stage. One of the reasons I came here in the first place, actually. The rebuilding break didn't take half as much time as expected and soon enough the show could start with a track that remains untitled for the moment, just because it's got no title yet. Crunchy synth bursts and an aggressive yet calming balance marked the first track of a long list. "Mother Earth", as I will call it until an official title is set, was just one of two new songs we were treated to here. 'Hello, Goodbye' was the second one that came up a while later and equally tuned for a live show. Makes you wonder how the rest of the yet untitled new album will turn out. Well, of course there was more than just those two, and the list of songs was spiked with tracks that wouldn't leave you much choice but to move.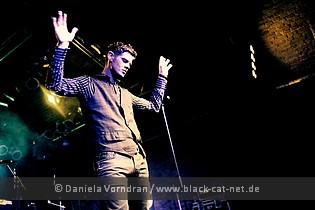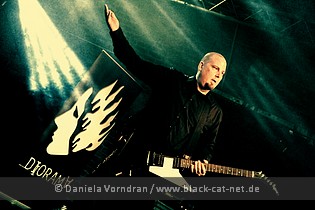 May it be the poppier grooves of 'Exit The Grey', the first lines sung by the audience alone this time, and its irresistible chorus line A song like 'Ignite' that is actually a club anthem in its own right already, gained more momentum in the live setting and made and ecstatic crowd even more ecstatic. 'Why' brought forth the singular chant that was invented by a few crazy fans a few years back and has become a tradition now every time the song's played. Still so much fun to do it! 'Home to Millions' hit very well with everyone. It's just that this particular song grows so much when played live it's simply winning over everyone in a blink. Everything the mood, the vocals, the instrumentation was just perfect then. This particular set had one big surprise for me up its sleeve with 'Someone Dies' off the 'Amaroid' album, a song conveying a sense of loss, trying to find ways out into normal life again. That was one of those overwhelming moments that you'll only get on concerts.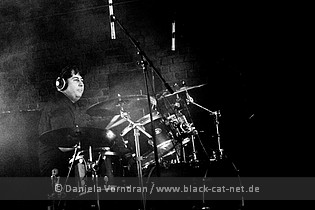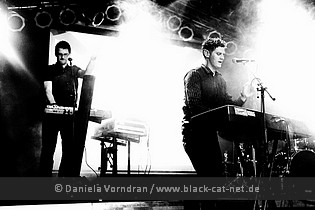 Of course there wouldn't be just an ordinary main set and so the guys pushed back the deadline for the party back a little with a few songs, amongst them 'Child Of Entertainment'. Even though we would have loved for them to come back once more the deadline was set but we left the stage with memories of another show extraordinaire, of both bands. We stayed a while longer reuniting with friends we hadn't seen in a long time. Sometime after midnight however it was time to say goodbye. We all could use a bit of sleep before the next show…

Setlist
01. New song (yet untitled – "Mother Earth")
02. Exit The Grey
03. Ignite
04. Definition Power
05. Acid Trip
06. Why
07. Refugee
08. Hello Goodbye (New Song)
09. Erase me
10. Last Minute
11. Stereotype
12. Home To Millions
13. Advance
14. The Girls
---
15. Someone Dies
16. Child of Entertainment
17. Synthesize Me

Rating
Music: 9
Performance: 9
Sound: 9
Light: 9
Total: 9 / 10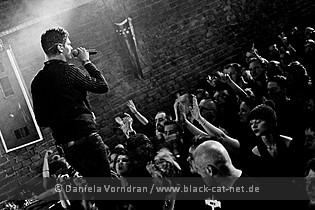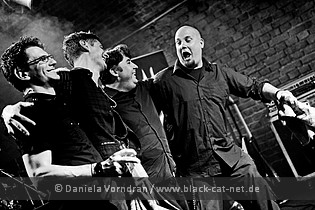 All pictures by Daniela Vorndran (http://www.vorndranphotography.com / http://www.black-cat-net.de/ / http://www.myspace.com/vorndranphotography / http://www.facebook.com/blackcatnet)