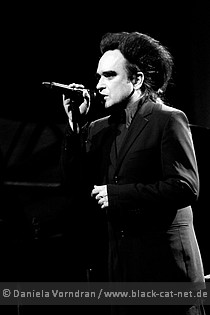 Capitol, Offenbach, Germany
19th May 2012
Deine Lakaien - Acoustic

When it comes to DEINE LAKAIEN, you never could speak about "normal" concerts. Ernst Horn and Alexander Veljanov always surprise the listener with their creativity. DEINE LAKAIEN stand out due to the perfect musical combination of Veljanov's vocals and electronic as well as acoustic instruments. It doesn't matter if they perform with the full band, with a philharmonic orchestra like during their 2007 "20 Years of Electronic Avantgarde" orchestra tour or totally acoustic when the distinctive voice of Alexander is accompanied by the virtuous piano play of Ernst only. The band already played acoustic shows before and now they are back for another acoustic tour, touching all 25 years of the band's career, presenting hits and rarities in an acoustic outfit. The show in Offenbach was definitely pure DEINE LAKAIEN! Unique and incomparable!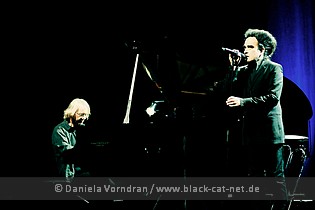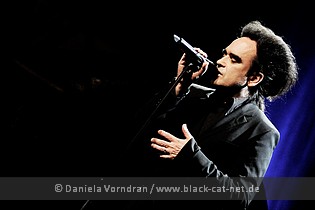 DEINE LAKAIEN, consisting of Ernst Horn (composition, arrangements) and Alexander Veljanov (lyrics, vocals), bless us with their compositions between electronic and classic avant-garde beyond all borders for over 25 years now. It all started out with a newspaper ad from Ernst Horn in a city magazine that pretty much sounded like this: "Looking for open-minded singer". Alexander Veljanov reacted on the ad and met Ernst. During this encounter they found out that they shared a common spirit and musical preferences. Their shimmering discography, created in all those years bred evergreens such as 'Mindmachine'' and 'Dark Star' on albums of matchless creativity and artistic merit. Following a phase of recollection and pursuing other projects after the release of 'April Skies', Veljanov for example released another solo album in the meantime, their paths crossed again and gave life to the newest album 'Indicator'. http://www.deine-lakaien.com / www.myspace.com/deinelakaien / https://www.facebook.com/DeineLakaien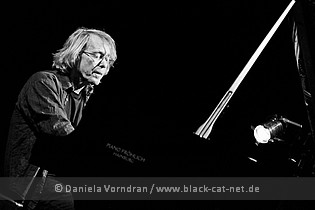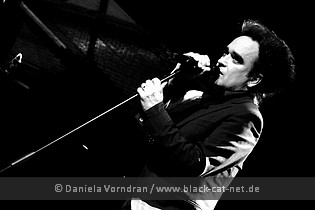 Music & Performance
I already saw DEINE LAKAIEN a year ago at the wonderful Capitol theatre in Offenbach, back then with the full band setting. Now, Ernst and Alexander were back at this beautiful location for their acoustic tour. The stage setting was pure. There was just the piano for Ernst and a microphone stand plus a bar stool for Alexander. The back behind them was covered with a black cloth where sparse light effects would be illuminating it later during the set. When the show started with 'Where you are', one of the band's bigger hits, it went absolutely silent. Later on in the set Alexander would mention that the only sound audible on stage from the audience would be the cameras, so silent it was… silent during the songs, but after any piece, the band was receiving loud and excited applause. Alexander's voice indeed was wonderful and clean. Ernst's piano play was extraordinary. He not only was playing it like you usually do, he also maltreated the strings inside the piano with sticks or his hands. You could see what he was doing perfectly in the reflections on the piano's top cover.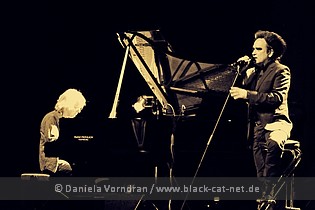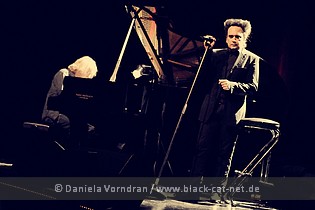 The setlist being presented was pretty uncommon. There were a lot of songs rarely being played, like i.e. 'Follow me' from the 'Forrest Enter Exit' album or 'A Fish Called Prince', when the band was moving back into times of the silent film telling a story about a fish and a prince. With 'Mirror Man' the band moved back to its early days. The virtuosity of Ernst during this song was amazing! "There are moments of understanding when there is no spark of hope anymore", Alexander introduced 'Gone' with its thoughtful lyrics. 'Fighting the Green' from 1996 was ending the first part of the concert after about an hour, releasing the audience into a break. After about 20 minutes, the band was back for the second part of the show, starting with 'Vivre' in French tongue. What I encountered during the second part of the set was, that the songs seemed sung a bit too fast, especially during 'Over and Done' or 'Blue Heart' if felt not right for me. A fantastic version of 'Dark Star', surely one of the band's biggest hits, was ending the main set. The band lest under blustering applause, the audience was not willing to let them go now.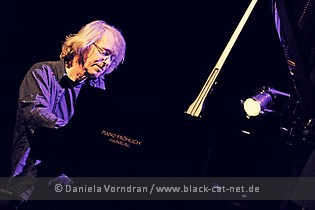 There was some more time for an encore. Prior to the concerts, the band asked its fans what songs they loved to hear. 'One Night' was one of them and now, the band was presenting this song in another version. It was in German and called 'Bei Nacht'. The heartbreaking 'Love me to the End' was finally ending the set. Standing ovations were bidding farewell to the both musicians who were visibly touched by the audience's reaction. It was a wonderful concert presenting the virtuosity of both artists and the audience loved the band for it!

Setlist
01. Where You Are
02. 2nd Sun
03. Who'll Save Your World
04. The Game
05. Follow Me
06. One Night
07. A Fish Called Prince
08. Mirror Men
09. Return
10. Gone
11. Without Your Words
12. Fighting the Green
---break---
13. Vivre
14. Over and Done
15. Away
16. Blue Heart
17. Dark Star
---
18. Bei Nacht
19. Wunderbar
---
20. Love Me to the End

Rating
Music: 8
Performance: 9
Sound: 9
Light: 7
Total: 8 / 10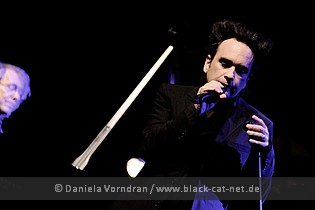 All pictures by Daniela Vorndran (http://www.vorndranphotography.com / http://www.black-cat-net.de/ / http://www.myspace.com/vorndranphotography / http://www.facebook.com/blackcatnet)