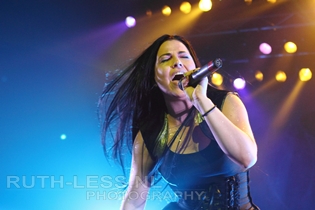 013, Tilburg, The Netherlands
5th June 2012
Evanescence, Cirrha Niva

After a couple of shows in Europe last fall, EVANESCENCE finally made it to the Netherlands for a full show. It is no surprise that this concert was completely sold out. Fans were lining up at venue 013 as early as 6:30 in the morning to make sure they got the best spot in front of the stage. Support will be taken care of by Dutch band CIRRHA NIVA.



Cirrha Niva

CIRRHA NIVA is a progressive metal band from the Netherlands. Their last album 'For Moments Never Done' was released in 2009 in Europe and in the USA & Canada. The album features several guest appearances such as Manda Ophuis (Nemesea) and Joost van den Broek (After Forever). CIRRHA NIVA has known several line-up changes over the years and has had a couple of multi-year breaks partly because of that. The band has supported well known names in the scene like LACUNA COIL, SKYCLAD, EVERGREY, PAIN OF SALVATION and WITHIN TEMPTATION. Currently, CIRRHA NIVA is working on a new album, to be recorded later this year. CIRRHA NIVA is Rob Willemse (guitars), Legrand (vocals), Ted Wouters (guitars), Jan-Frans Knevel (bass guitars) and Elger van Delft (drums). http://www.cirrhaniva.nl/ / http://www.myspace.com/cirrhaniva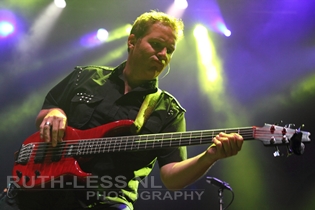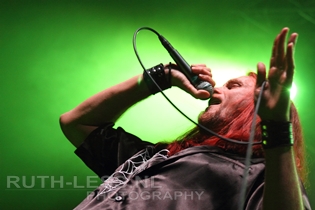 Music & Performance
With his glitter shoes and silk spider-web shirt I had to blink twice as front man Legrand and his men entered the stage. They probably tried to fit in this evening's theme of gothic metal? Obviously, the men of CIRRHA NIVA are thrilled to be here on stage tonight in a sold out venue. After an intro kick off, Legrand invites guest singer Robin de Groot of Dutch metalcore band CHIRAW on stage who will vocally support 'The Fooling'. With some proper grunts and screams, the band shows it's most energetic side. This energy unfortunately seemed to slip away during the last two songs of their very short set (only 20 minutes), 'Dreamon' and 'Self Chosen'. Of course it's a matter of taste but imo their music seemed to lack structure and changes in dynamics, making it go on and on and on… and on. The vocals of Legrand at times were unable to produce the volume and power this type of music needs. The audience stood almost motionless during most of their show, except for some friends of the band and an occasional clapping session. Perhaps CIRRHA NIVA is a bit old to be a support act for a band such as EVANESCENCE.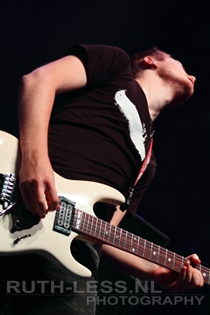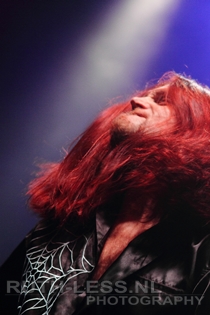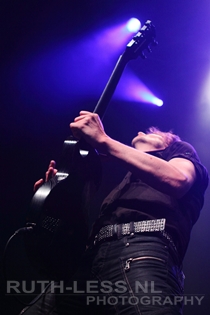 The audience, consisting mostly of (young) girls and women, wants polished bite-sized pop-rock with a solid dose of drama and quasi misery. Inviting a prog metal band who has been off the radar for some time, expecting the audience to appreciate the complexity of their work is perhaps not the best choice. Their short set soon comes to an end and with a quick "thank you and enjoy Evanescence" CIRRHA NIVA leaves the stage.

Setlist
01. Intro
02. Framed
03. The Fooling
04. Dreamon
05. Self chosen

Rating
Music: 6
Performance: 6
Sound: 6
Light: 7
Total: 6.2 / 10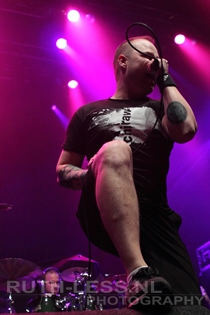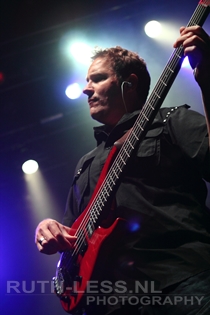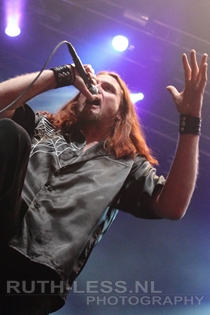 Evanescence

EVANESCENCE belongs to the biggest phenomena in US Rock scene of the last decade. Two Grammies and more than 24 million sold albums are standing for the international success of EVANESCENCE. After a six year break, EVANESCENCE, released their third studio album in 2011, simply called 'Evanescence'. With only singer Amy Lee left from the original line up, the band did not lose its character and their new album provides the fans with a severe dose of distinctive Evanescence gothic rock/metal. EVANESCENCE is Amy Lee (lead vocals, piano, keyboards), Terry Balsamo (lead guitar), Tim McCord (bass), Will Hunt (drums) and Troy McLawhorn (rhythm guitar). www.evanescence.com / www.myspace.com/evanescence / www.facebook.com/Evanescence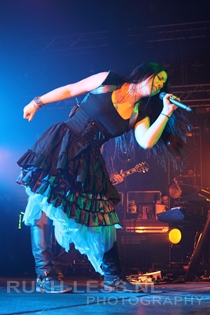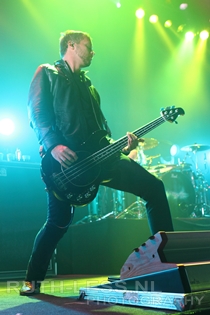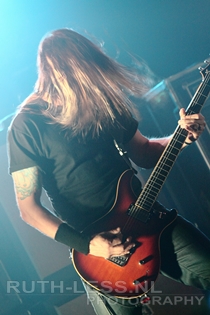 Music & Performance
EVANESCENCE enters the stage with their single 'What You Want' , getting all hands in the audience together with this great up tempo start of their show. There are no monitors on stage so everyone has a clear view on whatever happens on stage, which is great. I had never seen this band live before, but heard some complaints about Amy Lee's voice during live shows. Fortunately I am confident to conclude that these irregularities belong to the past, as Amy proves to have a beautiful and powerful voice, perfectly capable of matching/ equalling the EVANESCENCE sound on CD. After 'Going Under' from their debut album, Amy Lee treats the audience to a couple of songs from the last two albums. Next, a piano was rolled on stage and with a marvellous light show, Amy shows a more sensitive and fragile side with 'Lost in Paradise' and 'My heart is broken'. The audience started singing along, and Amy was visibly amused. Just at the right moment, the other band members join in to empower the these songs.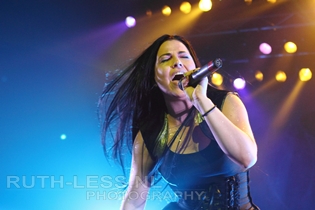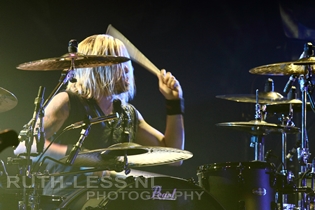 With Amy Lee being the only band member left from the original line up, the rest of the band seemed a bit in the background at times, except for drummer Will Hunt who steals the show with his energetic play. A lot of attention clearly has been paid to the light show and impressive backdrop of this show. Thumbs up! The audience seemed overall a bit modest and tame (or perhaps I've been to too many metal core concerts lately) but it is absolutely clear that they're having a marvellous time. Almost every song is sung along and all eyes are fixed on stage. The setlist is well balanced with both up tempo and more quiet songs from the different albums EVANESCENCE has released. I think with everyone around me that we were all pleased that the older classics we not forgotten. After only an hour, EVANESCENCE ends their show with classic 'Bring me to Life'. After a break, Amy Lee treats the audience to three more songs, ending with the beautiful 'Whisper'.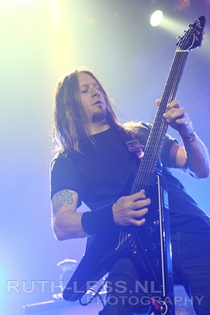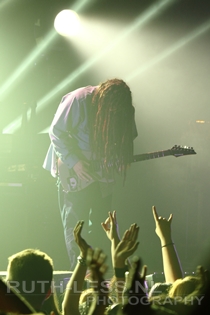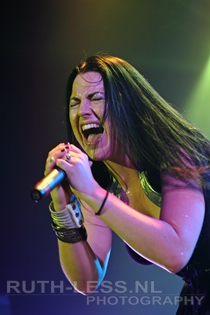 Overall an awesome show with great lighting, skilled musicians and the beautiful and charismatic Amy Lee. Perhaps a bit short, but that should be taken as a compliment!

Setlist
01. What you want
02. Going under
03. The other side
04. Weight of the World
05. Made of Stone
06. Lost in Paradise
07. My heart is broken
08. Lithium
09. Sick
10. The Change
11. Sober
12. Imaginary
13. Bring me to life
14. Swimming Home
15. My Immortal
16. Whisper

Rating
Music: 9
Performance: 9
Sound: 9
Light: 9
Total: 9 / 10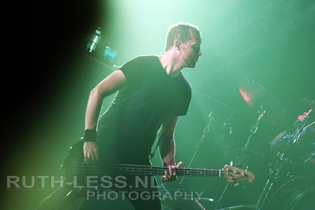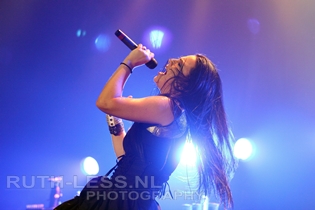 All pics by Ruth Mampuys (www.ruth-less.nl)