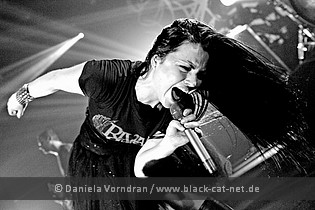 FZW, Dortmund, Germany
14th June 2012
Evanescence, Rival Sons

A long working day behind us we arrived at the venue where the admission had already begun for the show of EVANESCENCE and RIVAL SONS which had been relocated from Westfalenhalle to the FZW in Dortmund. We were expecting nothing less than a great show…



Rival Sons

The RIVAL SONS are a blues rock outfit formed in 2008 just outside of Los Angeles. Once Jay Buchanan joined them, the line-up was completed and works for a first album could start. Entitled 'Before the Fire', it was digitally self-released by the band in 2009. In the following time, the band performed live on a plethora of occasions, amongst them shows with KID ROCK and AC/DC. The second album 'Pressure & Time' followed in 2011 and amongst a bunch of new songs featured artwork by the same graphics designer who worked on PINK FLOYD's 'Dark Side of the Moon'. The touring cycle began anew where the band was sharing stages with EVANESCENCE and BLACK STONE CHERRY for instance. Fall will see the release of the third album instalment called 'Head Down. RIVAL SONS is Jay Buchanan (vocals), Scott Holiday (guitars), Robin Everhart (bass) and Michael Miley (drums). http://www.rivalsons.com/ / http://www.facebook.com/rivalsons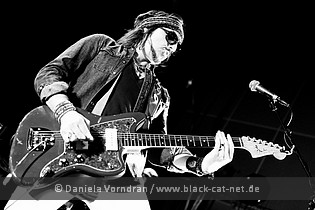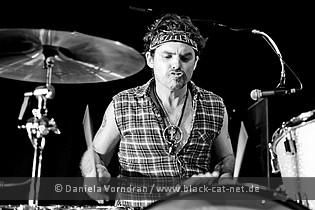 Music & Performance
RIVAL SONS flew under my radar up until now to be honest and I think I'm speaking for many of that evening's attendees if I put it this way. Normally, you'd think of a support kind of flowing in the same vein as the main band does. This time everything's tuned inside-out since blues rock is not exactly the type of music you'd expect at an EVANESCENCE show. The surprise was all positive though as the band put up such an entertaining and entertaining 40 minutes. In fact, the guys displayed a type of fun that made them improvise on the base of their songs, some of which were actually quite short I learned later. 'Soul' was the most striking example of that. Vastly different from the grooving efforts pre-dominating the set, this one delivered a relaxed vive, building to an emotional peak where Buchanan's vocals could shine the most. Pretty sure, many followed the invitation to meet the band after the show at the merchandize booth.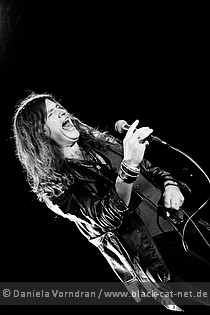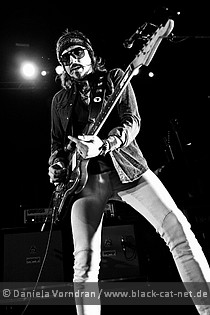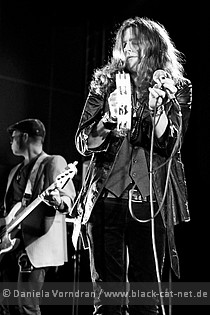 Setlist
01. Gypsy Heart
02. Burn Down Los Angeles
03. Torture
04. Keep On Swinging
05. Face Of Light
06. Pressure And Time
07. Soul
08. Get What's Coming

Rating
Music: 8
Performance: 8
Sound: 8
Light: 7
Total: 7.8 / 10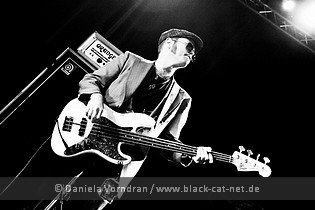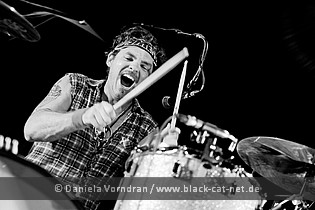 Evanescence

US rock band EVANESCENCE was already founded back in 1995 and even though they exist quite long now, they only released three albums up to now. Official debut album 'Fallen' was released in 2003 and sold more than 17 million copies worldwide. With the single 'Bring me to life' out of it, the band had its international breakthrough. After releasing the live album 'Anywhere but home', next studio album 'The Open Door' hit the stores in 2006 followed finally by 'Evanescence' in October 2011. In the past, the line-up changed several times and today, EVANESCENCE is Amy Lee (lead vocals, keyboards, harp), Terry Balsamo (lead guitar), Troy McLawhorn (rhythm guitar), Tim McCord (bass) and Will Hunt (drums). http://www.evanescence.com / https://www.facebook.com/Evanescence / http://www.myspace.com/evanescence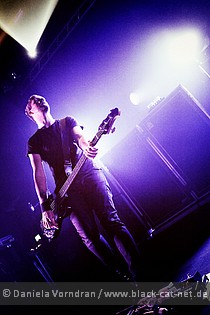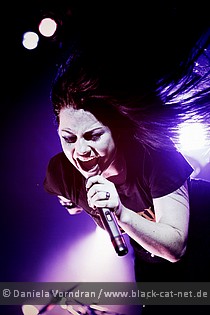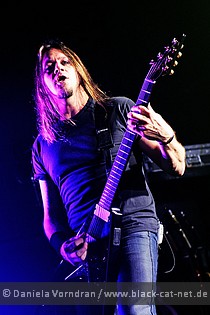 Music & Performance
The decision to relocate the show to this venue now proved to be best given the presumably weaker ticket sales. They wouldn't have been able to filled Westfalenhalle with the amount of people present. The upside of it all was that it created a more intimate club atmosphere. Right with the start of 'What You Want' the party got literally started, especially on stage with Amy maintaining an insane pace, keeping the photographers busy. With the second track 'Going Under' all restraints had fallen down. The communication between band and audience was at a high at this time. 'The Other Side' was keeping things rocky, whereas you couldn't say it was for the vocals best.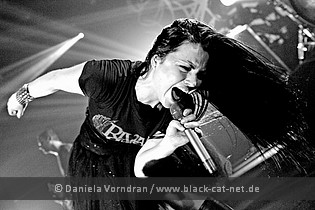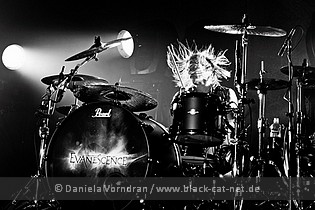 Amy's voice wasn't in top shape this evening anyway, but the excessive movement only made it worse at times. It got better on the calmer 'Lithium' and 'Lost in Paradise'. Pure awesomeness if I may say so. Another highlight of the recent album followed it right up with 'My Heart Is Broken'. The set continued with mostly high-octane material, also keeping the crowd moving. The band remained true to their positions as a colleague put it just right. They were moving but hardly away from where they were standing. The main set ended with the breakthrough hit 'Bring Me to Life'. The show of course was topped off with an encore having 'My Immortal' as the ultimate closing. A real good show except for the vocal problems here and there!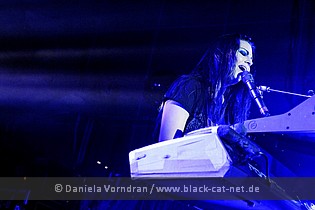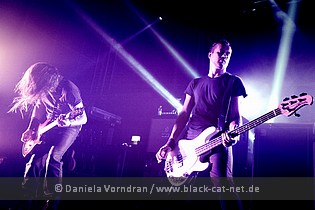 Setlist
01. What You Want
02. Going Under
03. The Other Side
04. Weight Of The World
05. Made Of Stone
06. Lithium
07. Lost In Paradise
08. My Heart Is Broken
09. Sick
10. The Change
11. Whisper
12. Call Me When You're Sober
13. Imaginary
14. Bring Me To Life
---
15. Your Star
16. My Immortal

Rating
Music: 9
Performance: 7
Sound: 8
Light: 8
Total: 8.1 / 10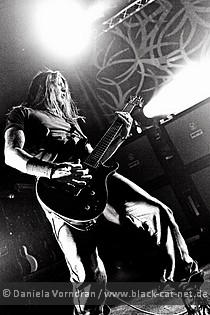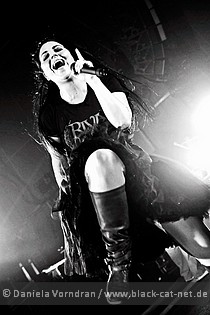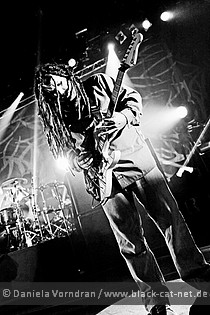 All pictures by Daniela Vorndran (http://www.vorndranphotography.com / http://www.black-cat-net.de/ / http://www.myspace.com/vorndranphotography / http://www.facebook.com/blackcatnet)