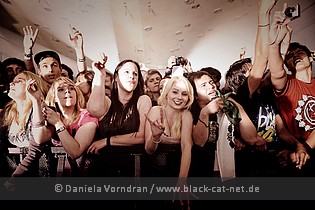 Grugahalle, Essen, Germany
25th June 2012
Blink-182, The All American Rejects & Royal Republic

BLINK-182 are back! After an eight-year break and the re-union in 2009, the 6th album of US Punk Rockers, 'Neighborhoods', was released in September 2011. After world-wide hits like 'All the small Things' or 'I miss you', the new album goes more a progressive way. Marc, Tom and Travis developed further and sound now much more experimental. After the shows were already planned for last year's June, the band is now finally back in Germany for a few festival dates and three headliner shows. One of them took place in Essen, offering ROYAL REPUBLIC and THE ALL AMERICAN REJECTS as support acts.



Royal Republic

ROYAL REPUBLIC was formed in 2007 in Malmo, Sweden. Their first and only album so far 'We are the Royal' was released in 2010 in Sweden and got overall good reviews from both critics and fans. This four-man band consisting of guitar player / singer Adam Grahn, guitarist Hannes Irengård, bass guitarist Jonas Almén and drummer Per Andreasson brings energetic, vigorous rock, punk & funk to the stage with a lively and entertaining performance. Following the debut album was a single release, 'Full Steam Spacemachine', in 2011. Currently, the band is extensively touring all over Europe with final date being in their hometown Malmo on 20th Dec. 2012. http://www.royalrepublicband.com / http://www.myspace.com/royalrepublic / https://www.facebook.com/royalrepublic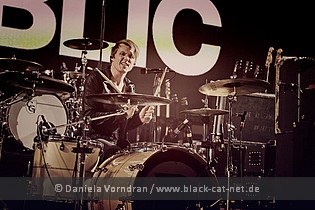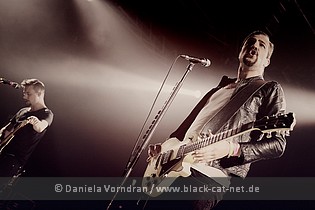 Music & Performance
It is always a great concert experience to see those Swedes live on stage. This time, they were opening the evening and let me say already: the did a great job warming up the audience for what's to come. There were people from different nationalities in the first rows, waving various flags during the band's appearance. Show-wise, ROYAL REPUBLIC kept it pure. On the LED screen in the back, you hat the band's name written in big letters while the whole show was just supported by white lights. Not too bad I'd say since you could perfectly see the band's expressions… and those are really worth seeing since all members are really outgoing. Opening up with 'The Presidents Daughter', they made people scream and clap from the very beginning. The fun package of straight beats and swirling riffs got the party started. No one was standing still anymore along to kick-ass rock tunes like 'Walking Down The Line' or the latest release 'Full Steam Spacemachine'. You rarely see such good mood already during the support act!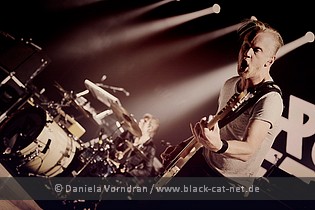 The 30 minutes the band got ended with 'Underwear' and finally 'Tommy-Gun' when Adam included some tunes of LADY GAGA's 'Bad Romance'. I am sure not only for me ROYAL REPUBLIC were the better support act of the both we got today…

Setlist
01. The Presidents Daughter
02. Walking Down The Line
03. All Because Of You
04. Make Love not War
05. Addictive
06. Full Steam Spacemachine
07. Underwear
08. Tommy-Gun

Rating
Music: 8
Performance: 9
Sound: 8
Light: 8
Total: 8.3 / 10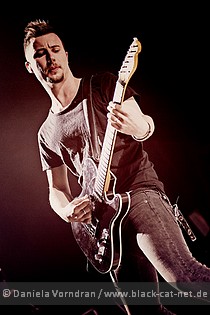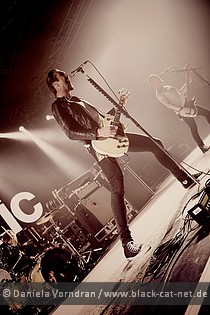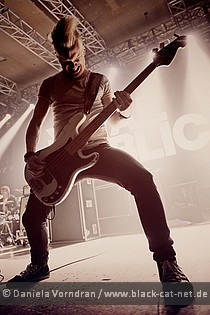 The All American Rejects

This American Alternative Rock band was already founded back in 1999 and achieved mainstream success with the self-titled album in 2003. The second album 'Move along' (2005) produced three hit singles. The band's third album, 'When the World Comes Down', was released in December 2008. The first single out off it, 'Gives You Hell', had finally international success. In March 2012, THE ALL AMERICAN REJECTS (TAAR) already released its fourth album, 'Kids in the Street'. The band consists of Nick Wheeler (guitar), Tyson Ritter (vocals/bass), Mike Kennerty (guitar) and Chris Gaylor (drums). The band was live supported by Cheese on keyboards. http://www.allamericanrejects.com / https://www.facebook.com/AllAmericanRejects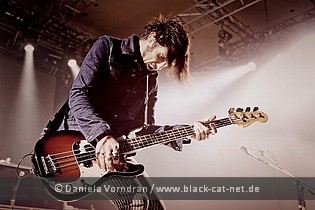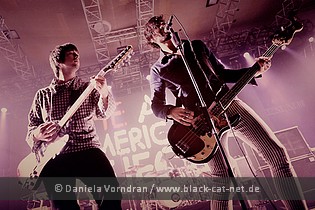 Music & Performance
TAAR were up next and they did not convince me totally. While ROYAL REPUBLIC loved it bright on stage, TAAR kept it mostly dark with blue and red lights so it was mostly quite hard to see the musicians' faces. Musically, they presented songs convincing mostly teens I'd say. The band was opening up with the single 'Dirty Little Secret'. Worked pretty well for the first rows, but if I am not mistaken, the audience was much more vivid during ROYAL REPUBLIC's appearance, even though also TAAR brought a lot of energy onto stage, constantly moving and jumping around. My personal highlight was the longer keyboard/piano solo which led into the ballad 'It Ends Tonight' where singer Tyson was in top form. Really impressing and in my opinion much better than the faster songs. Judging on the mood in the hall, the highlight of the show was mainstream-breaking hit 'Gives You Hell' when anyone was singing and clapping along.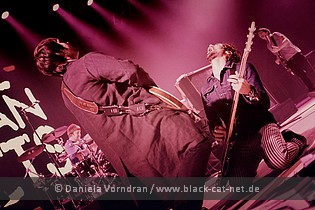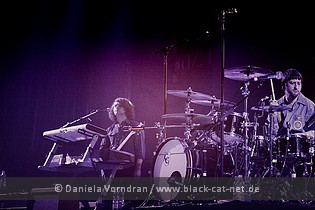 Setlist
01. Dirty Little Secret
02. Top of the World
03. Swing, Swing
04. Kids in the Street
---Bass Noodle---
05. Gonzo
---Cheese on Keys---
06. It Ends Tonight
07. Walk Over Me
08. Move Along
09. Gives You Hell

Rating
Music: 6
Performance: 8
Sound: 8
Light: 6
Total: 7 / 10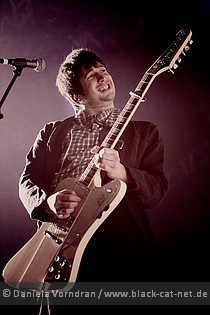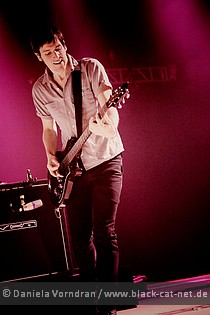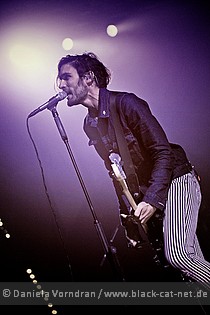 Blink-182

BLINK-182, formed in 1992 as BLINK and renamed in 1994, rose to fame in 1999 with the release of the single 'All The Small Things' and the accompanying album 'Enema Of The State', being already their third full-length until then. The album spawned two other very successful singles. The next album 'Take off Your Pants and Jacket' came out in 2001 and became their most successful to date. In 2005 and after another, self-titled, album the band members announced to send BLINK-182 into indefinite hibernation to have more time for their private lives and stuff, but also internal conflicts were reported. Anyway, BLINK-182 announced their reunion through their website in 2009, saying they were also working on a new album. This new album, 'Neighborhoods', was released in September 2011 finally presenting the band now live back in Germany as well. BLINK-182 is Tom DeLonge (lead vocals, guitar), Mark Hoppus (lead vocals, bass) and Travis Barker (drums, percussion). http://www.blink182.com / http://www.myspace.com/blink182 / https://www.facebook.com/blink182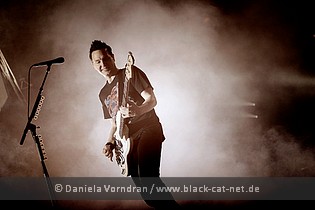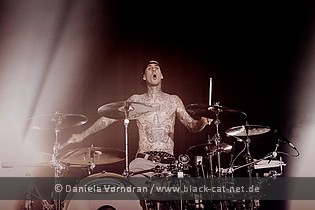 Music & Performance
Finally it was time for the band anyone was waiting for. Now, the hall was really packed and I hardly saw so many security people in the pit before like during this show. The fans in the first rows were squeezed and a lot of fans, mainly girls, had to be pulled out. Short before the set started, the stage was covered with a black curtain which fell down when BLINK-182 were starting with their first song, 'Feeling This'. Bright lights, fast moving white spots and a video screen illuminated the stage perfectly and you could see how much fun those three guys had on stage. In my opinion, this show turned out much better than the one I saw 2 years ago at the Area4 festival, where BLINK-182 were headlining the main stage. The trio chose a lot of songs from their history, not disappointing anyone. People were just freaking out during their favourite songs, such as 'All the small Things' or 'First Date'. The fans screamed, clapped and jumped… they jumped so hard that the old floor of the Grugahalle was shaking!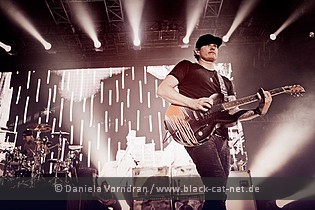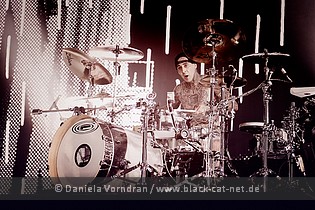 Having released a new album just last autumn, the set of course presented also quite a few new songs, like 'Up all Night', 'Wishing Well' or 'Heart's all gone', just to name a few. Even though Tom and Mark drew a lot of attention in the front when jumping around and moving all over stage, special eye catcher was drummer Travis who made a great performance behind is instrument, especially convincing during his solo track, the first song of the encore 'Can a Drummer Get Some'. The question 'What's My Age Again?' was hard to answer since those three guys on stage did behave like teens and not like grown ups. 'I Miss You' calmed things quite a bit with a balladry track. And so, the whole set moved between extremely fast songs and some calmer ones, showing the musical craftsmanship of all three band members. So, to sum it up: the band delivered a great energetic show with an exciting setlist and an impressive stage show supported by great lights and good sound, ending with canons spitting out confetti blown over the audience during 'Family Reunion'.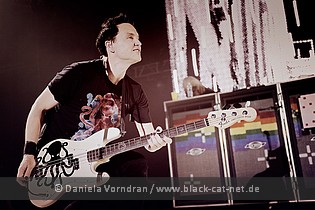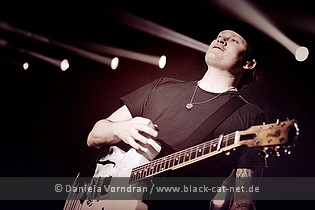 Setlist
01. Feeling This
02. Up All Night
03. The Rock Show
04. What's My Age Again?
05. Down
06. I Miss You
07. Wishing Well
08. Dumpweed
09. Always
10. Violence
11. After Midnight
12. First Date
13. Heart's All Gone
14. Man Overboard
15. Ghost on the Dancefloor
16. All the Small Things
17. Josie
---
18. Can a Drummer Get Some (Travis Drum Solo)
19. Carousel
20. Dammit
21. Family Reunion

Rating
Music: 7
Performance: 9
Sound: 9
Light: 10
Total: 8.4 / 10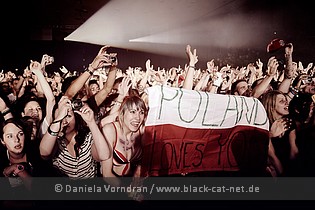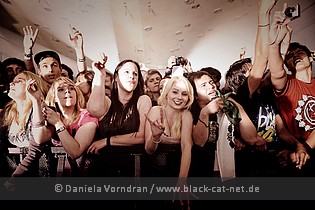 All pictures by Daniela Vorndran (http://www.vorndranphotography.com / http://www.black-cat-net.de/ / http://www.myspace.com/vorndranphotography / http://www.facebook.com/blackcatnet)