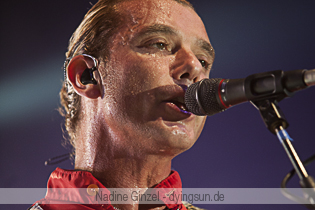 Huxleys Neue Welt, Berlin, Germany
14th August 2012
Bush & Young Guns

BUSH released their latest album 'The Sea of Memories' last year and it was a pleasure to know that they will perform live at the sold-out Huxleys Berlin because the location brings really fun and an excellent indoor music experience. The YOUNG GUNS played already at HURRICANE 2012 and supported BUSH today with songs from their album 'Bones'.



Young Guns

YOUNG GUNS is a British alternative rock band from High Wycombe, Buckinghamshire. Gustav Wood (vocals), brothers John Taylor and Fraser Tayor (guitar), Simon Mitchell (bass) and Ben Joliffe (drums) founded the band in 2003. With their single debut 'Mirrors' released in June 2009, they could build up a really big fan base in GB. YOUNG GUNS were already support for bands like STORY OF THE YEAR or FUNERAL FOR A FRIEND and toured with OUTCRY COLLECTIVE and SAVE YOUR BREATH. The first album 'All Our Kings Are Dead' was released in 2010. YOUNG GUNS release their music not at any major label but under their own indie label Live Forever. Actually they recorded the album 'Bones' and will play again in Germany in October. More information: http://younggunsuk.tumblr.com/tour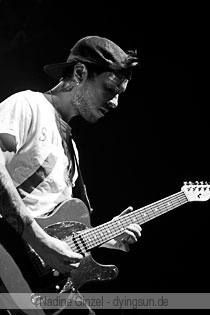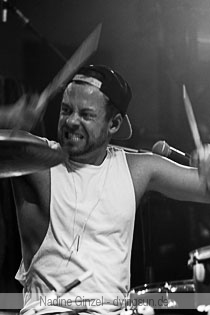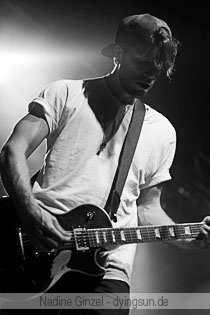 Music & Performance
Five young and alternative looking guys with leather jackets and stylish haircuts entered the stage and started with a fresh, danceable and happy pop-rock sound. They baited the crowd with catchy melodies which rotated between hard and soft parts. The music is not really new or innovative but the heads of the audience bopped up and down. In some parts they sounded like BILLY TALENT. Something even known. But the show was warming up the crowd like it has to be.

Setlist
01. Headlights
02. Dearly Departed
03. Learn My Lesson
04. Stitches
05. Meter & Verse
06. Weight of the World
07. Bones

Rating
Music: 7
Performance: 7
Sound: 8
Light: 6
Total: 7 / 10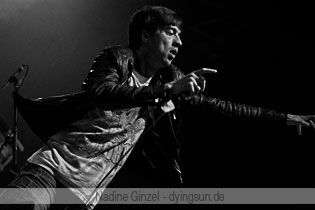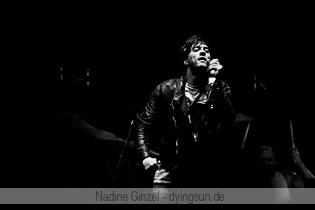 Bush

BUSH was formed in 1992 in London and was one of the most important protagonist of the British rock scene. Inspired by bands like PEARL JAM or SOUNDGARDEN they created a new powerful sound mixed from grunge and melancholy. After their 10 years break they didn't lose anything of their status. Gavin Rossdale (vocals, guitar), Chris Traynor (guitar), Corey Britz (bass) and Robin Goodridge (drums) released the current album 'The Sea of Memories' in September 2011. http://www.bushofficial.com/ / https://www.facebook.com/BushOfficial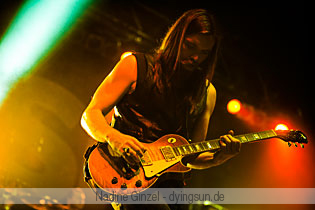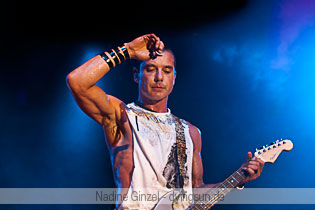 Music & Performance
BUSH started on time at 21:00 to open their show with 'Machinehead' from their first album 'Sixteen Stone'. Gavin and his band mates looked very fresh and powerful. Gavin was wearing a muscle shirt and his suntanned skin, the well-formed upper arms and of course his smoky voice enchants every girl and woman at the hall. Maybe the reason because the crowd didn't jumped so much during the first songs like 'The Sound of Winter'. Gradually the room temperature got hot with 'Swallowed'. Chris looked like Jesus sometimes: Very focused and recessed while playing bass. Gavin was playing the guitar on his knees and interacted with the stage equipment. In the meantime he changes his guitar to rub the strings on the corners of the speakers. After that destroying move he gets his old (better) guitar back.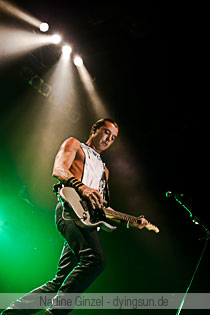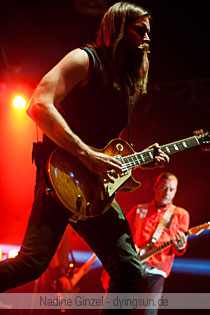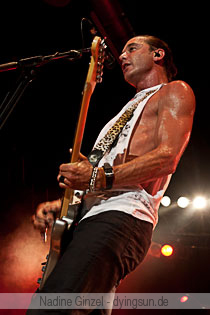 There was a little moment of sound feedback that hurts into ears. But it seemed to be part of the show. He knows how to make a good show! The great light effects with many colourful programming supports that entertainment and created an unique atmosphere. During 'Afterlife' the BUSH front man took a bath in the crowd. He started at the bar on the left stage side and run, danced and sang through the whole hall. Everyone wanted to touch him and the girls were happy after that event. At the end Gavin's sweat dropped literally every second from his body and guitar to the ground, and his very permissive shirt stuck to his body. After finishing the main part of the concert with 'Little Things', the band came back after a while and gave the encore with 'Breathe', 'Come Together' 'Glycerine' and 'Comedown'. After 1.5 hours the lights switched of and the speakers dumb. This concert was one of the best live shows I've ever seen. Welcome back BUSH!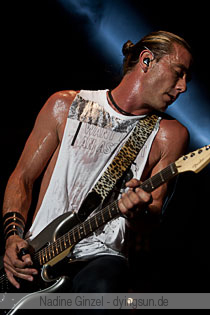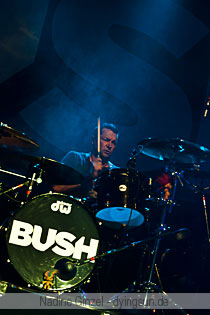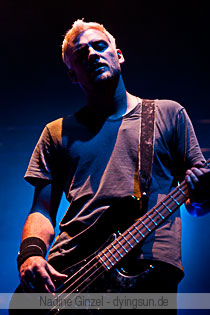 Setlist
01. Machinehead
02. Prize Fighter
03. All My Life
04. The Chemicals Between Us
05. The Sound of Winter
06. Everything Zen
07. Swallowed
08. Greedly Fly
09. Alien
10. The Afterlife
11. The heart of the Matter
12. Little Things
---
15. Breathe
14. Come Together (The Beatles cover)
15. Glycerine
16. Comedown

Rating
Music: 9
Performance: 10
Sound: 9
Light: 10
Total: 9.5 / 10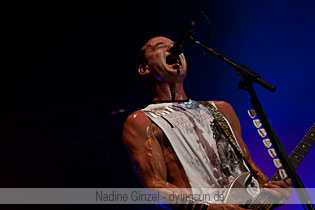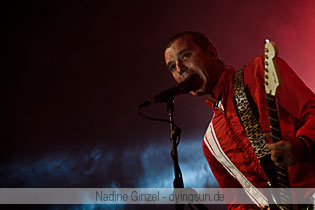 Full Gallery


Warning: No images in specified directory. Please check the directory!

Debug: specified directory - https://www.reflectionsofdarkness.com/images/concert/2012/august/bush20120814
All Pictures by Nadine Ginzel (
www.dyingsun.de
)