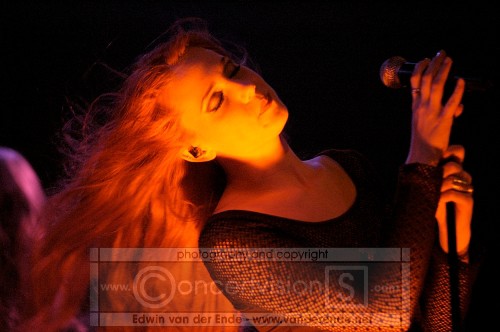 De Groene Engel, Oss, The Netherlands
February 26th 2005
Epica, Asrai
While snow was falling outside an anxious crowd waited for the doors to open to the concert hall of the Groene Engel (green angel). The atmosphere was really friendly everybody was there with the same purpose; seeing and enjoying Epica and Asrai.

Asrai
Asrai was founded in 1988. After several demo's it was time for their debut album 'As voices speak' in 1997. Their album was noticed by the label 'Poison Ivy' and they released a German edition of their album. Asrai took the time to perfect their sound and while doing so they were signed by Transmission records. Now it was time for their second album 'A touch in the dark' which was released in most European countries as well as in Asia and North- and South America. In the mean time they have released two singles of this album, 'Pale light' and 'In front of me'.
Music
During the first two songs it seemed as though Asrai needed a little warming up. After this however they sounded great. Margriet has quite a firm voice but she can also hit the high notes if she wants to. Asrai has ballads as well as more up tempo songs but they all have one thing in common, a very catchy refrain. Somehow the refrain always is a release of energy and emotion in which Margriet gives us all she has. The sound was fine so no comments there.
Performance
During the performance Manon is often singing along with Margriet, enjoying herself behind her synths. Martin (bass) and Rik (guitar) sometimes exchange a smile and Karin (drums) who sets in every song checks with everyone if they are ready to go but all in all there is not a lot of interaction on stage. There is some interaction with the audience though, smiles are given and Margriet is a great performer spitting her emotions into the audience, her eyes seem to shoot fire, fingers curling up with emotions.
There was not a lot of variation in the light during the show; mostly the entire stage was bathing in one colour.
Rating
Music 7
Performance 7
Sound 7
Light 5
Total 7 (6,7)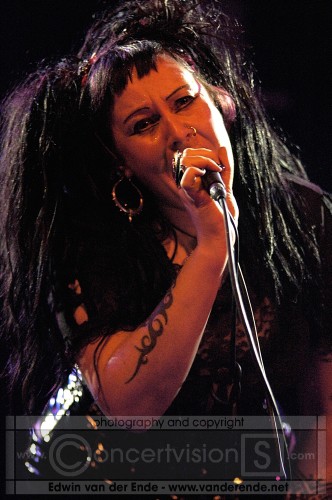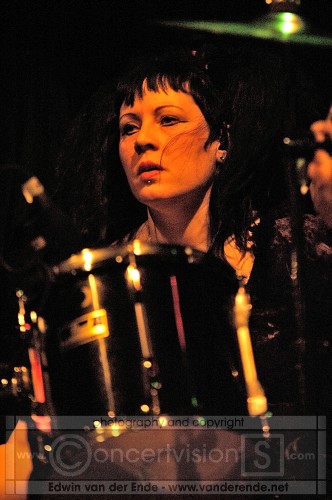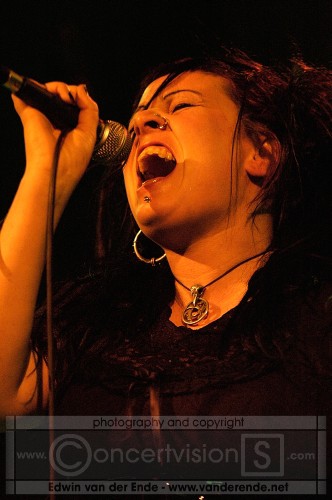 Epica
This performance was special for Epica, at least for Coen (synths) because Oss is his hometown, he was born there. A big part of his family was in the audience this evening.
Music
It seemed as thought the grunts and screems of Mark (grunts/screams, guitar) were tuned in a bit louder this evening, they really stood out which gave some songs an extra dark sound. Although Simone (vocals) seemed to have some troubles with her throat (she was drinking tea during the performance) she sounded good, especially in the new song 'Solitary Ground' she is able to vocally break your heart. Another new song 'The Last Crusade' is a really powerful song and like the other new songs it only promises good things for their upcoming second album 'Consign to Oblivion'.
Performance
This evening Coen wasn't the only one getting special attention. In front of the stage there were some girls with messages for Yves (bass) which he received with a big smile. When a member of the band asked the audience to clap along, they would join immediately (if they were not already clapping).
Ad who is usually the more quiet and timid guitarist on stage now really took his space on stage, walking around and banging his head, Jeroen was standing behind his drums sometimes, so we could finally see his face and Coen was banging his head so enthusiastically behind his synths he ended up with quite a bump on his forehead. The atmosphere was very relaxed and it seemed as though everybody was a part of the show, the audience was enjoying themselves at least as much as the band was. It seemed as though Simone had learned some new steps for this show and so did Mark, always good to see something new.
I was able to see the band and the colours of the lights were ok but they seemed to go on and off at random, which is a pity because they could have really added something to the show and now they didn't. The floor lights seemed to cast very deep shadows into Simone's eyes when she was standing up, too bad if you have a beautiful singer and like to show her well.
Rating
Music 8
Performance 8
Sound 7
Light 6
Total 8 (7,6)