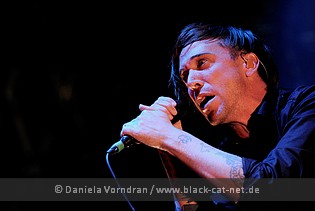 Halle Münsterland, Münster, Germany
10th October 2012
Billy Talent, Anti-Flag & Arkells

With every new album, added to their discography the reach of Canadian BILLY TALENT extended significantly. Founded in 1993, the band ha to work hard for almost ten years to have their breakthrough which then came like an explosion. The 'Billy Talent' album trilogy build and cemented their musical success, whilst live performances with time grew to huge celebrations and people going all crazy seeing them live on a stage. Releasing a new album 'Dead Silence' in September they of course cam to an accompanying tour as well, stopping on 10th October in Münster. The hall was packed (it turned out to be sold-out at the end) and people were ready for three sweat-inducing shows by BILLY TALENT, ANTI-FLAG and ARKELLS.



Arkells

Just like BILLY TALENT, also Alternative Rock band ARKELLS are hailing from Canada. Their band is named after the street on which they lived and would practice their music. Signing to Dine Alone Records in 2006, the band released a first EP, 'Deadlines', on the label in 2008, followed by two albums, 'Jackson Square' and 'Michigan Left', so far. During their years of existence, the band toured extensively. ARKELLS is Max Kerman (vocals, guitar), Mike DeAngelis (vocals, guitar), Anthony Carone (vocals, keyboard, guitar), Nick Dika (bass) and Tim Oxford (drums, percussion). http://www.arkells.ca / http://www.myspace.com/arkellsmusic / https://www.facebook.com/Arkells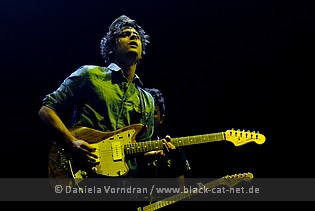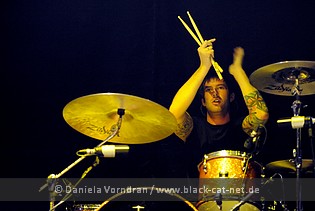 Music & Performance
ARKELLS were entering the stage about 10 minutes to eight and got a warm welcome. With their fast set, they had the audience immediately in their hands. It seemed there were quite some fans of the band in the audience, singing along right from the beginning. Even though the set was only 6 songs and 30 minutes long, people already started sweating in the packed venue. The band visibly enjoyed the show. There was a lot of movement on stage, no one stood still, not even the keyboarder Anthony, who made quite some alarm on stage. ARKELLS were surely more than just another support act presenting songs from their 'Jackson Square' album (released 2012) only, whereas 'Deadlines', the last song of the set, was already released as debut EP in 2008. I must say I really enjoyed the gig. Well warm-up for what's to come!

Setlist
01. Blueprint
02. Heart of the City
03. Ballad of Hugo Chavez
04. Oh, The Boss Is Coming!
05. Pullin' Punches
06. Deadlines

Rating
Music: 8
Performance: 8
Sound: 8
Light: 7
Total: 7.8 / 10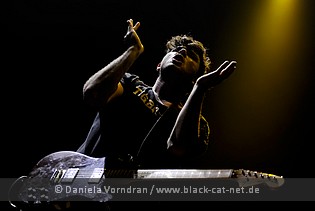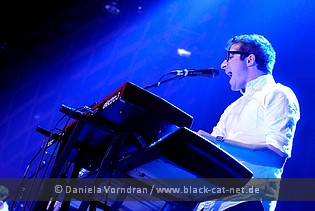 Anti-Flag

Political Punk band ANTI-FLAG from Pittsburgh / USA was founded back in 1993 by befriended musicians Justin Geever and Patrick Bollinger. The band is best known for their outspoken views on American government. Making their debut at a local Pittsburgh radio station in 1993, ANTI-FLAG got together for the sake of responding to their disgust at religion, nationalism, and fascism. They are playing Punk Rock which is true to the roots of the Punk movement. The first album 'Die for the Government' was released in 1997, after releasing a handful of singles and support slots for their idols the U.K. SUBS and THE EXPLOITED. A few tours, line-up changes and releases later ANTI-FLAG's career reached a new level when the band signed a deal with the major RCA. Especially in the USA their popularity increased notably, and many tours including one with BILLY TALENT in 2008 gained them a lot of new fans in Europe as well. One reason for ANTI-FLAG's continuing success is surely that the band sticks to the old-school ethics of Punk: fast, loud, wild, politically conscious and anti-everything that ends with an "ism". Their latest album 'The General Strike' was released 2012 on SideOneDummy Records. ANTI-FLAG is Justin Sane (Justin Geever – vocals, lead guitar), Pat Thetic (Patrick Bollinger – drums, percussions), Chris Head (rhythm guitar, backing vocals) and Chris Barker (vocals, bass). http://www.anti-flag.com / http://www.myspace.com/antiflag / https://www.facebook.com/anti.flag.official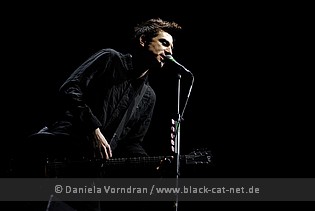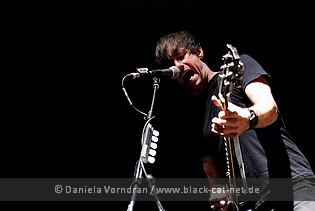 Music & Performance
It was already warm during the ARKELLS gig, but now, it really got sweat-inducing during several circle pits. People were jumping, clapping and singing right from the start. ANTI-FLAG's music is perhaps not as complex and sophisticated as the one by other bands of the genre, but they really love what they are doing. The whole band is really communicate and transporting their social and political message. During their set, they let the German crowd know how proud they are of Germany since after Fukushima Germany decided to break with nuclear power. And of course, they thanked the audience for showing up and supporting them. The passion the band showed on stage transported perfectly to the crowd, culminating when Jon of BILLY TALENT entered the stage to play a piece with the band. Every song the band performed during its 45 minutes was brought onto stage with a lot of passion and energy, be it the old fan-faves like 'Die For the Government' from their first major album or hits like '1 Trillion Dollar$' to newer pieces. And of course, like in the past, a tribute to one of their favourite bands, THE CLASH, could not be missed. ANTI_FLAG played an even punkier version of 'Should I Stay or Should I Go' before the band presented its final song 'Cities Burn'.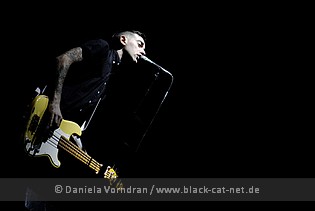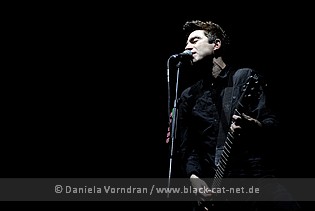 When the band had ended its set, you saw lots and lots of sweaty people leaving the hot hall for taking a breath and having some refreshment before it even shall get hotter with BILLY TALENT.

Setlist
01. The Press Corpse
02. The Bright Lights of America
03. Underground Network
04. This Is the End (For You My Friend)
05. The Ranks of the Masses Rising
06. This Machine Kills Fascists
07. Broken Bones
08. This Is the New Sound
09. 1 Trillion Dollar$
10. Turncoat
11. Die for the Government
12. Should I Stay or Should I Go (The Clash cover)
13. Cities Burn

Rating
Music: 8
Performance: 8
Sound: 8
Light: 8
Total: 8 / 10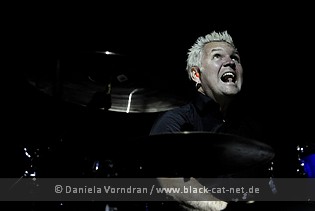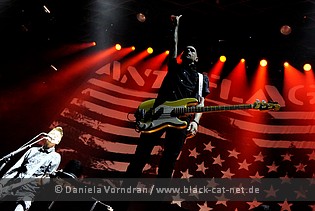 Billy Talent

Alternative Rock band BILLY TALENT started out as PEZZ in 1993 and released one album, 'Watoosh', under that name before changing to BILLY TALENT in 2001. They roused the interest of a big radio show in their native, which eventually led to their record deal with Warner. The first album under the new name 'Billy Talent I' came out in 2003 and found considerable sales success and allowed the band to played many sold-out shows. 'Billy Talent II' hit stores' in 2006 and went on to become even more of a success, also internationally. 'Billy Talent III' hit store shelves in 2009, followed by a European and Canadian tour. The band started working on a new album early 2011, letting the fans know that its name would NOT be 'Billy Talent IV'. Soon, the name of the album was announced with 'Dead Silence'. It took a while until the album was released, drummer Aaron had a heart injury, but finally at beginning of September 2012 the record hit the stores and immediately reached the top of German Charts. BILLY TALENT is Benjamin Kowalewicz (vocals), Ian D'Sa (guitar), Jon Gallant (bass) and Aaron Solowoniuk (drums). http://www.billytalent.com / http://www.myspace.com/billytalent / https://www.facebook.com/billytalent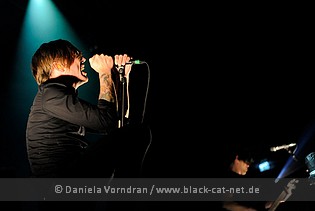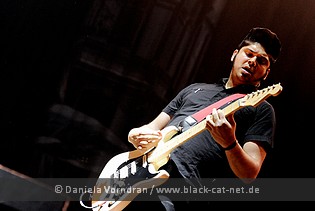 Music & Performance
During the rebuilding break, the stage was covered with a black curtain and when finally the show started at 22:00 with 'Lonely Road to Absolution' from the current album, only Ben and guitarist Ian stepped in front of the curtain to play this song all alone. But soon with the first sounds of 'Viking Death March', the curtain fell down, revealing the big stage with huge backdrops and a band being on fire from the very beginning. It got hotter and hotter and soon, people had to be thrown out of the crowd by the security… some of them collapsing in the heat, some of them "only" crowd-surfing. With pounding rhythms and lots of energy, they had the crowd immediately under control. Ben as always was swirling across the stage not getting tired and not losing any breath for his songs. Somehow it felt like the set contained only hits, might it be the older songs like 'Try Honesty' or 'Surrender' or new ones like 'Surprise Surprise' from the latest album. People were singing along every line, especially in the front rows. Having a closer look onto the setlist, you could see that there were several songs from the new album, like the already mentioned songs or i.e. 'Man Alive!' and 'Runnin' Across the Tracks'. But there were also lots of the old gems for people to celebrate and sing along. 'Surrender' made the hall boiling and when the set finally reached 'Try Honesty', there was no holding back. The floor was just a boiling pot of jumping and screaming people. Not only the audience and Ben were in best form during this evening, also he rest of the band gave everything, perfectly playing together.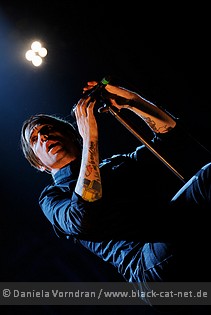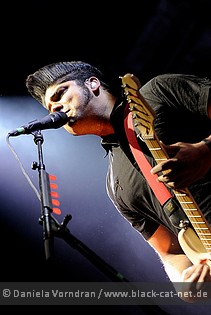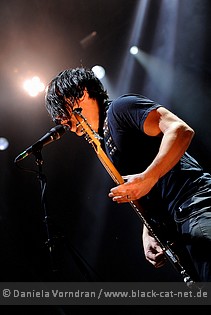 When with 'Devil on my Shoulder' the last song of the main set was reached, people were screaming "Over and Over" along and soon, screaming even more to bring the band back to stage. With three encores and the final song 'Red Flag', the band said goodbye. Maybe the set was a bit short with about 1:15, but I doubt all people could have stand more… the crowd was sweating like hell and at the end, you could see lots of happy faces leaving the venue.

Setlist
01. Lonely Road to Absolution
02. Viking Death March
03. This Is How It Goes
04. Devil in a Midnight Mass
05. This Suffering
06. Line & Sinker
07. Love Was Still Around
08. Rusted From the Rain
09. Saint Veronika
10. Surrender
11. Runnin' Across the Tracks
12. Diamond on a Landmine
13. Man Alive!
14. Turn Your Back
15. Try Honesty
16. Devil on My Shoulder
---
17. Fallen Leaves
18. Surprise Surprise
19. Red Flag

Rating
Music: 9
Performance: 9
Sound: 8
Light: 8
Total: 8.7 / 10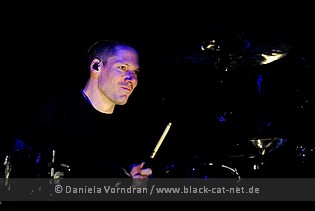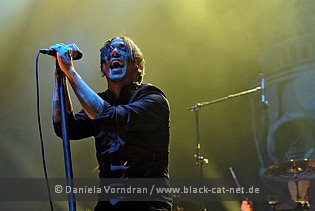 All pictures by Daniela Vorndran (http://www.vorndranphotography.com / http://www.black-cat-net.de/ / http://www.myspace.com/vorndranphotography / http://www.facebook.com/blackcatnet)



See also (all categories):