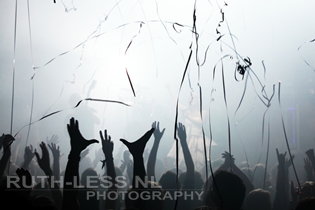 P60, Amstelveen, The Netherlands
26th October 2012
Delain & Sin7sinS

After a successful tour in Europe and Latin-America, Dutch symphonic rock band DELAIN went back to the studio to work on their third studio album. After 'Lucidity' and 'April Rain', their album 'We are the Others' was released this summer. Initially, support would be taken care of by Amanda Somerville (TRILLIUM), an American singer-songwriter who is known for her collaborations with several European metal bands such as AVANTASIA, EPICA, KAMELOT and AFTER FOREVER. Unfortunately, this support act was cancelled about a week before the show. Fortunately, SIN7SINS, was able to fill in their spot.



Sin7Sins

SIN7SINS is a female fronted band founded in 2006. By touring as part of the Dutch Jägermeister Tour the band brought their demo under the attention. Their first album 'Perversion Ltd' was recorded followed by a deal with Suburban and later on with Massacre Records, releasing their debut album in 2010. SIN7SINS has shared the stage with familiar names in the genre of female fronted metal, such as AZRAI, IZEGRIM, REVAMP, EPICA and STREAM OF PASSION. In the summer of 2011 SIN7SINS decided to take a six month pause for the writing of new material and to prepare new recordings. The second album named 'Carnival of No Tomorrow' was recorded at the end of 2011. The album was mixed and produced by Swedish metal-legend Dan Swanö. Dan Swanö himself and Mark Jansen (EPICA/ MAYAN) contributed with a guest vocal appearance on the album. The album was released in May of this year. SIN7SINS is Lotus (Vocals), Gen Morphine (guitar & vocals), Tristan Hex (distorted Hell-Harp), JD Acid (Underworld Lowth), Heresy 101 (drums). http://www.sin7sins.com / www.facebook.com/Sin7Sins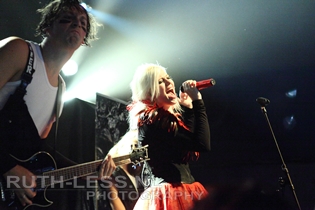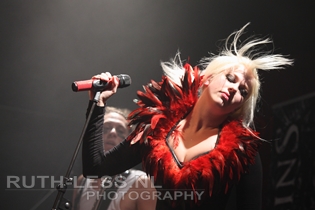 Music & Performance
P60 was not as busy as I'd expected, but the hall is nicely filled with a crowd of obvious fans, DELAIN shirts everywhere. As SIN7SINS takes off, it becomes clear that the band has grown since I saw them last year as support for STREAM OF PASSION, most particularly in their stage performance which is breathing more routine and confidence. Also, I noticed that bass player JD has unfortunately lost his impressive dreads. While their room on stage is very limited because of the setup used by DELAIN, they are able to make the most of it. The band focuses mostly on their new album 'Carnival of no Tomorrow' with songs such as 'Carnivores at Carnival', 'Pain Induced Craze' and 'Sick of You.' Their mix of gothic industrial/electro rock/metal is accessible and danceable. SIN7SINS takes a step back to their debut album with 'Taste of Twilight' and '7even Stiches' and then focuses on their new work again. The band members are doing a good job keep the attention of the audience and people are crowding up in front of the stage. I personally find their music a bit repetitive after some time, most songs start off with a keyboard tune and the breaks and song lines seem somewhat similar to me. On the other hand, it can be said that they're quite stable with their sound. And more importantly, this doesn't seem to bother most of the audience, as I am hearing compliments and enthusiasm for the support act all around. All in all, a nice warm up for DELAIN.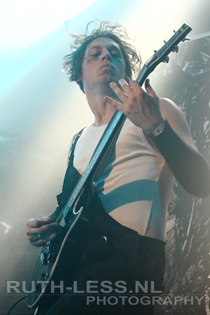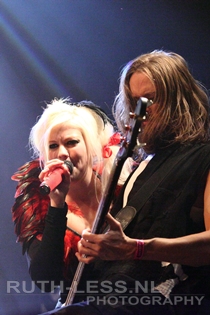 Setlist
01. Carnivores at Carnival
02. Pain Induced Craze
03. Sick of You
04. Taste of Twilight
05. 7even Stitches
06. As Romance Dies
07. Revolt Tonight
08. Jenkins' Nightmare
09. Brimstone Ignition

Rating
Music: 6
Performance: 8
Sound: 7
Light: 7
Total: 7 / 10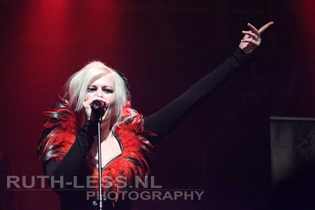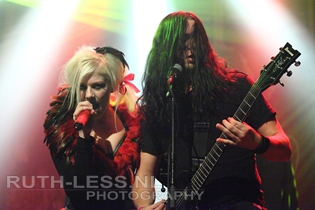 Delain

DELAIN is a Dutch symphonic metal band formed in 2002 by former WITHIN TEMPTATION keyboard player Martijn Westerholt and singer Charlotte Wessels. In the same year, they independently released the demo 'Amenity'. However, it was not until 2005 that they were signed to Roadrunner Records. Their debut album 'Lucidity' in 2006 was followed by two more albums: 'April Rain' in 2009 and most recently their album 'We Are the Others'. The last album was produced by Jacob Hellner, known for his productions for amongst others RAMMSTEIN and APOCALYPTICA. DELAIN is Charlotte Wessels (vocals), Martijn Westerholt (keys), Otto Schimmelpenninck van der Oije (bass), Sander Zoer (drums) and Timo Somers (guitar). www.delain.nl / www.myspace.com/delainmusic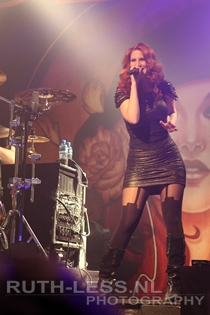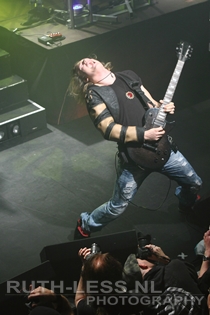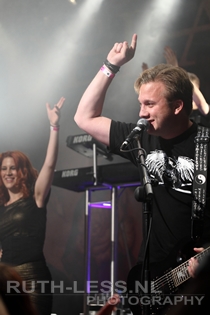 Music & Performance
As DELAIN starts off with their show, everybody is ready for it and. Like a true diva, singer Charlotte descends from a runway in the middle of the stage with 'Mother Machine' from their new album. The atmosphere is instantly enthusiastic as the crowd starts clapping and singing along. Immediately after the first song, DELAIN takes us back to their previous album 'April Rain' with 'Stay Forever' and 'Go Away'. The band is obviously enjoying themselves on stage and it doesn't take long to realise their live show is solid as a rock. Everyone knows their part well and the music as well as the presentation is convincing. Their set list is well balanced between more up tempo songs and ballads. About half way through their show, Charlotte announces DELAIN has a special guest tonight. Former guitar player Ronald Landa joins the band for some 'old' DELAIN songs like 'Invidia'. He is given a warm welcome by the audience as he joins the band.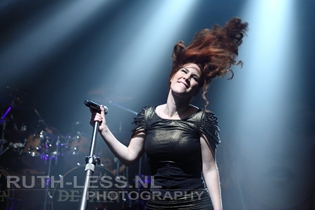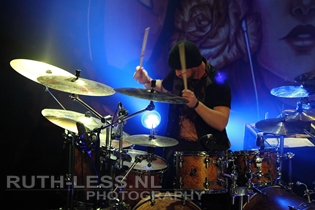 The question whether the P60 crowd wants more is loudly applauded to and tirelessly DELAIN continues with 'Get the Devil out of Me' and classic 'April Rain'. After 'Sleepwalkers Dream' and 'Not Enough', this part of the show is over. The title song from their latest album 'We Are The Others' has not yet been played and everyone knows what that means. The crowd tries to get the band back on stage for some more and this didn't take long. Soon after, Charlotte gets back on stage, and surprisingly, she wears the (real!) paper dress from their latest video clip, leaving most of the audience in awe. The vast speed at which charlotte changed her outfit is quite impressive. The majority of the crowd sings along with 'We are the Others' and last but not least, DELAIN concludes their show with 'The Gathering' from their first album. The gig ends with a loud bang and confetti flying through the hall. All in all, a convincing live show with artists who clearly believe in and have a passion for what they do.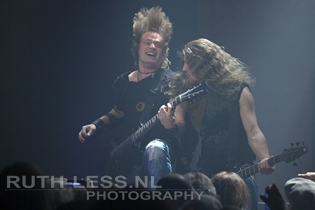 Setlist
01. Mother Machine
02. Stay Forever
03. Go Away
04. Milk and Honey
05. Virtue and vice
06. See me in shadow
07. Electricity
08. Pristine
09. Invidia
10. Sever
11. Get the devil out of me
12. April Rain
13. Sleepwalkers dream
14. Not Enough
---
15. We are the Others
16. The Gathering

Rating
Music: 8
Performance: 9
Sound: 8
Light: 8
Total: 8.3 / 10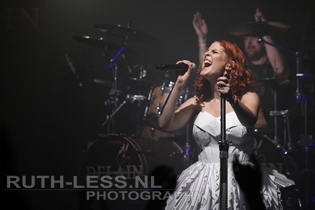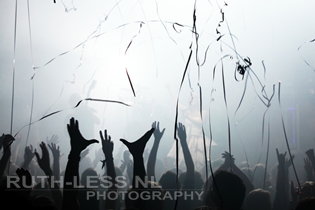 All pics by Ruth Mampuys (www.ruth-less.nl)