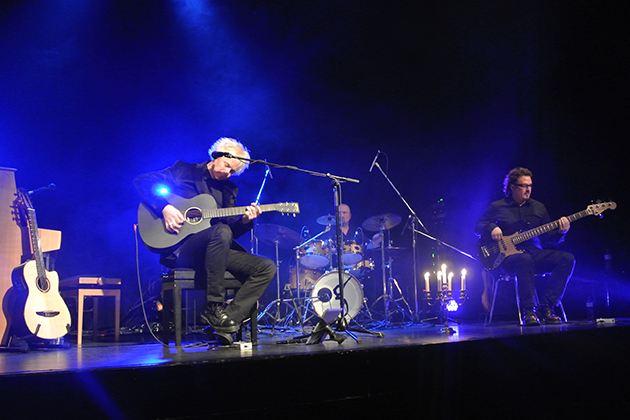 Gaswerk, Winterthur, Switzerland
24th November 2012
The Beauty of Gemina live acoustic show

Having recently completed a highly successful acoustic tour with DIARY OF DREAMS, the announcement by THE BEAUTY OF GEMINA to perform two full-length and back to back shows in their native Switzerland, caused something of a stir. The decision to extend the acoustic format, merely served to increase the speculation and excitement. Acoustic shows, like live albums, can be a real mis-step for some bands, a kind of treading water. There's always the risk that songs normally standing up strongly by themselves, will fall by the wayside when stripped back to their bare bones, or are presented in unfamiliar surroundings. Not so on this spectacular occasion.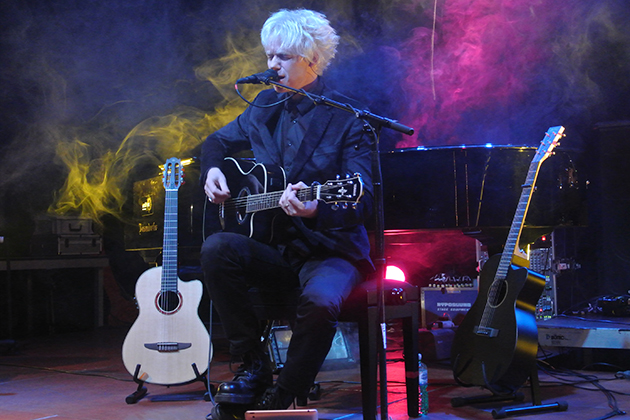 The evening began with the tall and striking figure of singer Michael Sele striding confidently to the piano, and as befits any acoustic show, playing a simple yet haunting piano introduction. With the atmosphere firmly set, and the rest of the band taking up their stage positions, it's what happens next that is the first of many surprises. Instead of easing into gentle and subdued versions of their songs, there is a drastic and dramatic reworking, and pounding into first song 'Narcotica', with its skittish and inventive percussion, makes the audience sit up, and sets the scene perfectly for what's ahead. The next two songs, 'Voices of Winter' and 'Golden Age', reveal previously almost hidden porch-front blues, the first building beautifully from a solid foundation, the second hurtling along on dark tracks, and when it pauses, it's merely a brief reprise before the journey continues. After some rather random and localised dry-ice invasion, 'Hunters' roars into life with a huge, pounding drum and piano intro and again, surprises with some almost jazz sounding bass playing courtesy of David Vetsch, a perfect study of cool and concentration. With the always passionate and stunning voice of Michael on particularly good form filling the venue, this is a monumental band effort and achievement, the show now seemingly unstoppable and growing in stature by the minute.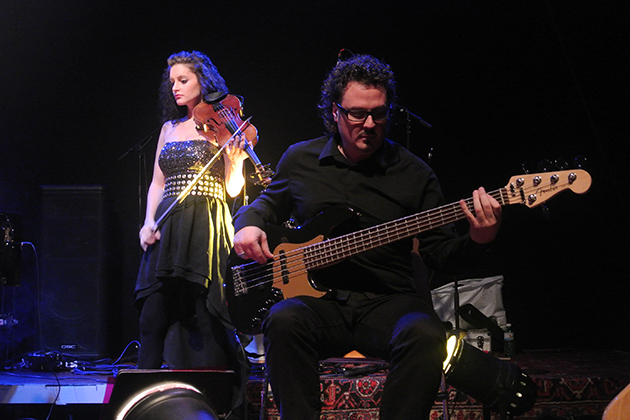 A further surprise, and real coup, comes next in the form of violin player Rachel Wieser. Taking 'Obscura' by the scruff of the neck, the addition of mournful strings wrings every last drop of emotion from the song, giving it added gravitas and melancholy. It is fascinating to hear, and immensely beautiful. Rachel puts in a further appearance on 'Suicide Landscape', where violin and drum seem almost to bounce off each other. It builds to an almighty crescendo, and would have made an excellent finale. To deliver it only seven songs into a set shows the confidence in all the material being showcased tonight. Rachel again adds something magic to the already magnificent 'Stairs', and there's an excellent solo from new guitarist Marco Gassner, who exudes calm and cool and equips himself admirably throughout. Gothic Blues would best describe 'Dark Rain' tonight, again the urgent beat creating a song that seems to be racing against itself, drummer Mac Vinzens seemingly lost in the moment, powering it through to a fantastic drum solo finale. Indeed, his versatility is on show on every song, he is a truly great drummer and utterly mesmerising to watch. By this point, it is the small interactions between the band members that is noticeable. Eye contact and nods, small signals and even smiles, this is a tight and professional outfit at the top of their game completely at ease, and more importantly perhaps, enjoying themselves. The playing is tight, yet feels improvised, and the atmosphere is transferred to the audience who increase their appreciation and seem to relax more and become more vocal. It's a real joy to witness.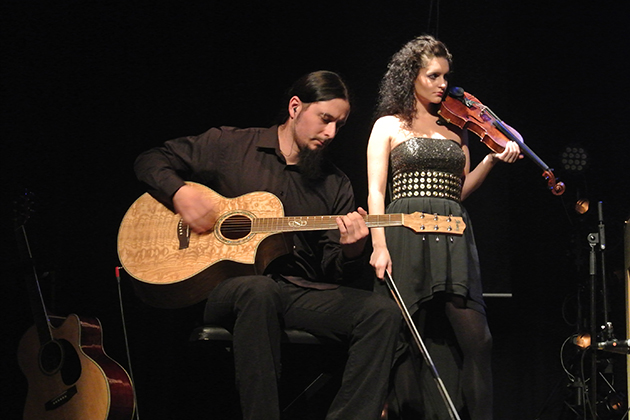 Fan favourite 'Rumours', a song least likely to employ brushes for drums does exactly that, and is all the stronger because of it. It is possibly the most radical reworking of the night. Having delighted and surprised so many times, 'Last Night Home' begins with a stunning piece of Spanish guitar before segueing perfectly into the more familiar intro. When the bass starts, more a pulse at first before settling into a groove, this just feels like something very special. It's a song no-one wants to end, all four band members lost in their own private revelries. For me though, it is 'Kingdoms of Cancer' that raises the bar impossibly high. It's a towering achievement of a song, almost painfully melancholy and Michael sings it tonight like his life depends on it, half lost in the dry-ice, his voice almost cracking with the emotion. It swells and builds and breaks, epic, graceful and totally wonderful. Everyone in the room knows they have just witnessed something truly majestic. To follow such a moment with the playful 'Lonesome Death of a Goth DJ' was a stroke of genius, the intensity needing a rest, everyone allowed to breathe again. It swaggers into life with a mutant, jazz swing, it's hypnotic and persistent and a lot of fun. Two songs make up the first encore, 'Dark Revolution' and 'Colours of Mind', and each receives a rapturous response. But for a final encore, only Michael appears. He sits, guitar in hand, and begins an audacious cover of 'Listening Wind', the TALKING HEADS song. Almost unrecognisable from its origins, there couldn't be a more fitting end to the show. Radically and intricately reworked, it's haunting and beautiful and sad, a daring and intelligent conclusion to a night of unforgettable songs and sonics and surprises.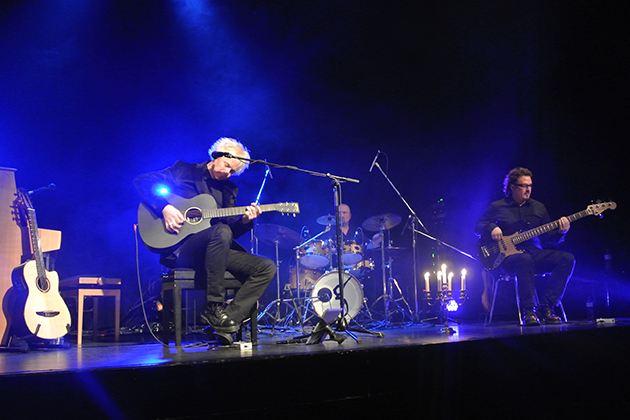 As the full band take a bow to a standing ovation, everyone must hope this is no mere experiment or one off. A night this faultless and hugely enjoyable will surely be repeated, and as details of a new acoustic album slated for a February release emerge, it's clear THE BEAUTY OF GEMINA know this too.

Setlist
01. Intro
02. Narcotica
03. Voices of Winter
04. Golden Age
05. Hunters
06. Obscura
07. Suicide Landscape
08. In Silence
09. Stairs
10. Dark Rain
11. One Step to Heaven
12. Rumours
13. Last Night Home
---
14. Kingdoms of Cancer
15. The Lonesome Death of a Goth DJ
---
16. Dark Revolution
17. Colours of Mind
---
18. Listening Wind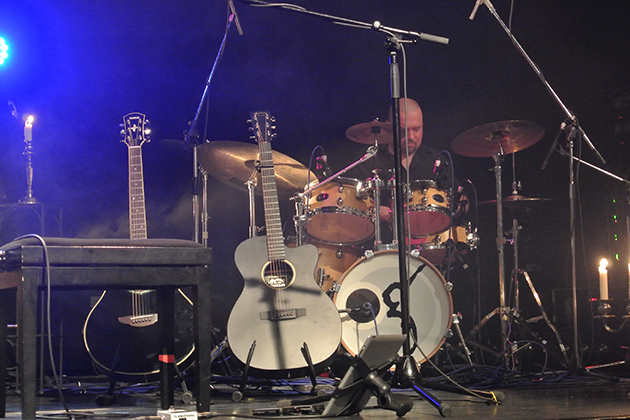 All pictures by Regi