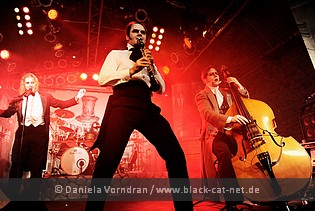 Matrix, Bochum, Germany
15th February 2013
Coppelius & Cellolitis

COPPELIUS concerts are always something special. And since this is the case, people were queuing up really early to enter the concert hall. The tube was filled very well with people waiting for our dear gentlemen to enter the stage, introducing also their new album that was released on the concert day. But before COPPELIUS entered the stage, one man and his beloved cello were warming up the audience.



Cellolitis

CELLOLITIS is a strange couple. You have the man. His name is Nikolaus Herdieckerhoff. And you have the woman… no, the cello. Her name is Umbra. She's a hundred years old and comes from Bresslau (now Wrocław). You never know who's playing whom. Does 34 year old Nikolaus serve the lady? Or does she serve him? The questions, who's whose instrument cannot be answered. On stage, they melt into one. So far, the couple has released three albums, 'Himmelblau' in 2007 plus 'Raw Cut' and 'Altpreussischer Duchschnit', both released in 2010. http://www.cellolitis.de / https://www.facebook.com/cellolitis / http://www.myspace.com/cellolitis

Music & Performance
You might think that one man and his cello cannot really warm the audience up for the headliner of the evening. And with the first song, a calm one named 'Follow U', it did not really seem to work with CELLOLITIS as support. But Nikolaus and Umbra proved all wrong. Soon, the speed increased and he showed his abilities. With constant looping the cello sounds, he created wonderful multi-layered sounds and could even play without hands, as he told the audience with a smile. And he brought also smiles onto the audience's faces, i.e. when he introduced his fellow Umbra, telling her body dimensions as if she was a model, telling she has two F-holes and even a G-string.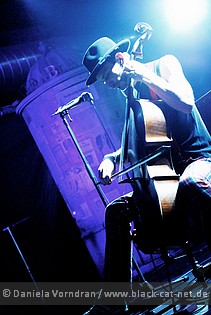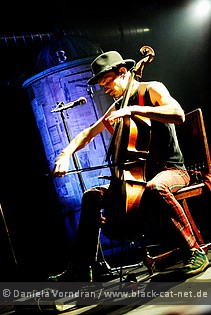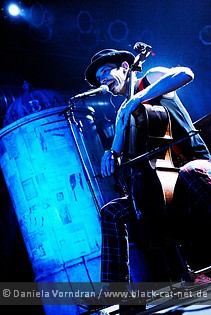 Also the story about him starting music was funny… and when he told the audience that the result was his first "Pop Song", 'Himmelblau', one loud cheer rose from the first row, Nikolaus commenting: "Wow, one person even knows this song"… The set ended after about 40 minutes with 'A Picture' when Nikolaus imitated various sounds with his cello, like whale chants, goose or seagull screams or even a squeaking door. I must say, he made a big impression on my…

Setlist
01. Follow U
02. Fool incl. The Irish Froh
03. No Comment
04. Pachelbel Canon
05. 2017
06. Himmelblau
07. A Picture

Rating
Music: 9
Performance: 8
Sound: 7
Light: 8
Total: 8 / 10


Coppelius

Nothing particular is known of this mysterious band from Berlin. If you take a look on their homepage you can find a "concertography" dating back until the early 19th century but the first known appearance of COPPELIUS was the farewell tour of THE INCHTABOKTABLES where they had the support slot. They also performed as support for MILA MAR, MUTABOR, FIDDLER'S GREEN and others in 2003 & 2004. A demo EP called 'To my Creator' has been released which also includes the first video for the song 'Get used to it'. In April 2007 a live DVD was recorded in Berlin followed by the first time appearance at the Wave Gotik Treffen in the same year. In summer 2007, COPPELIUS signed a record deal with Fame Recordings and the debut album 'Time-Zeit' was released in September 2007. With 'Tumult', the fine gentlemen released the second album in 2009 followed by 'Zinnober' in 2010. Now on 15th February 2013, COPPELIUS opened a new chapter in their discography with the new album 'Extrablatt'. COPPELIUS is Max Copella (vocals, clarinet), Nobusama (drums), Graf Lindorf (vocals, cello), Comte Caspar (vocals, clarinet), Sissy Voss (contrabass) and Bastille (vocals, servant). http://www.coppelius-band.de / http://www.myspace.com/coppeliushilft / https://www.facebook.com/CoppeliusHilft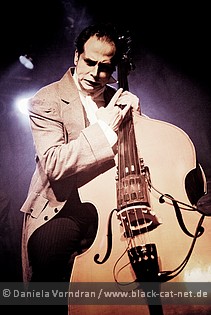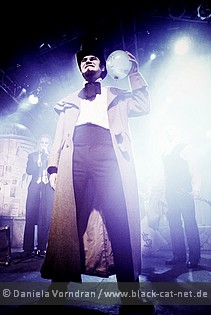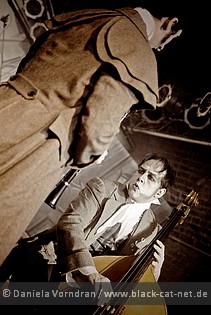 Music & Performance
COPPELIUS concerts are always big fun. I like live shows of the band much more than theirs CDs. Visually, the band is really extravagant in their classical outfits, dressed in garments from the end of the 19th century, and also the audience was following their example, wearing Steampunk outfits, frock-coats or top hats. Along to the overture, a cover of IRON MAIDEN song 'Transylvania', the gentlemen, equipped with classical instruments such as cello, piano, contrabass and kettledrum, entered the stage through an advertising pillar to start their chamber-core show. As always at the beginning, butler Bastille cleaned up the instruments of the fellow musicians. The show started with 'Bitten Danken Petitieren' out of the very new album 'Extrablatt'. Speaking of the new album, the stage was decorated with the already mentioned advertising pillar where a lot of newspaper articles were pinned on, all probably an "Extrablatt" (special edition). As you can imagine, the gentlemen were welcomed with huge applause.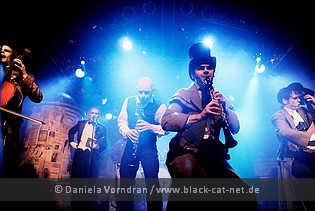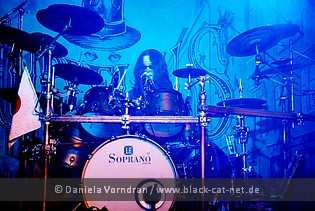 With 'I get used to it', a lot of fun started in the venue when lots of balloons all of a sudden were flying through the air. Most pleasure for band and people was of course to make the balloons burst… by stepping on them or even holding a burning lighter onto them. Also photographers in the pit had fun playing with the balloons or making them burst. As you know if from COPPELIUS shows, not only the songs are an important show element. As always, there was a lot of interaction with the audience. There was for instance the obligatory picture from the audience, done by Bastille with a very old camera… I think something you could expect from COEPPELIUS… or the drinks people got served after third song 'Diener 5er Herren'. Well, the alcohol serving was repeated later on once more. Bastille tried some more conversation with the audience when introducing the new song 'Locked Out', asking people who was already locked out so far… a few lifted their hands. Then he ask who was not… some others lifted their hands. Wondering what the huge rest of people would have answered he soon recognized that his moderation today probably doesn't work very well…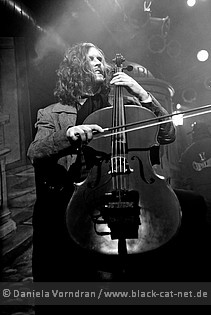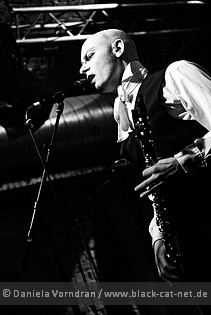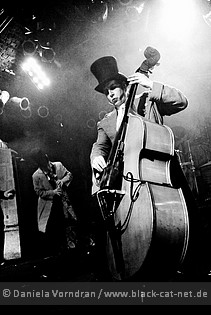 With 'Maria', a quite calm piece followed, presenting Bastille on microphone. Since anyone in the hall seemed to know that SUBWAY TO SALLY song, a huge choir accompanied the band. Afterwards, Bastille commented, "We are slipping from one slushy song into the next… the good thing is, I am allowed to sing once more". And so, 'Die Glocke' was up next. Afterwards, there was some more alcohol for the audience, commented by Bastille to the audience standing in the back, "I guess you wish now to be standing in the first row too…". Following was soon classic 'Operation' and two more new songs, 'Spieldose' and 'Butterblume'. After 'Risiko' it was finally time to introduce the whole band. Soon, the set ended with 'Phantom of the Opera' and COPPELIUS finally bowed in front of the audience and left the stage. Loud "Da Capo!" screams called them back for a little addition. Once more, this Bochum show was a great concert and people probably wished to stay in the 19th century to spend some more time with COPPELIUS.

Setlist
01. Ouvertüre (Transylvania - Iron Maiden cover)
02. Bitten Danken Petitieren
03. I Get Used To It
04. Diener 5er Herren
05. Welt im Wahn
06. Locked Out
07. Maria (Subway to Sally cover)
08. Die Glocke
09. Escapade I
10. Operation
11. Spieldose
12. Butterblume
13. Urinstinkt
14. Dreaming
15. Risiko
16. Habgier
17. 1916
18. Reichtum
19. Phantom of the Opera (Iron Maiden cover)
---
20. Running Free (Iron Maiden cover)
21. To My Creator
---
22. Ade mein Lieb!

Rating
Music: 9
Performance: 9
Sound: 7
Light: 8
Total: 8.3 / 10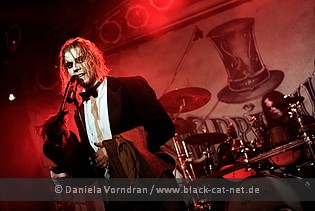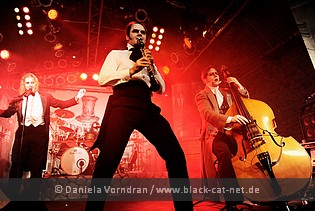 All pictures by Daniela Vorndran (http://www.vorndranphotography.com / http://www.black-cat-net.de/ / http://www.myspace.com/vorndranphotography / http://www.facebook.com/blackcatnet)