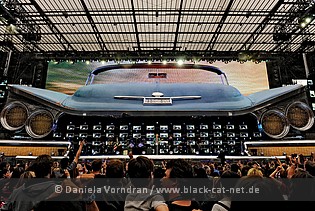 Rhein-Energie-Stadion, Cologne, Germany
22nd June 2013
Bon Jovi & Christina Stürmer

Last Saturday, BON JOVI were celebrating the last show of their German tour in the nearly sold-out Rhein-Energie-Stadion in Cologne. Nearly 42,000 people showed up to see this show of the "Because We Can" tour. And for this last Germany tour, the band was delivering a special program with a reworked setlist and many surprises. Two and a half hours of electrifying Rock were awaiting the audience.



Christina Stürmer

Austrian Pop-Rock singer CHRISTINA STÜRMER with her band was opening for BON JOVI in Germany. Since her appearance at an Austrian casting show and following releases, she's one of the most popular singers in Austria with more than 1.5 million sold recordings. She released her first song 'Ich lebe' in 2003, occupying position one on Austrian charts for nine weeks! Also the debut album 'Freier Fall' was leading Austrian charts for weeks. In 2005, she also had her breakthrough in Germany with the album 'Schwarz Weiss', reaching position three of German album charts. During the next years, several tours and also new singles and albums followed. In April 2013, the latest album 'Ich hör auf mein Herz' was released, reaching like all other albums position one in Austrian charts. Singer Christina Stürmer is live on stage accompanied by her international band consisting of Oliver Varga (guitar), Klaus Pérez-Salado (drums), Matthias Simoner (guitar, keyboard) and Rue Kostron (bass). http://www.christinaonline.at / https://www.facebook.com/christinastuermer / http://www.myspace.com/stuermerchristina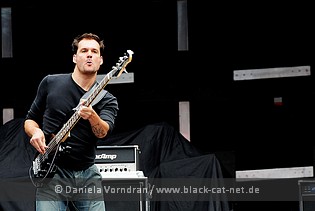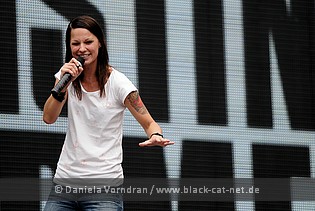 Music & Performance
When I heard who'll be support during the German BON JOVI shows, I was a bit surprised. I could not really imagine that this combination could work. But I was put right in Cologne, when Christina an her band got a really warm welcome from the crowd there. Full of energy, with a lot of power and a constant smile, she led through a 45 minutes set, starting with 'Auf und davon' from their most recent album. Already this first song got the audience going. Right as second song, she presented one of her best known hits, 'Wir leben den Moment'. The following set offered some more new songs, like 'Millionen Lichter', the album's title track 'Ich hör auf mein Herz' or 'Weltbewegend'. But of course it was her biggest hits, ending the set and being mostly celebrated, 'Nie genug' and 'Engel fliegen einsam'. I must say that she really did well as warm-up for world star BON JOVI and she had definitely some fans in the audience. With more than just friendly applause, she was leaving the stage to make room for Jon Bon Jovi and his band.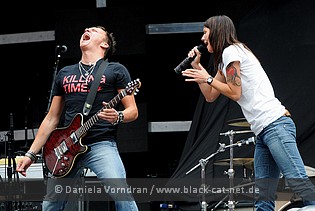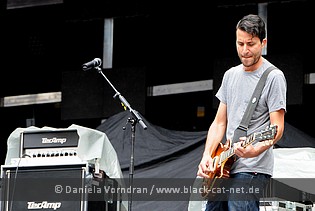 Setlist
01. Auf und davon
02. Wir leben den Moment
03. Millionen Lichter
04. Scherbenmeer
05. Ich hör auf mein Herz
06. Ohne dich
07. Ich lebe
08. Weltbewegend
09. Mehr als Perfekt
10. Nie genug
11. Engel fliegen einsam

Rating
Music: 7
Performance: 8
Sound: 8
Light: - (daylight)
Total: 7.7 / 10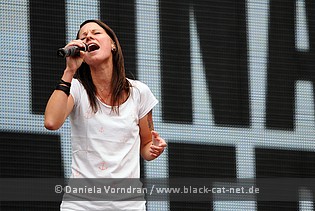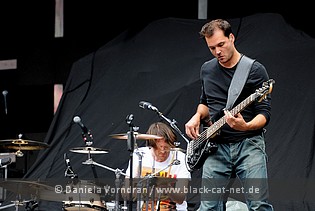 Bon Jovi

For almost three decades, BON JOVI have earned their reputation on the road as ambassadors of American Rock'n'Roll, performing for more than 34 million fans around the globe. Along the way, the band has racked up a stellar resume of career highlights and accomplishments worthy of acclaim and pride. Through the years, as BON JOVI have become a part of the fabric of American popular culture, they've emerged as a soundtrack for the lives of millions of fans of all ages around the world. Since their foundation in the early eighties, the band has sold more than 130 million albums. The self-titled debut album was released in 1984. The world-wide breakthrough came with the third album, 'Slippery When Wet', with such hits as 'Livin' on a Prayer', 'You Give Love a Bad Name' and 'Wanted Dead or Alive'. The latest album 'What about now' was out in March 2013 and is followed now by a huge "Because We Can" tour. In April 2013 it was announced, that guitarist Richie Sambora was opting out of the current world tour due to personal reasons. Jon Bon Jovi announced, that Sambora would not perform live with the band for quite a while. BIN JOVI is Jon Bon Jovi (vocals, rhythm guitar), Richie Sambora (lead guitar) who is currently replaced by Phil X, David Bryan (keyboard), Tico Torres (drums) and Hugh McDonald (bass). http://www.bonjovi.com / https://www.facebook.com/BonJovi / https://myspace.com/bonjovi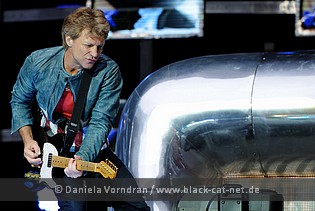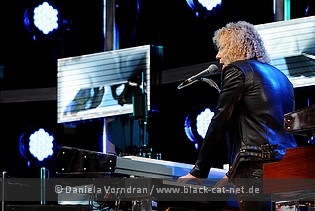 Music & Performance
When the band entered the stage, they were really starting up a show of superlatives. First there was that immense stage. The centre of the stage was a giant model of a 1959 Buick Electra 225. In it, there are hidden LED screens with all in all about 600,000 LED lights: in the grille, in the headlights and around the car. So to say, the whole stage is a big LED screen. Building up this giant stage started already on Tuesday. It needed three full days to get things ready. The tour team to build up this stage consisted of 250 people and was supported of another 100 local workers. They had to unload 115 trucks, 430 tons of steel were used for this stage whose roof itself weight 165 tons. The stage was so oversized, that the musicians in front of it looks like little ants. As already known from the last tour, there was a catwalk around the golden circle again to be used later in the show. Right and left from the Buick and over it, there were more LED screens to show live pictures from the musicians during the show but also several other effects like rain, fireworks, candles, stars or comic effects. It's a well arranged artwork being presented here. But let's turn to the show itself now.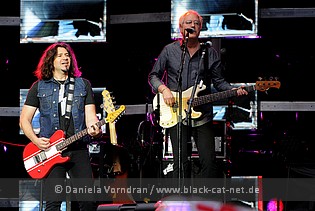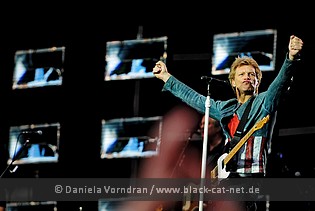 BON JOVI started not with one of their own songs. No, for this last German show, they presented the John Fogerty cover 'Rockin' All Over the World', being later a big hit by STATUS QUO, and with this song, the crowd was on fire from the first moment. Anyone was singing loudly and you could see a sea of arms through the whole stadium. What followed afterwards was more than just a routined mainstream show. BON JOVI was carrying away the audience from start to the end. New songs worked equally good as the old gems like 'Keep the Faith', 'It's My Life', 'Wanted Dead or Alive' or 'Livin' on a Prayer'. Sure there were also some beloved songs missing many fans surely had wished for, just to name 'Bed of Roses' or 'Always'. But with such a huge back catalogue, you simply cannot play every hit you ever had. On stage Jon Bon Jovi with his bright smile and the Union Jack jacket looked like the cliché American, but still, the concept of the show worked well. For many surprising was maybe the duet with Christina Stürmer, 'Who Says You Can't Go Home', exciting the crowd.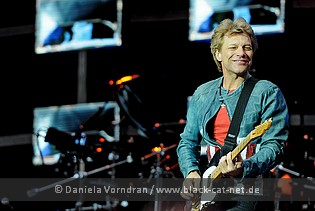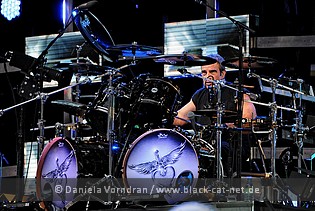 Once more, BON JOVI did put up an entertaining show. And they played long! 2.5 hours pleasure for his fans. Last but not least it should be said that Sambora replacement Phil X did a really good job too, even though Richie never can really be replaced.

Setlist
01. Rockin' All Over the World (John Fogerty cover)
02. That's What the Water Made Me
03. You Give Love a Bad Name
04. Raise Your Hands
05. The Radio Saved My Life Tonight
06. I'd Die for You
07. It's My Life
08. Because We Can
09. What About Now
10. Last Man Standing
11. Keep the Faith
12. Amen
13. Living in Sin
14. Wild Is the Wind
15. Captain Crash & the Beauty Queen From Mars
16. We Weren't Born to Follow
17. Who Says You Can't Go Home (with Christina Stürmer)
18. Bad Medicine (with "Roadhouse Blues" and "Pretty Woman")
19. Love's the only Rule
---
20. In These Arms
21. What's Left of Me
22. Wanted Dead or Alive
23. Love's the Only Rule
24. Have a Nice Day
25. Livin' on a Prayer
---
26. This Ain't a Love Song (Tour Premiere)
27. Someday I'll Be Saturday Night
Audibles: Army of One, I'm With You, Dry County, Someday I'll Be Saturday Night, Always, These Days, In These Arms, We Got It Going On.

Rating
Music: 8
Performance: 10
Sound: 8
Light: 9
Total: 9 / 10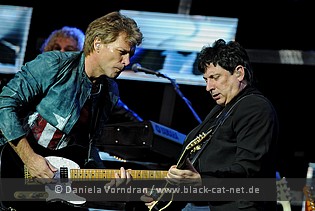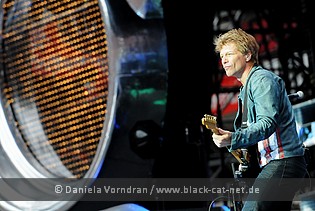 All pictures by Daniela Vorndran (http://www.vorndranphotography.com / http://www.black-cat-net.de/ / http://www.myspace.com/vorndranphotography / http://www.facebook.com/blackcatnet)