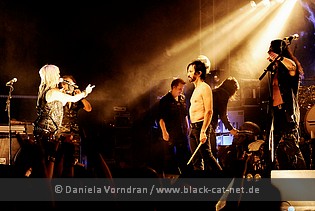 Jovel Music Hall, Münster, Germany
18th October 2013
Doro & nulldB

The legendary venue Jovel in Münster/ Westphalia established its reputation with presenting a diverse programme of live acts and other events of high quality. In 2006, the former location had to be closed but they found a new home in a former car dealer and built a shiny new place that is now accessible for handicapped people as well. The venue has a capacity for 1,500 people now.



nulldB

With music of the genre Neue Deutsche Härte/ NuMetal the four guys from Würzburg, Germany opened the evening. Founded in 2001 the band consists of the same members since 2002, namely Frank Kühnlein (vocals, guitar), Matze Hottinger (bass), Mischa Matveev (backing vocals, guitar) and Fabi Angermüller (drums). In 2008 they won the German Rock and Pop award. Up to now they have released two albums. http://www.null-db.com / https://www.facebook.com/nulldB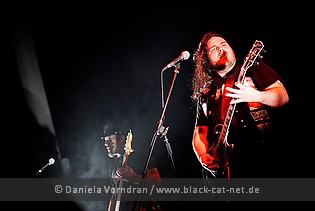 Music & Performance
Right from the beginning the singer asked the people to interact with them by clapping their hands and singing with them with which he partly was successful. But it was quite obvious that the audience were waiting for DORO. Quite remarkable was that the guitar player Mischa had painted his upper part of the body and face in black and white which creates interesting effects depending on the lights. Except their cover version of JIMI HENDRIX 'Purple Haze' the lyrics of their songs are in German. Their cover was decent but personally I was not very fond of it. When they performed 'Kinder des Zorns' they asked the people to sing with them and in fact many people joined their singing, especially when they inserted the melody and song lines of DORO's song 'All we are' which was surely clever to get some more credit points.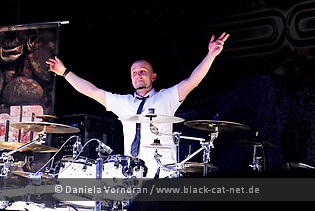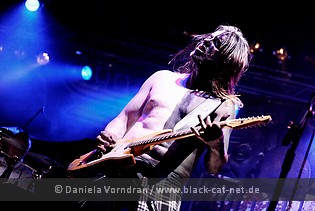 Setlist
01. ?
02. Endzeit
03. Versuch es doch
04. Roter Regen
05.Kinder des Zorns
06. Purple Haze (Jimi Hendrix Cover)
07. Freiheit
08. Im Auge des Sturms

Rating
Music: 5
Performance: 5
Sound: 6
Light: 7
Total: 6 / 10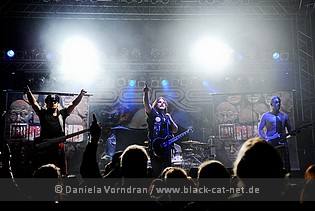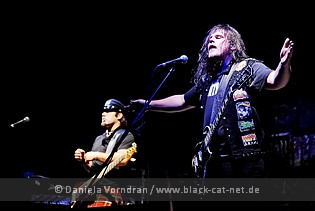 Doro

DORO started her career being a singer of the bands SNAKEBITE and WARLOCK. Her debut solo release under the DORO moniker made her famous way beyond the borders of Germany where she's coming from. Collaborations with such artists as Jürgen Engler (DIE KRUPPS), Lemmy Kilmister (MOTÖRHEAD) for instance clearly underpin her diversity and the standing she has not only in the Rock scene as these guys really wouldn't work with anybody. On 13th December 2008, she celebrated her 25th anniversary together with 8,000 fans and famous guests. After the appetizers 'Night of The Warlock' and 'Herzblut' her album 'Fear No Evil' hit the shops at the end of January 2009. The latest release 'Raise your Fist' was out in October 2012. Doro on stage is currently Doro Pesch (vocals), Johnny Dee (drums), Luca Princiotta (guitar), Bas Maas (guitar), Nick Douglas (bass) and Harrison Young (live keyboards). http://doromusic.de / https://www.facebook.com/DoroOfficial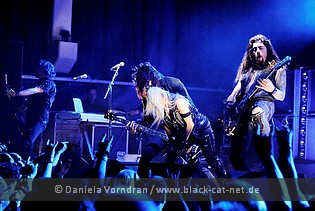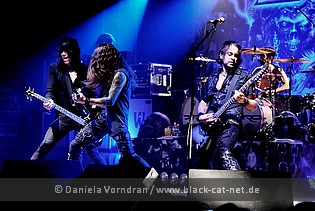 Music & Performance
When the sound check was finished the fans had to wait quite a while until the guy (Harrison Young),who played keyboards during the show, announced, like a master of ceremonies, the one and only Metal Queen DORO. And from the moment on she and her band entered the stage the fans started a big party. This next to last concert was packed and you could see people of all kind of ages – fans from the early beginning when DORO was singing with her band WARLOCK and of course the younger ones who had discovered her music recently. With a career of 30 years she truly deserves her title "Queen of Metal" as she started to perform at a time where the Metal genre was dominated by men. And she definitely knows how to rock!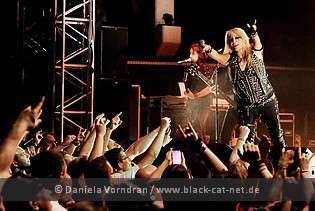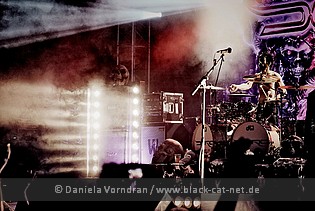 This lady doesn't seem to age. From the first tunes on she rocked the place and the temperature of the venue rose quickly. With her likeable charisma and her permanent interaction with the audience she captured every heart in a rush. No doubt she loves what she is doing and she loves her fans (monsters) as she was always addressing to them with the kindest words. And therefore the people love her. I saw fans bringing her roses to show their appreciation for her. She presented us a fantastic mix of her albums and of course we haven't had to miss the Rock ballad 'Für immer' (Forever, WARLOCK SONG) or big hits - not only of DORO solo but moreover of her former band WARLOCK - like 'Burning the Witches', 'Earthshaker Rock' or 'All we Are'. Her vocals showed here some weakness in the high notes, but after a long tour with probably a cold involved, this can happen and for real no one really cared, as the song touches your heart anyway.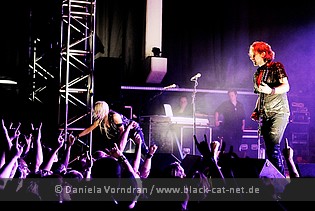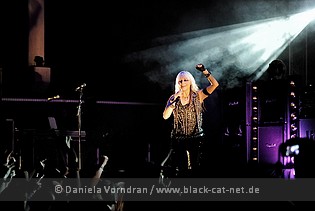 Unfortunately I cannot present the setlist as I'm not so much into her albums and I couldn't find information about it elsewhere. But, as apparently everyone in the audience, I enjoyed this concert very much and I'm very happy to finally have seen the "Queen of Metal". Due to strict curfew, there was sadly no time for an extended encore, but at least we got one final song, 'Love me in black'.

Rating
Music: 9
Performance: 9
Sound: 9
Light: 8
Total: 9 / 10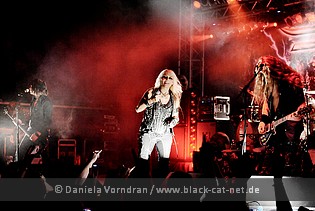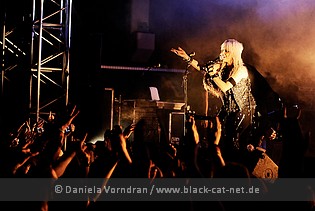 All pictures by Daniela Vorndran (http://www.vorndranphotography.com / http://www.black-cat-net.de/ / http://www.facebook.com/blackcatnet)