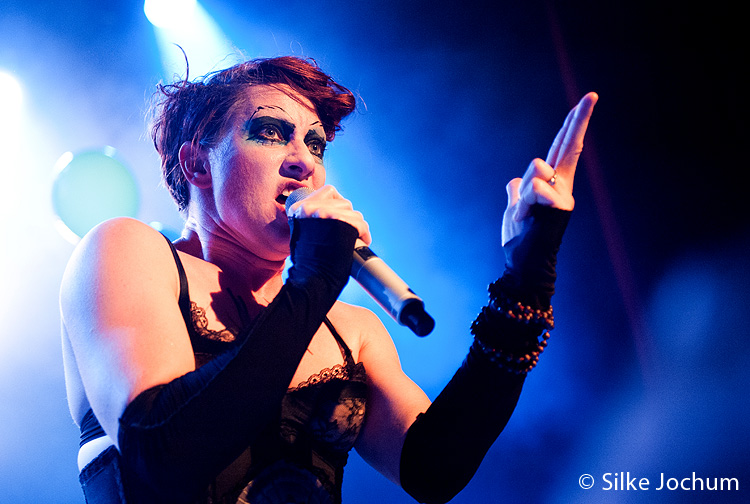 Gloria, Cologne, Germany
1st November 2013
Amanda Palmer & Perhaps Contraption, Die roten Punkte, Jherek Bischoff

Due to the severe illness of a dear friend of AMANDA PALMER, she decided at the end of 2012 to cancel the concerts in Europe, Australia and New Zealand of her former tour and to postpone them. As there were only a few dates in Germany this time, all of the shows were sold out. Thus it was a great pleasure for me to have the chance to see her live in Cologne. The concert took place in the Gloria, a former cinema, with a capacity of 950 people (standing). A good choice indeed as the interior decoration fits perfectly to this kind of show.



Perhaps Contraption

When we arrived at the venue right on time, a big queue was already standing outside who missed the performance of PERHAPS CONTRAPTION then. The London based brass band did not perform on stage but stood with the audience in the concert hall. Formed 2004 in Bristol, UK, they describe themselves as an astonishing, twisted brass, art punk marching band. There were several changes of members and with it they developed their unique style. With marching all over the UK and performing, partly quite spontaneously at several events, like boat parties and several festivals they made a name of themselves. Though their outfits were quite diverse the colours of them were red and yellow and thus showed that they are indeed a marching band.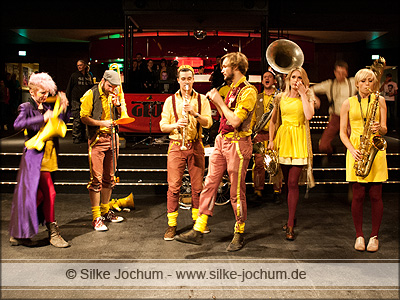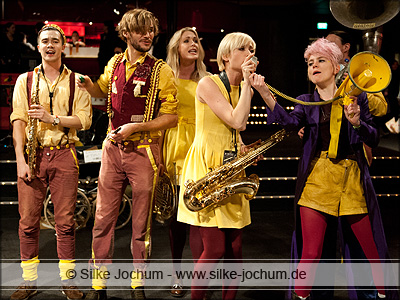 While they were playing, AMANDA PALMER came out of the backstage, standing close to me, attended their show for a while and was obviously quite pleased with it as she stated "Perfect!" before she vanished. But before PERHAPS CONTRAPTION was finished she once more came out, joined the band and asked the audience to donate something for the band later, as they came over from London on their own amount. Their buoyant performance was really fun and thus a good start for an extraordinary evening. http://perhapscontraption.co.uk/ / https://www.facebook.com/perhapscontraption

Rating
Music: 6
Performance: 7
Sound: 9
Light: 6
Total: 7 / 10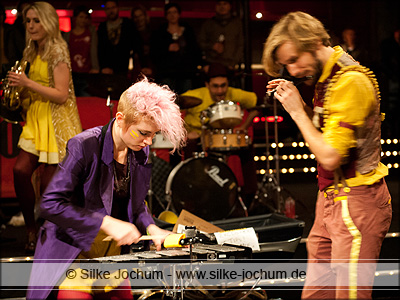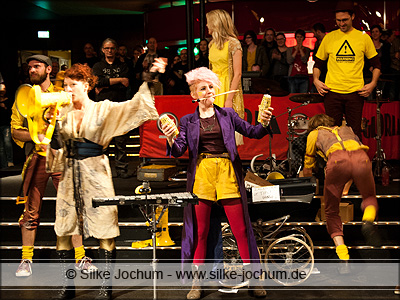 Die roten Punkte

The next supporting act was DIE ROTEN PUNKTE from Berlin consisting of the siblings Astrid Rot (vocals, drums) and Otto Rot (vocals, guitar). They describe their music as Indie Rock but according to their show I would rather describe them as Comedy- Indie Rock. Actually they played four and a half songs but in between they had some funny discussions. First they started with 'Dinosaur' but when Otto "spoilt" the song by playing it wrongly, they started to argue which was really hilarious, talking about that the song is about a dinosaur, that is a vegetarian and saves money to go to an art school in Spain and so on. After this song Otto unpacked a banana from a banana box while telling us why he uses such a banana "house". Astrid then forced him to hurry with eating the banana as they were running out of time. And to no one's surprise the next song, inspired by THE PIXIES, was called 'Banana'.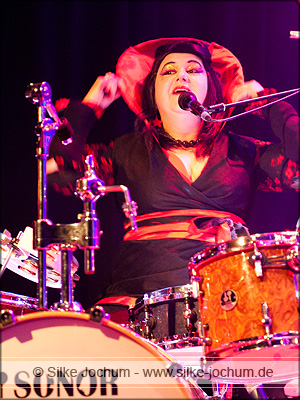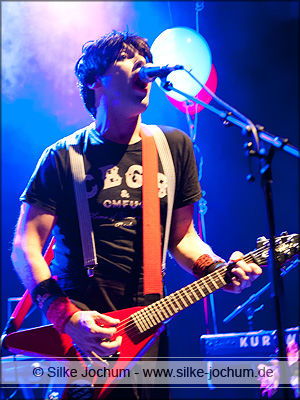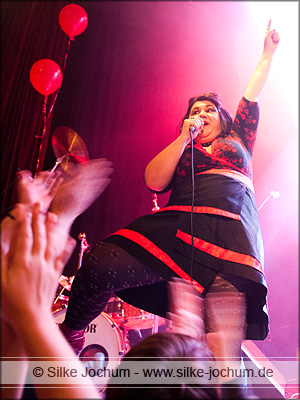 Third song was the half song, lasting for probably 30 seconds, which was written by Astrid, called 'Situation'. But then Astrid left her drums and sang the next song while making a funny flirting show. But there she definitely rocked. For their last song they asked AMANDA to join them as they needed a good dancer and then asking the people to sing along with them. In summary it was such an entertaining performance. Not really a concert but a mixture between clownery and music which gives us all a good laugh. http://dierotenpunkte.com / https://www.facebook.com/DieRotenPunkte

Setlist
1. Dinosaur
2. Banana
3. Situation
4. Second best friend
5. Ich bin nicht ein Roboter – I am a lion

Rating
Music: 6
Performance: 7
Sound: 9
Light: 6
Total: 7 / 10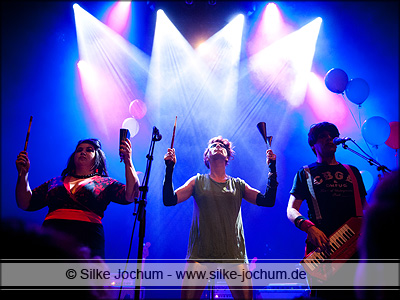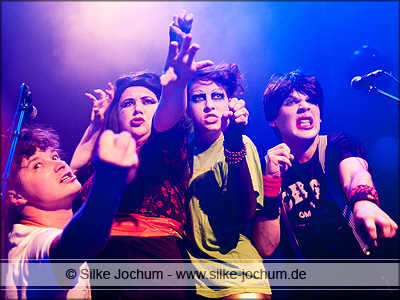 Jherek Bischoff

Besides the concert of AMANDA PALMER I was really looking forward to see JHEREK BISCHOFF perform. When I wrote the concert preview a couple of months ago and JHEREK was announced as supporting act, I did some research, listened to some of his songs and really liked what he is doing. The multi-talented American composes and produces music that is danceable but has a classical note for its classical instruments. But instead of surfing on the wave of some musicians/ bands that cover popular songs with classical instruments, he creates something new but with a nostalgic flair. Usually he composes arrangements mainly for string orchestras. He, himself plays bass and ukulele. For his current album he could win David Byrne (TALKING HEADS) and Caetano Veloso to sing two of the songs. Furthermore he is part of THE GRAND THEFT ORCHESTRA.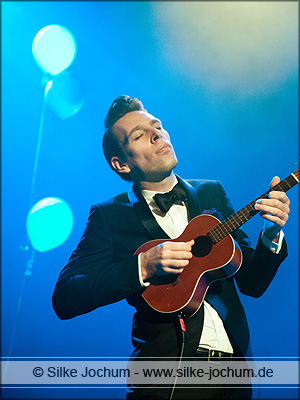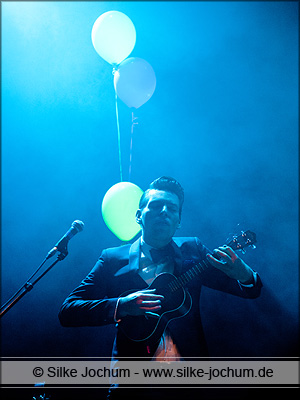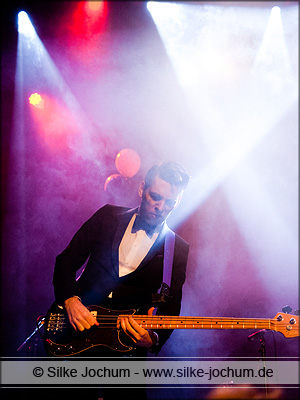 AMANDA PALMER insisted to announce now JHEREK BISCHOFF's show. Apparently he didn't feel very comfortable to be there alone on stage but as soon as he played, he seemed to have forgotten where he actually was and played his instruments passionately. But unfortunately he performed only three songs on stage. The first one he was just playing bass in a very rocking way, the next one he played on his ukulele after he told us apologetically that it was actually composed for a string quartet. For his last song 'Eyes' PERHAPS CONTRAPTION joined him and it was just a brilliant performance. http://jherekbischoff.com / https://www.facebook.com/jherekbischoff

Rating
Music: 7
Performance: 7
Sound: 9
Light: 6
Total: 7.5 / 10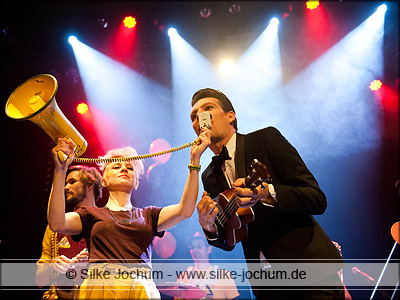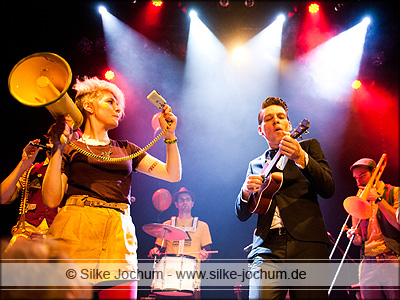 Amanda Palmer

Some people might know the American musician as being one half of the Punk Cabaret duo THE DRESDEN DOLLS. In 2007 she founded together with Jason Webley the band EVELYN EVELYN. She started her solo career in 2008 and released her album 'Who killed Amanda Palmer'. As she was not happy with her contract with Roadrunner Records label, feeling artistically restricted, she fought two years to get out of it. In celebration of this event she released her album 'Amanda Palmer Performs the Popular Hits of Radiohead on Her Magical Ukulele' where she exclusively plays cover versions of songs from the British band RADIOHEAD on her ukulele. 2011 she released two albums under Creative Commons. She is probably one of the most controversially discussed musicians.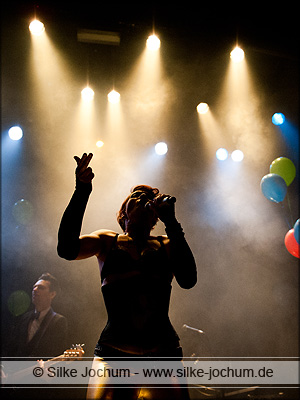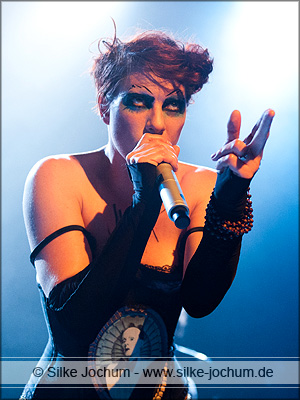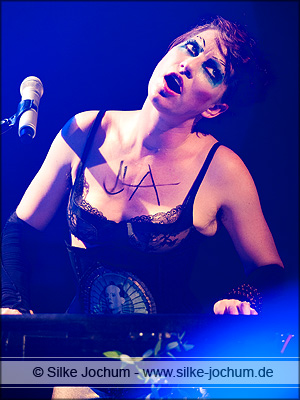 Whether it is about her songs about sexuality, gender topics, etc., or her revealing appearance, but when she announced at the beginning of 2012 to produce her new album with the help of a kickstarter project, she was heavily criticised on social websites and even from the print media. But AMANDA PALMER believes in the freedom of art. Thus she gives people the option of downloading her songs for free or to pay what they want. And I don't think that there are lot of musicians who are willing to perform at a party in your living room. Furthermore she is constantly in a vivid contact with her fans via Twitter (intensively), her blog and on Facebook. She is a talented songwriter, playing piano, guitar and the ukulele but though she surely is not a vocal talent she has a recognisable voice. http://amandapalmer.net / https://www.facebook.com/amandapalmer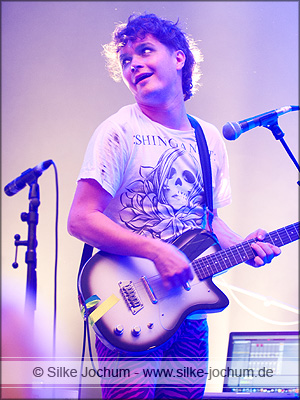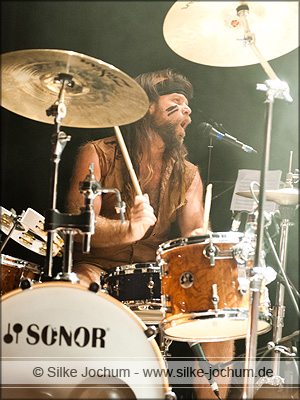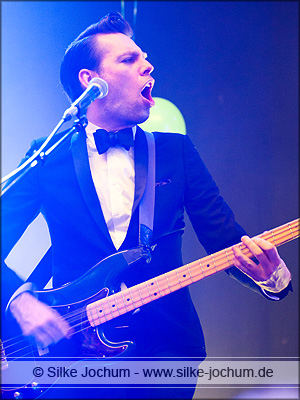 Music & Performance
During the stage rebuilding once more PERHAPS CONTRAPTION appeared in the concert hall to entertain the audience which bridged the waiting nicely. But finally the GRAND THEFT ORCHESTRA and AMANDA PALMER appeared and were welcomed with a big applause. She started with 'Do it with a Rockstar' and immediately the party began, especially when she jumped into the audience. Our poor photographer was almost injured as AMANDA jumped right in her direction. At her third song she played her keyboard piano. Unfortunately there were some technical problems when she turned the keyboard on, as you could hear a loud buzzing, but this was sorted out a bit later. Just for fun, while talking with the audience, she played a bit 'Twist and shout' before she performed 'Missed me'. With performing the NIRVANA cover she jumped once again into the audience. In honour of the lately passed LOU REED she sang very emotionally 'Walk on the wild side'.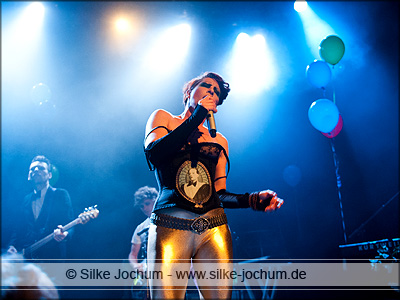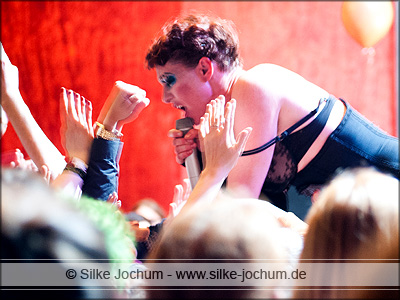 Then we learnt that she had lived a couple of months in Cologne for a practical training at a theatre and thus learnt some German. She explained that it is a kind of tradition that, whenever she performs in Germany, she sings a German song. This time it was '99 Luftballons' (99 (red) balloons) and I have to say she did it very well. Surely a highlight of her crowd surfing was her performance of 'Bottomfeeder' as she has a special coat for it with a massive train of balloon silk. While the people help her to sail over the crowd, the balloon fabric spreads widely over the heads of the people. Really impressive to watch. Back on stage she asked the audience for song requests and started to play some of them on her keyboard and on her ukulele alone, as the band left the stage for a while. She also introduced a new song where she lyrically handled with all the difficult things that happened in her life since 2012. This performance was quite raw of course. After 'Map of Tasmania' where the audience was involved in the singing, the band returned, as well as the supporting acts, to play three last songs.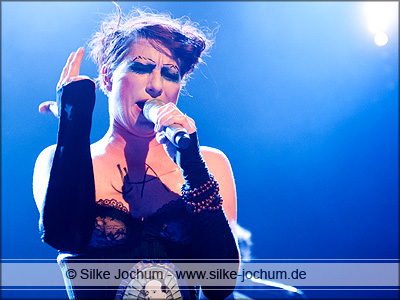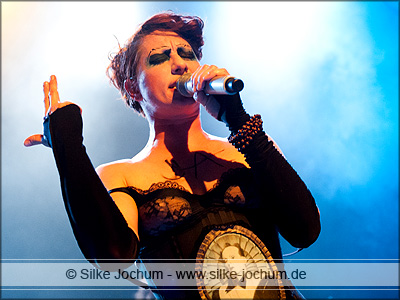 As the audience then shouted vehemently for the encore, AMANDA returned to sing two more songs. The concert was a fantastic mix of songs from THE DRESDEN DOLLS, her three studio albums and not to forget her amazing cover songs, including a rollercoaster of emotions and her permanent interaction with the audience. And apparently not only I enjoyed every minute of this diverse show.

Setlist
01. Do It With a Rockstar
02. The Killing Type
03. Smells Like Teen Spirit (Nirvana cover)
04. Missed Me (The Dresden Dolls cover)
05. Walk on the Wild Side (Lou Reed cover)
06. Want It Back
07. 99 Luftballons (Nena cover)
08. Lost
09. Astronaut (A Short History of Nearly Nothing) (Amanda Palmer cover)
10. Bottomfeeder
- Solo -
11. Runs in the Family (Amanda Palmer cover) (fan request)
12. The Bed Song
13. Bigger on the Inside (new Ukulele song)
14. Map of Tasmania (Amanda Palmer cover)
15. Berlin
16. I Love You So Much (Jeff Britton cover) (Noah Britton cover)
17. A Grand Theft Intermission
18. Leeds United (Amanda Palmer cover) (with Perhaps Contraption)
---
19. Girl Anachronism (The Dresden Dolls cover)
20. Ukulele Anthem

Rating
Music: 9
Performance: 9.5
Sound: 9
Light: 8
Total: 9 / 10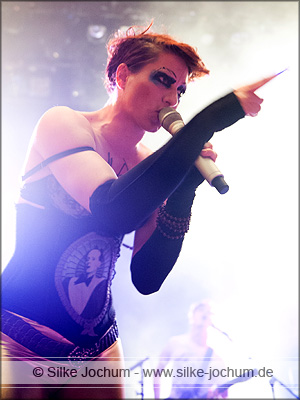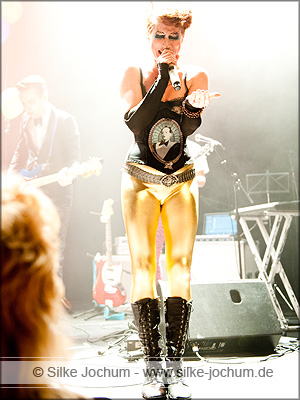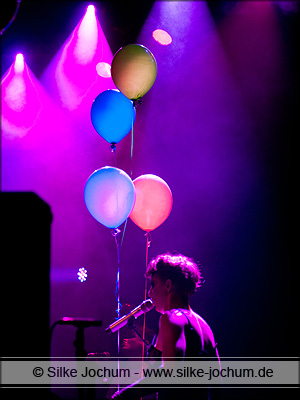 Full Gallery


All pictures by Silke Jochum (
http://www.silke-jochum.de
)