RuhrCongress, Bochum, Germany
18th December 2013
Christmas Metal Symphony with Floor Jansen (Nightwish), Udo Dirkschneider (U.D.O, Ex - Accept), Joacim Cans (Hammerfall), Joey Belladonna (Anthrax), Chuck Billy (Testament), Michael Kiske (Unisonic, Ex - Helloween)

Normally at Christmas, people chill out, relax and get together with their families. But not on this Wednesday evening! No wonder if artist like Chuck Billy, Joey Belladonna and many more prepare to bring you a Christmas event you won`t see every year. Christmas Metal Symphony is kind of Metal all-star gathering, supported by a symphony orchestra. Quite a special event I would say. Sad enough that not more people were coming to enjoy a really extraordinary show.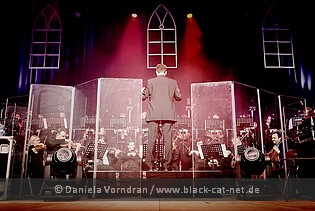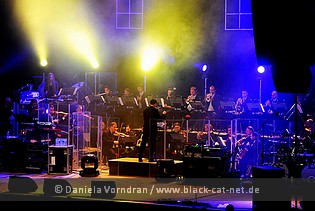 Chuck Billy
Being the first one on stage except the Orchestra, Chuck Billy made the first mayor impact too. Knowing the TESTAMNENT front beast from many records of his band I can say without a doubt that he is a very good live performer. Okay good the first two songs sounded a bit rusty and rumbling but later on (after Udo Dirkschneider) he came back on stage to perform 'Practice what you Preach' and this time he almost destroyed the stage. His performance and stage acting on this very evening told me one thing for sure: to watch TESTAMENT life if possible! // Songs: More than meets the Eye / Souls of Black / Practice what you Preach // Rating: Music: 7.5 / Performance: 7.5 / Sound: 8 / Light: 7 / Total: 8 / 10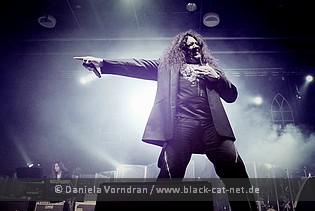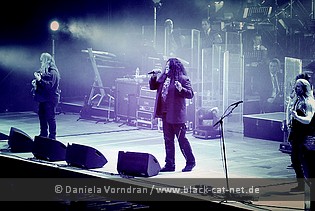 Michael Kiske
To many he is known as the ex-frontman of HELLOWEEN and the singer of bands like PLACE VENDOME or his newest project UNISONIC. His image suffered lately because of the way he thinks about the metal scene, but hey that`s not the reason for being here whether for him nor for us. The reason we wait to watch for Kiske is that the guy can sing unlike many other so called "vocalists" and singing he does. Before starting he warned the audience that his throat is a bit raw because people got sick on tour, during his performance you can actually hear that he isn`t performing his usually 100% but hey, he is still a better vocalist than a lot of other guys who get paid for the job. Especially the song "Longing" is a special gift to the audience, a rock ballad par excellence. // Songs: March of Time / Longing / I Want Out // Rating: Music: 7 / Performance: 7 / Sound: 8.5 / Light: 7 / Total: 7.5 / 10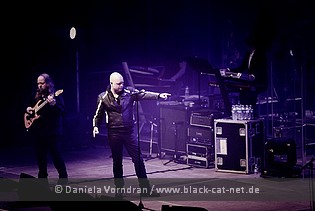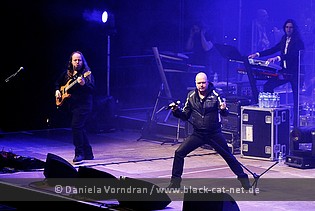 Udo Dirkschneider
The head of U.D.O and ex – fronter of ACCEPT is in a good mood tonight, talks to the audience and seems to be having lots of fun on this tour. The audience seems to be stuffed with U.D.O and ACCEPT fans because the crowd seems to warm up a lot during Dirkschneider's performance. Singing all-time hits like 'I´m a Rebel' and 'Metal Heart', he has the whole lot on his side. Sound wise there`s nothing to bitch about, Udo's voice is not my cup of tea but he sounds like he sounds on the records so I guess his performance must be really good. // Songs: They want war / I`m a Rebel / Metal Heart // Rating: Music: 6 / Performance: 7 / Sound: 8.5 / Light: 7 / Total: 7 / 10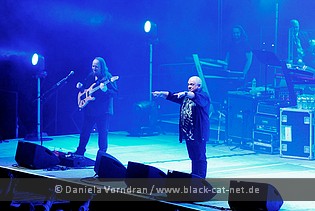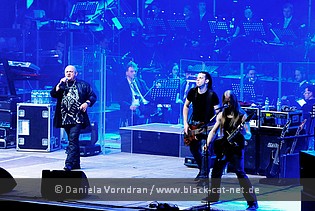 Floor Jansen
Floor Jansen is just an example of pure elegancy and prettiness, her performance is technically one of the best this night (if not the best) but I can`t appreciate it because I don`t like her opera style vocals. But hey that's just me. There seems to be a lot of people in the audience who would disagree on this one. With Floor it`s the first time the Orchestra fits in very good that at least must be said. Obviously the NIGHTWISH song went very well with the Orchestra which isn`t a surprise to anyone who ever listened to NIGHTWISH. To every reader who doesn`t dig the opera style vocals but is willing to give Floor a chance, check out AYREON`s records 'Universal Migrator part 1: The Dream Sequencer' or STAR ONE`s 'Space Metal' she sings in a different way on this records which was more to my liking. // Songs: My pledge of allegiance / Alone / Nemo / The Phantom of the Opera(with Joacim Cans) // Rating: Music: 6 / Performance: 7 / Sound: 8.5 / Light: 7 / Total: 8 / 10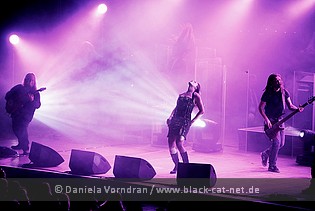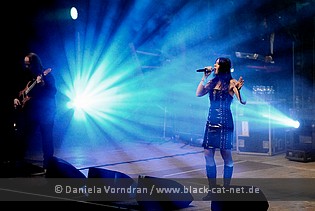 Joacim Cans
Joacim Cans is well-known for singlehandedly saving Power Metal through the nineties with his band HAMMERFALL. Showing the Grunge movement the ironclad middle finger of Heavy Metal and along the way become a famous band, that's the story of Joacim Cans and HAMMERFALL. Tonight Cans shows us the ropes, sounding very rested and professional, hitting the high notes and overall being a great performer on stage, reminding me of listening to HAMMERFALL when I get home and of course buy lots of records of the band. I only wished he would have performed a few additional songs. // Songs: Hearts of fire / Last man standing / Phantom of the Opera (with Floor Jansen) // Rating: Music: 6 / Performance: 7 / Sound: 8.5 / Light: 7 / Total: 7 / 10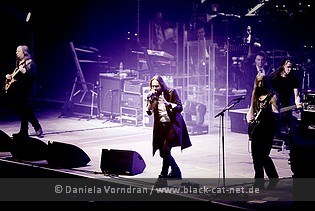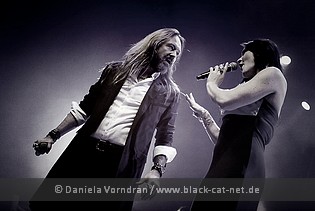 Joey Belladonna
To describe Joey Belladonna is a difficult task; imagine a singer who can hit all the high notes and screams almost like Rob Halford in a Thrash band. Now imagine this guy being the nicest dude on stage and with fans, imagine that this guy sounds on stage like he sounds on any record and that his stage acting is that of a man half his age. All this and more is Joey Belladonna the long missed ex – singer of Anthrax which, after they got a new singer which they fired, came back to the band to record one of the meanest toughest record of the bands discography. Belladonna is an enrichment for this concert because he is a beast on stage, he sings like a Metal god and gives us a cover version of 'Heaven and Hell' which he absolutely rocks, and the Orchestra destroys the first time tonight. Ending his four song performance with 'Highway to Hell', he will be remembered as the culmination of this concert. // Songs: Heaven &Hell / Antisocial / Madhouse / Highway to Hell // Rating: Music: 8 / Performance: 8 / Sound: 8.5 / Light: 7.5 / Total: 9 / 10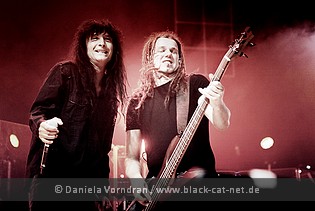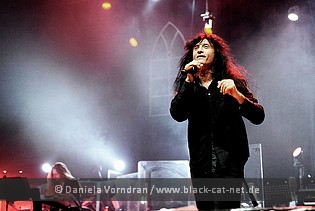 Conclusion
All in all, it was a very nice evening with good music, very good musicians and lots of beer. The artists seem to get together well and they seem to have fun along the way. Ending the concert with 'Silent night' with everyone, except Joey Belladonna, on stage (the reason remains unclear) was a nice one too. It was a bit disappointing that the band didn`t play more songs even with the whole audience shouting for encore. // Overall Rating: Music: 8 / Performance: 8 / Sound: 8.5 / Light: 8 / Total: 8.5 / 10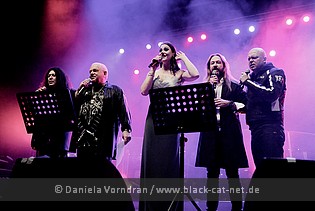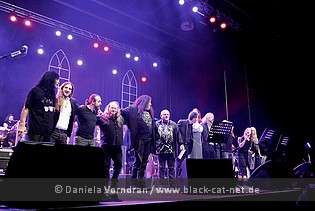 Setlist
01. Overture Classic in Rock - Anthem (Magnum Opus Rockestra)
02. More Than Meets the Eye (Testament cover) (Chuck Billy)
03. Souls of Black (Testament cover) (Chuck Billy)
04. March of Time (Helloween cover) (Michael Kiske)
05. Longing (Helloween cover) (Michael Kiske)
06. I Want Out (Helloween cover) (Michael Kiske)
07. They Want War (U.D.O. cover) (Udo Dirkschneider)
08. I'm a Rebel (Accept cover) (Udo Dirkschneider)
09. Metal Heart (Accept cover) (Udo Dirkschneider)
10. Practice What You Preach (Testament cover) (Chuck Billy)
11. The Odyssey (Symphony X cover) (Magnum Opus Rockestra)
12. My Pledge of Allegiance #1 (After Forever cover) (Floor Jansen)
13. Alone (Heart cover) (Floor Jansen)
14. Nemo (Nightwish cover) (Floor Jansen)
15. Holy Night (planned) (Joacim Cans)
16. Hearts of fire (Hammerfall cover) (Joacim Cans)
17. Last man standing (Hammerfall cover) (Joacim Cans)
18. Heaven and Hell (Black Sabbath cover) (Joey Belladonna)
19. Anti-Social (Anthrax cover) (Joey Belladonna)
20. Madhouse (Anthrax cover) (Joey Belladonna)
21. Highway to Hell (AC/DC cover) (Joey Belladonna)
22. The Phantom of the Opera (Andrew Lloyd Webber cover) (Floor Jansen and Joacim Cans)
23. Silent Night (Chuck Billy, Floor Jansen, Udo Dirkschneider, Joacim Cans and Michael Kiske)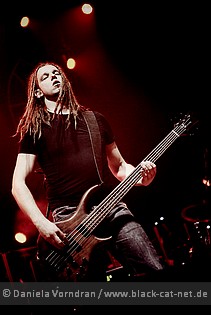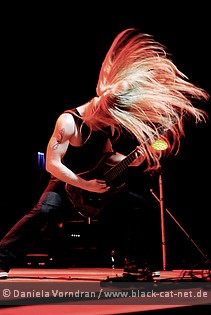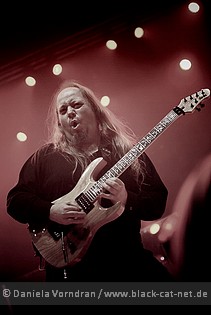 All pictures by Daniela Vorndran (http://www.vorndranphotography.com / http://www.black-cat-net.de/ / http://www.facebook.com/blackcatnet)



See also (all categories):