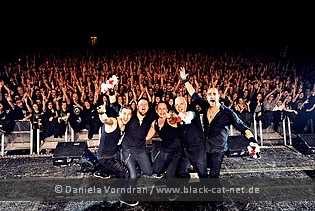 Turbinenhalle, Oberhausen, Germany
29th December 2013
Eisbrecher Year-End Show with support of Darkhaus & Black Blitz

The year-end closing concert of the EISBRECHER tour took place at the Turbinenhalle (turbine hall) Oberhausen. Quite typical for the Ruhr area, the location was formerly built for industrial purposes. Built in 1909 to produce energy and compressed air to supply the 'Iron hut II', it was rebuilt several times since the 1980's when the steel industry left Oberhausen. Nowadays the location is not only a place for live events of all kind, a discotheque, a restaurant and an indoor soccer ground, but it is also a stop station on the 'Route of industrial culture'. The concert hall has approximately a capacity for 3,000/ 3,500 people standing and it was packed for the final EISBRECHER show of the year!



Black Blitz

Founded in 2009 in Munich, the Rock band performed as much as possible to gain a lot of live experience. In summer of 2011 they released their debut album. With busy performing at concerts and some open air festivals, mainly in their region, they gathered a growing fan base, but surely performing as supporting act at the year-end closing concert of EISBRECHER in 2012 was a highlight for them. Their second album was just released in December 2013 and now the band is supporting EISBRECHER on their year-end show once more. BLACK BLITZ is Thomas Bauer (guitar, vocals), Christian Reiter (bass) and Thomas Pribbenow (drums). http://blackblitz.de/ / https://www.facebook.com/blackblitzband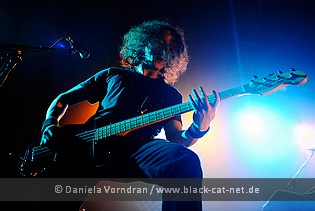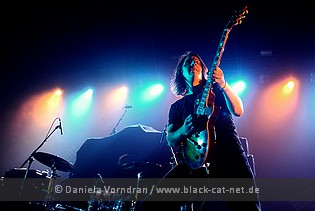 Music & Performance
Mastermind Alexander Wesselsky announced the opener of the evening, BLACK BLITZ. There was already a big crowd in the venue. The three guys did their best to give the audience a good warm up. Their music reminded me partly of the sound of the WHITE STRIPES. The singer informed us, with his quite charming Bavarian dialect, that the first half of their concert contains songs of their first album while the second part presents some songs of their new album 'Louder than thunder'. Furthermore we were told that there will be a chance to meet the band later at the merchandise stand for signing and having a little chat. With a drum solo they could animate the crowd to clap their hands to the rhythm. Later on, a guitar solo was performed as well. The audience was attentive and gave a polite applause but it was quite obvious that all were waiting for EISBRECHER.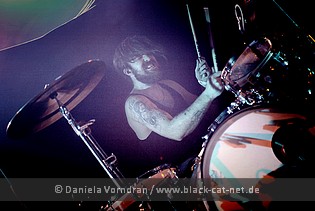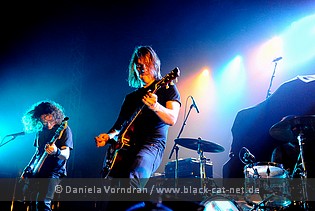 Setlist
01. Drinking Dynamite
02. Keep 'Em Coming
03. Going Against The Grain
04. Turn Up The Heat
05. Fire And Forget
06. Bombshell
07. Point Of No Return
08. Kicked Out Of Business

Rating
Music: 6
Performance: 6
Sound: 9
Light: 6
Total: 6.5 / 10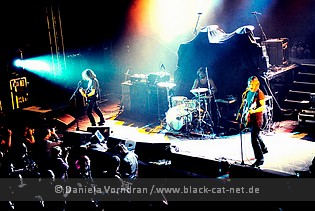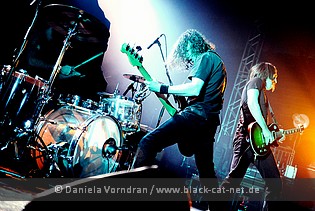 Darkhaus

DARKHAUS is a quite young Synth- Rock band, founded in 2011. Interestingly the band unifies five members from four countries (Scotland, US, Germany and Austria). Head of the band Rupert Keplinger is a multi- platinum songwriter / composer, well- known for his collaboration with top selling German artists like PETER MAFFAY, EISBRECHER, STEPHAN WEIDNER and some more. And he is, as you might know, bass player in EISBRECHER, so he had a pretty busy day. Co- creator, bassist and main lyricist is Gary Meskil, who is also the founder of the US hardcore band PRO-PAIN. Another member coming from PRO-Pain is the guitarist Marshall Stevens. The drummer Paul Keller and the lead singer Kenny Henlon complete the band. Just in November 2013 they released their first album 'My only shelter'. http://www.darkhausmusic.com / https://www.facebook.com/DarkhausOfficial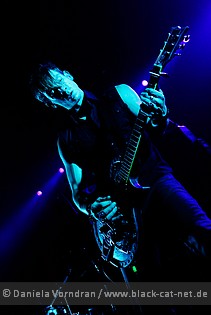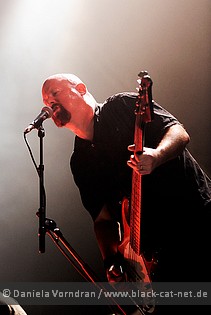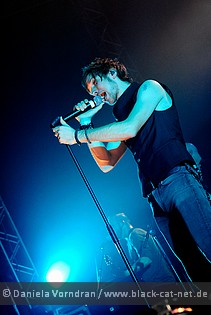 Music & Performance
The next supporting act was also presented by Alex Wesselsky. As the reaction of the audience was a bit low during the first act he assumed that we have all eaten too much during the Christmas time. Thus he asked the people to party more in order to lose some weight. The music of DARKAUS really rocked and the audience started to move much more as the people apparently liked it. Their performance could have been better but for my taste the guys did not interact enough with the people. Well, in fact they did just a hand-full of concerts before and this was by far the biggest crowd they had to entertain. Nevertheless their songs are quite catching so that I'm quite sure we will hear more of them in the future.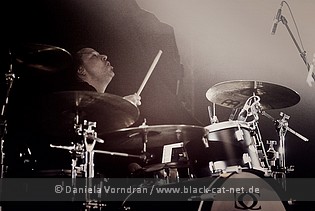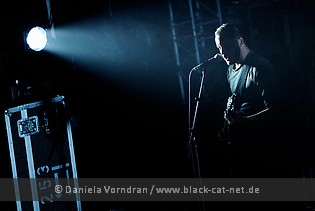 Setlist
01. Grace
02. Divine
03. Ghost
04. Hour of need
05. Break down
06. Life worth living
07. Son of a gun
08. Looks like rain
09. Angelina
10. Don't close
11. Breaking the silence

Rating
Music: 8
Performance: 8
Sound: 9
Light: 7
Total: 8 / 10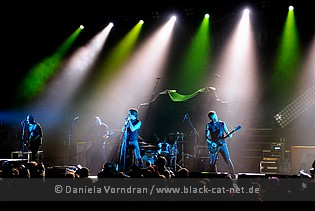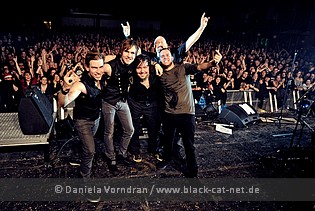 Eisbrecher

Having celebrated their 10th anniversary you cannot imagine the genre "Neue Deutsche Härte" without EISBRECHER. Alexx Wesselsky was a former member of MEGAHERZ. With Noel Pix he formed in 2002 the band. While many bands from this genre only seem to be copycats of RAMMSTEIN, EISBRECHER successfully created their own style. During their decade of being they had some changes of band members. Current line-up, besides Alexx (vocals) and Jochen 'Noel Pix' Seibert (lead guitar, production), is Jürgen Plangger (guitar), Achim Färber (drums) bassist Rupert Keplinger. Until now they have released five albums, a special edition, a compilation and 10 singles. The shows of EISBRECHER are notorious for being very energetic and entertaining. http://www.eis-brecher.com / https://www.facebook.com/eisbrecher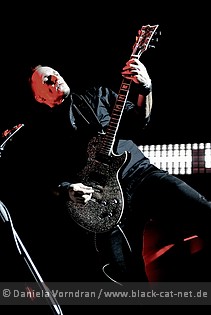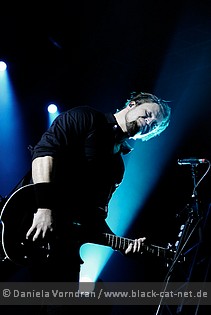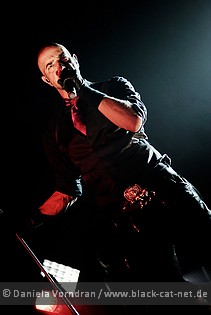 Music & Performance
Although the stage rebuilding didn't take so long the fans had to wait quite a while. Thus the people started to be impatient as some of them whistled loudly. But finally, when mastermind Alexx and his band mates appeared on stage, the resentment was immediately forgotten and instead the crowd started to rock from the first tunes on. The concert was almost sold out. Once again Alexx announced his aim to make us lose some weight after all the Christmas stuffing. Therefore we were presented a good set of powerful Rock songs. Alexx did not only show up with great vocal qualities with his sonorous voice, but was, with his handsome appearance, a feast for the eyes. Inherent part of the show was the performance with four oil drums, that were put on stage for 'Amok' as percussion instruments. Between the songs, the charismatic singer took his time to tell some anecdotes and addressed to the audience.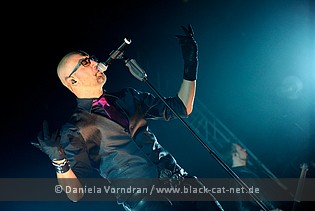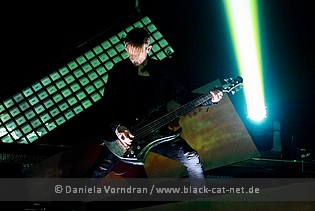 As this was their last concert of the year he thanked the whole crew. He also draw the conclusion that 'Schwarze Witwe' (Black widow) brought them the success in the Gothic scene and the reason for their success is that Noel writes the songs while he dances sexily. It is nice to see that this band has not lost its humour during their career. This little speech was finished with a drum solo before they went on with the next song. For 'Herzdieb' there was a special guest appearance: a huge polar bear sculpture. As this is a more slow song you could see a lot of lights in the audience and all were moving like a wave. Watching down from a balcony it was really an amazing and moving sight. But before the atmosphere got too romantically the last song before the encore, 'This is Deutsch', woke them up again. Of course the fans would not let the band go without an encore and they were presented at first a charming Schlager acoustic cover version of 'Ti amo', which was a German hit song (cover version as well from the Italian original) of Howard Carpendale, only accompanied by the guitar play of Jürgen.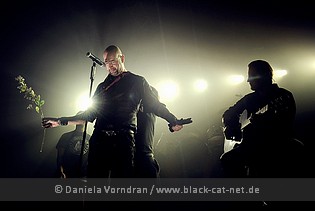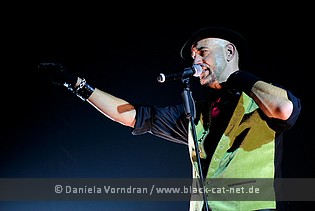 The special fun of this was that Alexx imitated the pathetic performance of Carpendale. Then the rest of the band showed up again and once again they rocked the house. Closer of the first encore was 'Miststück' (Bitch) and mandatory Alexx came down the stage and let some fans sing the pun of this song "Miststück! Ein Stück Mist" (in German 'Mist' means shit as well and thus we have the pun with "a piece of shit"). As one encore was not enough and the crowd shouted for more, they got a final song before the fantastic and energetic concert ended. This show was an absolutely great closing of the year. Not only was the band in best form, also sound and especially the light show were great as always. There are some real perfectionists at work indeed!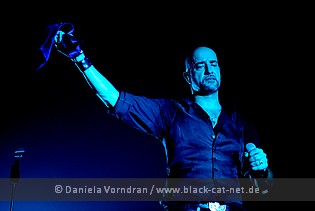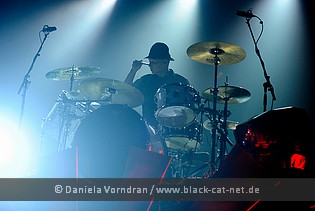 Setlist
01. Intro
02. Kein Mitleid
03. Willkommen im Nichts
04. Antikörper
05. Disko (intro)
06. Adrenalin (new version)
07. Augen unter Null
08. Amok
09. Eiszeit
10. Leider
11. Prototyp
12. Engel
13. Herz steh still
14. Eisbrecher 2013
15. Schwarze Witwe
16. Vergiss mein nicht
17. Herzdieb
18. This is Deutsch
---
19. Ti amo (acoustic, German cover version by HOWARD CARPENDALE, original by UMBERTO TOZZI)
20. Heilig
21. Verrückt
22. Miststück
---
23. Ein Leben lang unsterblich

Rating
Music: 9
Performance: 9
Sound: 9
Light: 9
Total: 9 / 10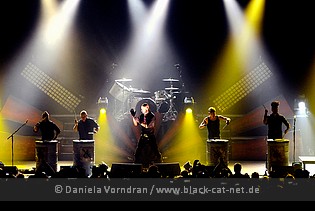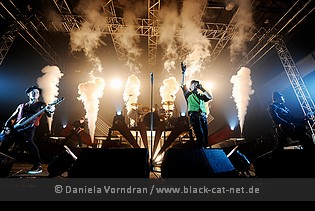 All pictures by Daniela Vorndran (http://www.vorndranphotography.com / http://www.black-cat-net.de/ / http://www.facebook.com/blackcatnet)