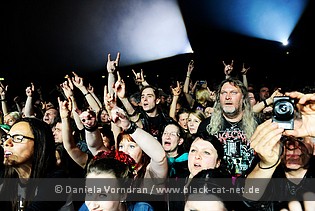 Phönixhalle, Mainz, Germany
31st May 2014
Alice Cooper & Fyre

Just naming ALICE COOPER makes us mentally visualising following: XXL stage show with lots of artificial blood, a guillotined or hanged ALICE COOPER, the eternal fight of good against evil – rock theatre with Las Vegas attitude, a loud splatter movie where the good always prevails at the end. 2014 the legend is still alive and after his appearance at the Rock Meets Classic tour he was now performing two shows in Germany, on 31st May in Mainz and on 2nd June in Dortmund. The first show in Mainz was a great experience once more and the long queue at the entrance showed the huge interest in the artist.
Fyre
FYRE is a band around Argentinian singer Alejandra Burgos who grew up in a musical family as one of four sisters. In the age of five, she was taught by her father to play guitar and soon afterwards she also started composing her first songs. When she was fifteen, he started playing at local blues clubs. It took not very long until the exceptional singer stood on big stages all over the country. In the age of twenty, Alejandra left South America to pursue her career in Europe. She performed as solo artists and soon convinced fans in Spain, France and England. Since she had a great live appearance, she got soon well-known in the club scene and played at legendary clubs, like the 100 Club in London and the Cavern Club in Liverpool. End of 2011 she had met several musicians forming soon a band with her and in a team, they created 25 songs within two years. By the end of 2013, fourteen of the strongest songs were recorded for the debut production. The release is called 'Missy Powerful' and as release date, September 12th, 2014 is planned. FYRE is Alejandra Burgos, Tolo Grimalt, Lars Ratz, Jaume Amengual and Sergi Tomas.
http://www.fyreofficial.com
/
https://www.facebook.com/fyrerocks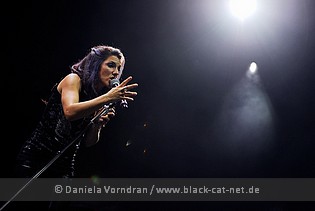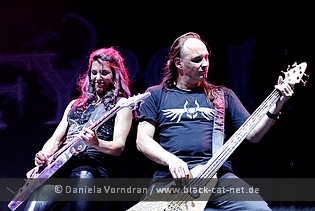 Music & Performance

FYRE was surely unknown to many of the attendees until now, bit the rocking Latina Alejandra Burgos delivered everything what makes a good show. There was pure authenticity, a charismatic aura with an expressive voice and anything was surrounded by explosive energy, not only by Alejandra, but also by her band mates. The performance was really energetic and the singer with a voice, sometimes reminding me of DORO's strong one, had the audience in her hands very soon. Alejandra impressed not only with her voice, but also with her guitar play and a lot of posing with her band mates on strings. Besides that, her visual appearance was another eye catcher, especially for the male audience. During the whole show, the audience was with the band, they even clapped and screamed a lot. And when the pretty lady finally at the end his her guitar on the floor, some real rock show feeling occurred. FYRE made a really good impression on me and I am sure they'll cause a stir with their debut album in September.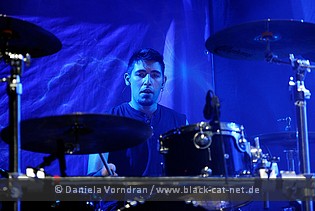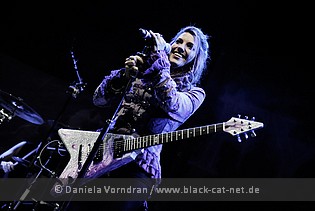 Setlist

01. We Are Here
02. That's My Life
03. Stairway To Heaven (LED ZEPELLIN cover)
04. No Happiness
05. Moonshine
06. Lost
07. Watch Me Close
08. Devil
09. Get The Hell
10. CLW
Rating

Music: 8
Performance: 8
Sound: 7
Light: 8
Total: 7.8 / 10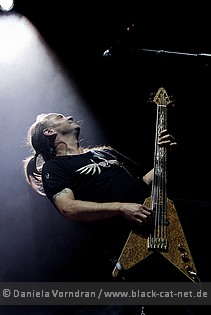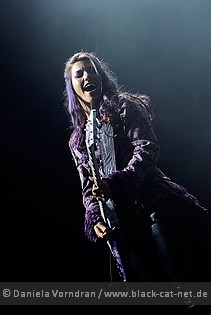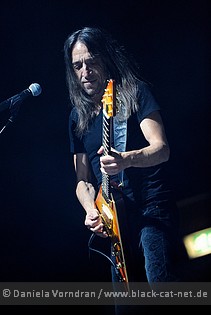 Alice Cooper
Without ALICE COOPER, there might never have been the NY DOLLS, KISS, MARILYN MANSON, NINE INCH NAILS, MÖTLEY CRÜE, SLIPKNOT or ROB ZOMBIE... maybe not even DAVID BOWIE or at least not ZIGGY STARDUST. The iconic hard rocker, who literally invented the concept of the rock concert as theatre, returns to what he does best on 'Along Came a Spider' (SPV Records), the 25th studio album of a long and illustrious career which began in 1969 with the release of 'Pretties for You' on Frank Zappa's Straight label. From his first solo album, 1975's 'Welcome to My Nightmare', through releases such as 1994's 'The Last Temptation' and 2000's 'Brutal Planet', concept albums have been a specialty of ALICE, and this time he spins the story of a serial killer who imagines himself as the most predatory of all insects, trapping his prey, killing them, then enveloping his eight victims in silk, taking a leg from each of them. A web of intrigue, wrapped around some serious hard rock. His album 'Along Came a Spider' (2008) has elements of serial killers such as Hannibal Lecter, Son of Sam, Ted Bundy, Jack the Ripper, Sweeney Todd and Psycho's Norman Bates with ALICE himself taking the central part, acting out the murderer's diary - challenging reality by ALICE COOPER inhabiting the identity of a serial killer who imagines himself a spider.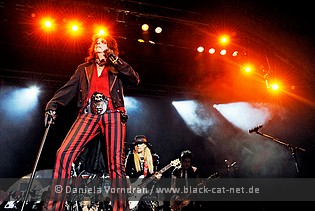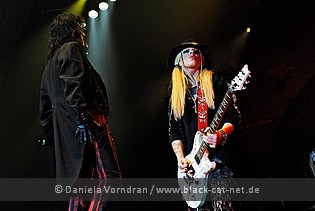 As he has in the past, Alice chronicles a classic battle between good and evil, with inevitable results. "Every album I've ever done has been guitar-driven rock & roll," says ALICE about the album's heavy metal edge. With his influence on rock & roll long since acknowledged there is little that ALICE COOPER hasn't achieved in his remarkable career, including platinum albums, sold-out tours and any number of honours and career achievement awards. 'Along Came a Spider', the 25th album of a remarkable career with uncountable highlights, may require him to make more room on the mantelpiece for yet more hardware. His latest album 'Welcome 2 My Nightmare' was released in September 2011. The band currently consists of Alice Cooper (lead vocals, guitar, harmonica), Ryan Roxie (guitar, backing vocals), Chuck Garric (bass, backing vocals), Glen Sobel (drums, percussion), Tommy Henriksen (guitar, backing vocals) and Orianthi Panagaris (guitar, backing vocals).
http://alicecooper.com
/
https://www.facebook.com/AliceCooper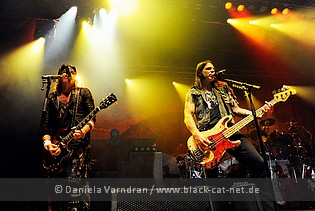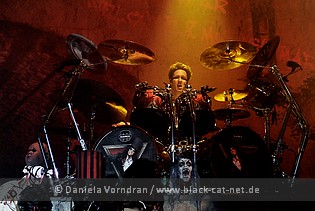 Music & Performance

FYRE warmed the audience up perfectly and anyone was hot for Mr Cooper to enter the stage. It took a little more than thirty minutes until the intro 'The Underture' was sounding from the speakers, the curtain covering the stage before finally fell and ALICE COOPER entered the stage after his band, surrounded by glittering rain from the ceiling. The current "Raise the Dead" tour has little smaller dimension than the last one… less death, less monsters, less stage decorations. But it was the music that counted and underlined with a nevertheless great show, COOPER proved that he still is one of the top rock stars. His band, especially Australian guitarist Orianthi Panagaris, proved that they are top class musicians and convinced with several solo parts during the show. I said, there was less death and less monsters… but you still got what you expect from a COOPER show. Of course, Alice was losing his head under the Guillotine and with Frankenstein you also got your monster.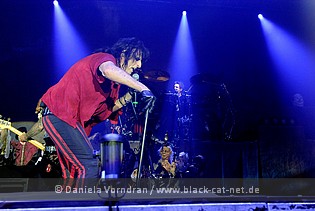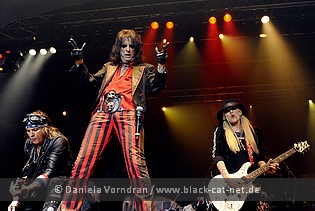 The final part of the show… yes, raise the dead please… was dedicated to famous musicians. A backdrop with a grave stone for Jim Morrison of THE DOORS is revealed and along with it, THE DOORS song 'Break on through (to the other side)' is played. Three more musicians is remembered: John Lennon with THE BEATLES cover 'Revolution', Jimi Hendrix with his song 'Foxy Lady' and THE WHOO drummer Keith Moon with 'My Generation'. The mega hit 'Poison', accompanied with confetti canon and soap bubbles, was ending the set with a musical storm. As addition, Cooper and his mates presented the obligatory 'School's Out' with an interlude of PINK FLOYD's 'Another Brick in the Wall'. Once more, the grandfather of rock presented an energetic show, firing his hits towards his excited fans. And even though the show itself was stripped down a little, it did not miss any intensity. It is always a pleasure to witness ALICE COOPER on stage!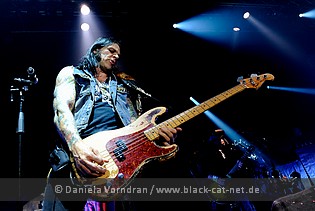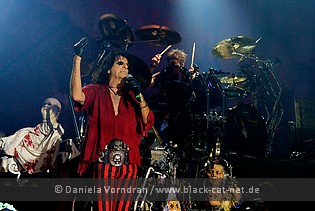 Setlist

00. Intro: The Underture
01. Hello Hooray (Judy Collins cover)
02. House of Fire
03. No More Mr. Nice Guy
04. Under My Wheels
05. I'll Bite Your Face Off
06. Billion Dollar Babies
07. Caffeine
08. Department of Youth
09. Hey Stoopid
10. Dirty Diamonds (Bass, Drum and Guitar solos)
11. Welcome to My Nightmare (shortened)
12. Go to Hell
13. He's Back (The Man Behind the Mask)
14. Feed My Frankenstein
15. Ballad of Dwight Fry
16. I Love the Dead / Under the Bed (covers introduction)
17. Break On Through (to the Other Side) (The Doors cover)
18. Revolution (The Beatles cover)
19. Foxy Lady (The Jimi Hendrix Experience cover)
20. My Generation (The Who cover)
21. I'm Eighteen
22. Poison
---
23. School's Out (with Another Brick in the Wall Interlude)
Rating

Music: 9
Performance: 9
Sound: 8
Light: 8
Total: 8.5 / 10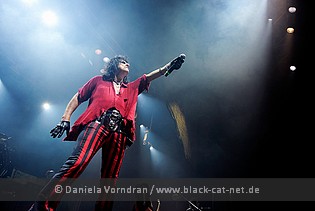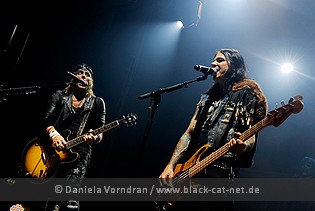 All pictures by Daniela Vorndran (
http://www.vorndranphotography.com
/
http://www.facebook.com/blackcatnet
)