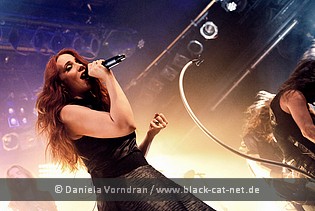 Zeche, Bochum, Germany
15th January 2015
Epica, Dragonforce & Diablo Blvd.

EPICA worked hard for their reputation as spearhead of Symphonic Metal. With 'The Quantum Enigma' they released their seventh studio album in May 2014 followed by a tour. And now the band is back again on stage, supported by special guest DRAGONFORCE, who released their newest album 'Maximum Overload' in summer2014, and DIABLO BLVD.
Diablo Blvd.

Belgium band DIABLO BLVD. from Antwerp formed in 2005. The band is named after a CORROSION OF CONFORMITY song. After a sold-out demo, 'Scarred and undefeated' (DBA, 2006), the band worked more than two years on their upcoming debut-album called 'The Greater God' (Pias 2009). The new album, entitled 'Builders of Empires' (Pias, April 2011), was produced once again by Ace Zec (Customs, The Setup), with Jens Bogren doing the mixing (Opeth, Amon Amarth, Grand Magus). 2014 saw with 'Follow The Deadlights' (Sony Music Entertainment) the release of the third studio. With the signing to Nuclear Blast Records in November 2014, a new chapter in band history started. DIABLO BLVD. is Alex Agnew (vocals), Andries Beckers (guitar), Dave Hubrechts (guitar), Kris Martens (drums) and Tim Bekaert (bass).
http://www.diabloboulevard.com
/
https://www.facebook.com/diabloboulevard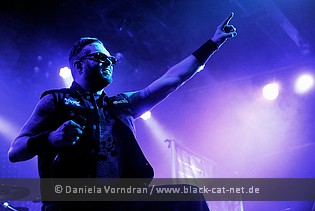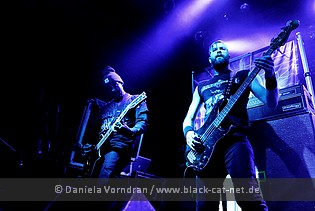 Music & Performance

The band was announced for 19:30, but there was a slight delay of about 15 minutes. Since this was the first show of the winter leg of EPICA's tour, sound check too a bit longer and doors opened later than announced. So the band waited little longer so more people could enter the hall. Finally the band around former comedian Alex Agnew entered the stage… and there was very limited space to act. As Alex laughed later, his microphone cable was wrapped around the drum set due to limited space. Musically, the band presents a mix of PANTERA, DOWN and VOLBEAT and was received very well by the audience. Alex was impressed by the positive reactions more than once. For 'Saint Of Killers' he asked the audience to turn on the lights of their mobile phones and rise it high. Looked great, even though I still prefer the good old lighters. The short, six-song set ended with 'Black Heart Bleed' where Alex asked for help. The audience should sing along since anyone would feel great by doing so. And well, people did! DIABLO BLVD. did a really good job as opener.
Setlist

01. Fear Is For The Enemy
02. Builders Of Empires
03. Rise Like Lions
04. Saint Of Killers
05. Beyond The Veil
06. Black Heart Bleed
Rating

Music: 7
Performance: 7
Sound: 7
Light: 5
Total: 6.7 / 10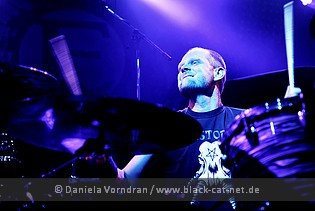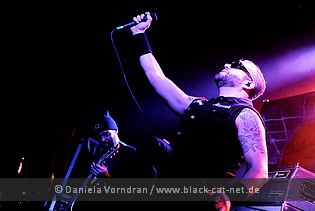 Dragonforce

DRAGONFORCE is a British metal band formed in 1999 by former singer ZP Theart, Bassist Steve Scott, guitarists Sam Totman and Herman Li (both ex-DEMONIAC), drummer Matej Setinc (too ex- DEMONIAC) and keyboarder Steve Williams. The band originally went by the name DRAGONHEART under which they recorded their first demo 'Valley of the Damned' in 1999. Williams and Scott soon left the band to form the band POWER QUEST this was soon followed by the renaming into DRAGONFORCE. It took four years for the band to score their first record contract with Noise Records. They recorded and released their first two outputs with Noise Records then switched to Roadrunner Records. After two more records and a growing fan base (especially in Japan), DRAGONFORCE parted ways with singer ZP Theart because of "musical differences". On the second of March 2011 the band announced that they had found a new vocalist in Marc Hudson. In August 2014, the band released its latest album 'Maximum Overload' via earMusic. Today, DRAGONFORCE is Herman Li (guitar, backing vocals), Sam Totman (guitar, backing vocals), Frédéric Leclercq (bass, backing vocals), Vadim Pruzhanov (keyboards, backing vocals), Marc Hudson (lead vocals) and Gee Anzalone (drums, backing vocals).
http://www.dragonforce.com
/
https://www.facebook.com/dragonforce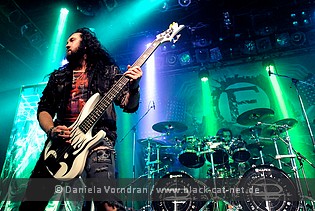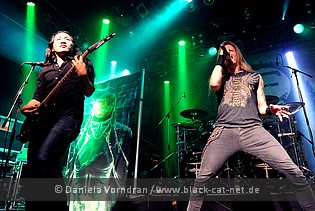 Music & Performance

When DRAGONFORCE entered the stage, something was strange. Soon I recognised what it was. The band was playing without their keyboarder Vadim. As singer Marc told us, he was staying home since his wife is pregnant. Our congrats! Anyway the band did also an awesome job without him. The sound was not optimally balanced at the beginning; I had the feeling the vocals are too low, but later on it became better. All musicians had a lot of fun on stage. Even though there was limited space, the string section and also Marc moved a lot… not always without standing in the other's way… and hat a lot of fun, made jokes and animated the audience. Herman and his guitar were faster as you can follow his fingers, arm or tongue on the strings. But also Sam and Frédéric were impressive to watch and listen to, always perfect with several solo parts in the songs. Beside them, new drummer Gee did a great job too. The set was not very long. But with the seven presented songs, the band touched the newest release as well as their very first records, much to the pleasure of the audience who screamed, clapped and sang along loudly. The last song of the set, 'Through the Fire and Flames', was accompanied by more chants and screaming. Good show, guys.
Setlist

01. Fury of the Storm
02. Three Hammers
03. The Game
04. Symphony of the Night
05. Cry Thunder
06. Valley of the Damned
07. Through the Fire and Flames
Rating

Music: 7
Performance: 8
Sound: 7
Light: 6
Total: 7 / 10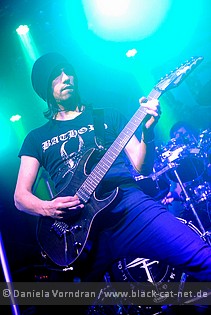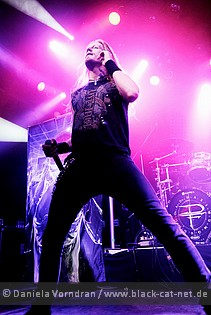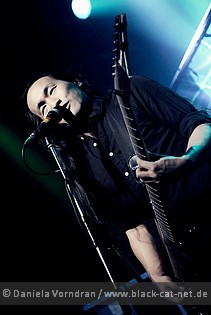 Epica

EPICA is a Dutch symphonic metal band founded by guitarist and vocalist Mark Jansen subsequent to his departure from AFTER FOREVER. In early 2002, Mark Jansen left AFTER FOREVER due to creative differences. He then began looking for musicians who would work towards a more classical/symphonic type of music project. In late 2002, the band courted Helena Michaelsen (TRAIL OF TEARS) as their frontwoman, but shortly thereafter she was replaced by the then unknown mezzo-soprano Simone Simons, who was Jansen's girlfriend at the time. The band's line-up was completed by guitarist Ad Sluijter, drummer Jeroen, bassist Yves Huts, and keyboard player Coen Janssen. The name was later changed to Epica, inspired by KAMELOT's eponymous album. So far, they have released seven studio records and various other outputs like live albums, DVDs or singles. The band's lyrics are concerned with society, philosophy and politics. EPICA's style is defined by orchestral as well as harsh elements, which are joined by symphonic, clear female vocals, choirs and harsh, male vocals. 'The Quantum Enigma' marks the seventh studio record and was released at the beginning of May 2014, once again via Nuclear Blast Records.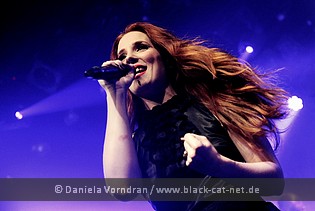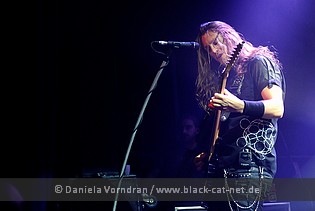 Following up on 'Design Your Universe' and 'Requiem For The Indifferent', EPICA maintain their own, distinct style and offer the listener over an hour of playing time. EPICA today is Simone Simons (vocals), Mark Jansen (guitars, vocals), Isaac Delahaye (guitars, vocals), Rob van der Loo (bass ), Coen Janssen (keyboards) and Ariën van Weesenbeek (drums, vocals).
http://www.epica.nl
/
https://www.facebook.com/epica
Music & Performance

The rebuilding break was quite fast done and soon, the long 'Originem' intro sounded through the speakers. A wall of light was arising and the band entered the stage. The set started with 'The Second Stone' and as usually, the hair was flying. It is always a pleasure to not only listen to EPICA, but also watch the band perform. There is flying hair, lots of energy and an always happy looking Simone with her special charisma. Following was 'The Essence Of Silence' from the newest album 'The Quantum Enigma. All in all, the set was well mixed. Of course there were several new songs, but also old classics like 'Cry For The Moon', 'The Obsessive Devotion' or 'Sancta Terra'. Several songs contained longer instrumental parts, so there was a moment of fame for any band member. The music was heavy, well complimented by male growling and in a great balance to Simone's warm voice. With 'The Phantom Agony', the main part of the show already ended. But of course there was more. The band came back with 'Cry for the Moon', leading into a drum solo at the end. 'Consign to Oblivion' finally ended the show, which was really convincing, also light-wise.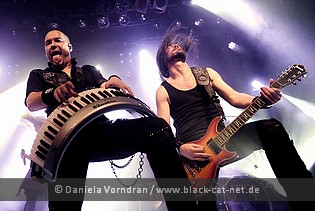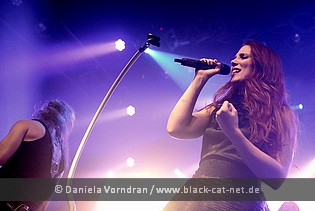 EPICA brought their own light and light technician who made the show really shine on the theatrical level. It is always a pleasure to see EPICA live, and even if you are not too much into this kind of music, the band's and especially Simone's appearance are really convincing.
Setlist

00. Originem (Intro)
01. The Second Stone
02. The Essence of Silence
03. Victims of Contingency
04. Unleashed
05. Storm the Sorrow
06. Fools of Damnation
07. The Obsessive Devotion / The Fifth Guardian
08. Chemical Insomnia
09. Sancta Terra
10. The Last Crusade
11. The Phantom Agony
---
12. Cry for the Moon (Drum solo outro)
13. Unchain Utopia
14. Consign to Oblivion
Rating

Music: 8
Performance: 9
Sound: 7
Light: 8
Total: 8 / 10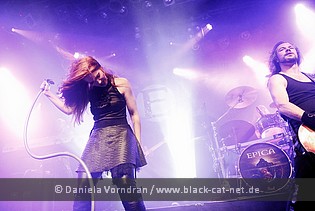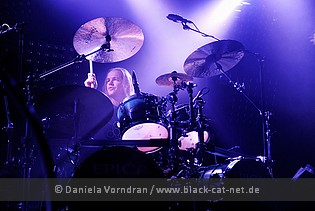 All pictures by Daniela Vorndran (
http://www.vorndranphotography.com
/
http://www.facebook.com/blackcatnet
)